AIGM Events & Training
The Australian Institute of Grants Management has been facilitating grantmaking networking, events and training for more than a decade.
The AIGM's offerings are grounded in practicality, affordability, approachability and applicability.
All training is delivered by experienced, engaging and knowledgeable practitioners, and has been road-tested in the field to guarantee its relevance at the coalface.
---
Grantmaking in Australia Conference 2019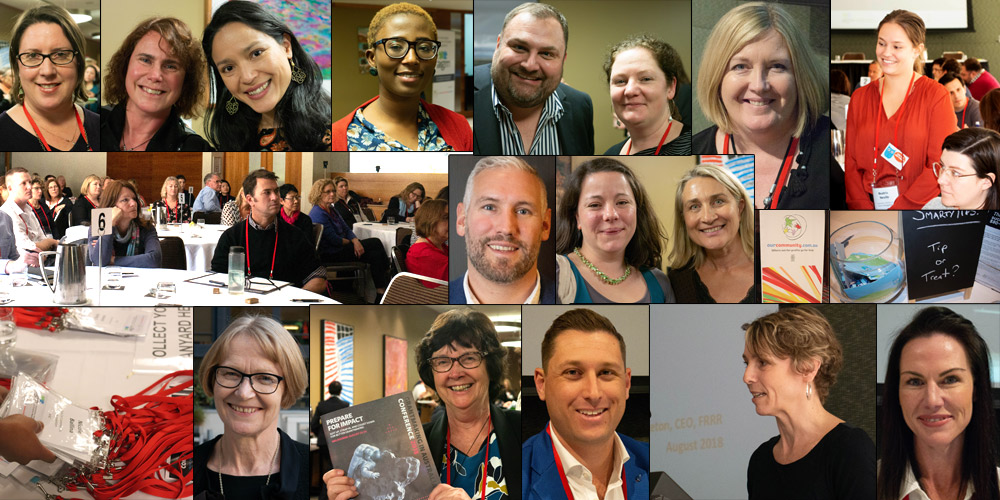 Full conference program coming soon - click here to learn more about our upcoming conference
---
---
Next Practice Grantmaking Training
We deliver a range of scheduled and tailored training courses to grantmakers of all sizes and types.
See our list of workshops, dates and opportunities listed below.

---
Means Muster – Data science for (grantmaking) dummies
Calling all Victorian-based Grantmakers – do we have a treat for you!
The Australian Institute of Grants Management, with Our Community, will be hosting a special Grantmaking Muster at Our Community House on Tuesday, May 28.
Come meet Andrew Means!
Andrew has dedicated his career to creating a more effective and efficient social sector by developing data tools that help organisations improve their impact. When he headlined our Grants in Australia Conference in 2017, he became one of our most popular ever speakers. Now he's back!
Andrew is an internationally recognised thinker and speaker on technology and data, particularly in its application to grantmaking. At our May 28 Muster, you'll hear him discuss
The role of data in grantmaking;
How to make strategic funding decisions based on the evidence;
5 things you can do now, today, to put yourself in the best position for data-driven grantmaking
The Muster will also feature Sarah Barker from Our Community's Innovation Lab. Sarah will take us through a new report on LGBTIQ+ funding in Australia, released by OurCommunity and LGBTIQ+ collective giving group The Channel. As well as explaining the findings of the report, Sarah will outline some lessons learned in working with not-for-profit organisations to dive deep into the data and create compelling data-driven stories.
You can also take the opportunity to tour Our Community House, our fantastic new co-working space that has been built to provide an inspiring, green, art-filled, data-driven co-working space for 400 social sector organisations.
Bubbly and nibbles will be provided, along with the opportunity to meet and mingle with other Victorian grantmakers.
Date: Tuesday 28th May
Time: 2:00pm-5:00pm
Cost: $50
Place: Our Community House (Joan Kirner Room), 552 Victoria St North Melbourne
Drinks and nibbles provided. Please let us know if you have any dietary requirements.
SmartyGrants Training
SmartyGrants is the Australian Institute of Grants Management's cloud software solution, developed to meet the specific needs of Australian and New Zealand grantmakers, both big and small. More than 300 organisations are already using SmartyGrants to revolutionise their grantmaking.
We provide a range of training options for SmartyGrants users. To find out more, visit the training section of the SmartyGrants website.

---
Training for Grantseekers
The Australian Institute of Grants Management is a division of Our Community, which has been providing training and services for grantseekers for more than 15 years.
We provide scheduled grantseeking, fundraising and governance training across the country.
We can also provide tailored grantseeking, fundraising and governance training for your grantseekers - we come to you.
Contact us to find out more:
email: service@ourcommunity.com.au or phone: (03) 9320 6800
---
Our Grantmaking Training Team
Jodie Shanks

Jodie heads up the AIGM's service and training team, where she focuses on continual improvement of our interactions with clients and colleagues. Previously, Jodie worked in a variety of different roles from marketing and communications to membership to bank analyst to tour guide. Most recently, Jodie was immersed in the grantmaking world whilst working within the Research and Planning area at beyondblue. Jodie has a Diploma in Business Management, train-the-trainer qualifications and is currently completing a Bachelor of Business (Information Systems).

Gina Cirillo

Gina is Our Community's principal SmartyGrants trainer, a role that takes her across Australia and New Zealand helping grantmakers make the most out of our online grants management system. Gina's varied work history includes stints as a Melbourne Zoo guide, a call centre operator, a GIS mapper, reconciliation manager, human resources coordinator and occupational health and safety trainer.

Patrick Moriarty


In his position as director of training and development at Our Community, Patrick has led the development of the organisation's training arm and the establishment of the Institute of Community Directors Australia (ICDA). He has particular expertise in the travails of local government and the challenges of local government grantmaking.

Beatrix Neville

Beatrix Neville is the newest member of our support and training team at SmartyGrants, a role taking take her across Australia and New Zealand to helping grantmakers make the most of our system. Beatrix has qualifications in international development and ecological management, prior to joining us she put her skills to good use as a project officer with social enterprise Pollinate Energy, which supplies solar powered products while creating jobs in the slums of India.