Grants Management Intelligence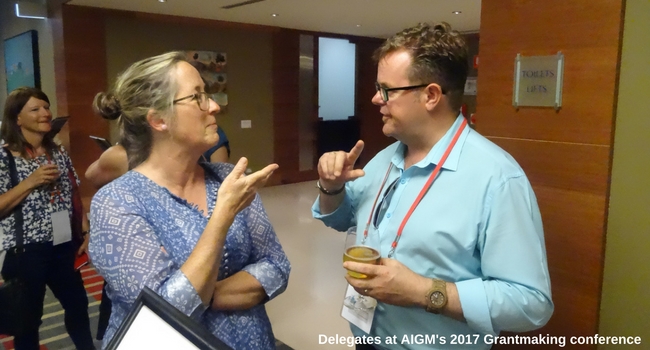 Insights for grantmakers
Grants Management Intelligence is aimed at boosting the efficiency and effectiveness of grantmakers and funders, with a focus on Australian trends.
The publication features in-depth studies of grantmaking issues from our own experts and research; other leaders in the field; and employing our exclusive access to SmartyGrants data, It is focused on practical ways to improve your grants program and help you make best practice, standard practice.
From the basics to expert-level commentary, we've covered:
Social and impact measurement
Analysis of our annual Grants In Australia Survey
Best practice data use
Grants round closing times and trends - including best days and times to close
Grants assessment panels - covering size, gender, deadlines and processes
Unsubmitted grants applications - including data on submissions and best practice recommendations
Preventative and Participatory grantmaking
This makes Grants Management Intelligence a must-read publication for federal, state and local grantmakers, funders and policymakers; local councillors and community development workers; philanthropic and corporate funders; and financial and legal advisors.
The quarterly publication is just one of the benefits of membership of the Australian Institute of Grants Management. Learn more and sign up here.
---
Latest edition
---
More recent editions (tap to enlarge)
---
Explore the back catalogue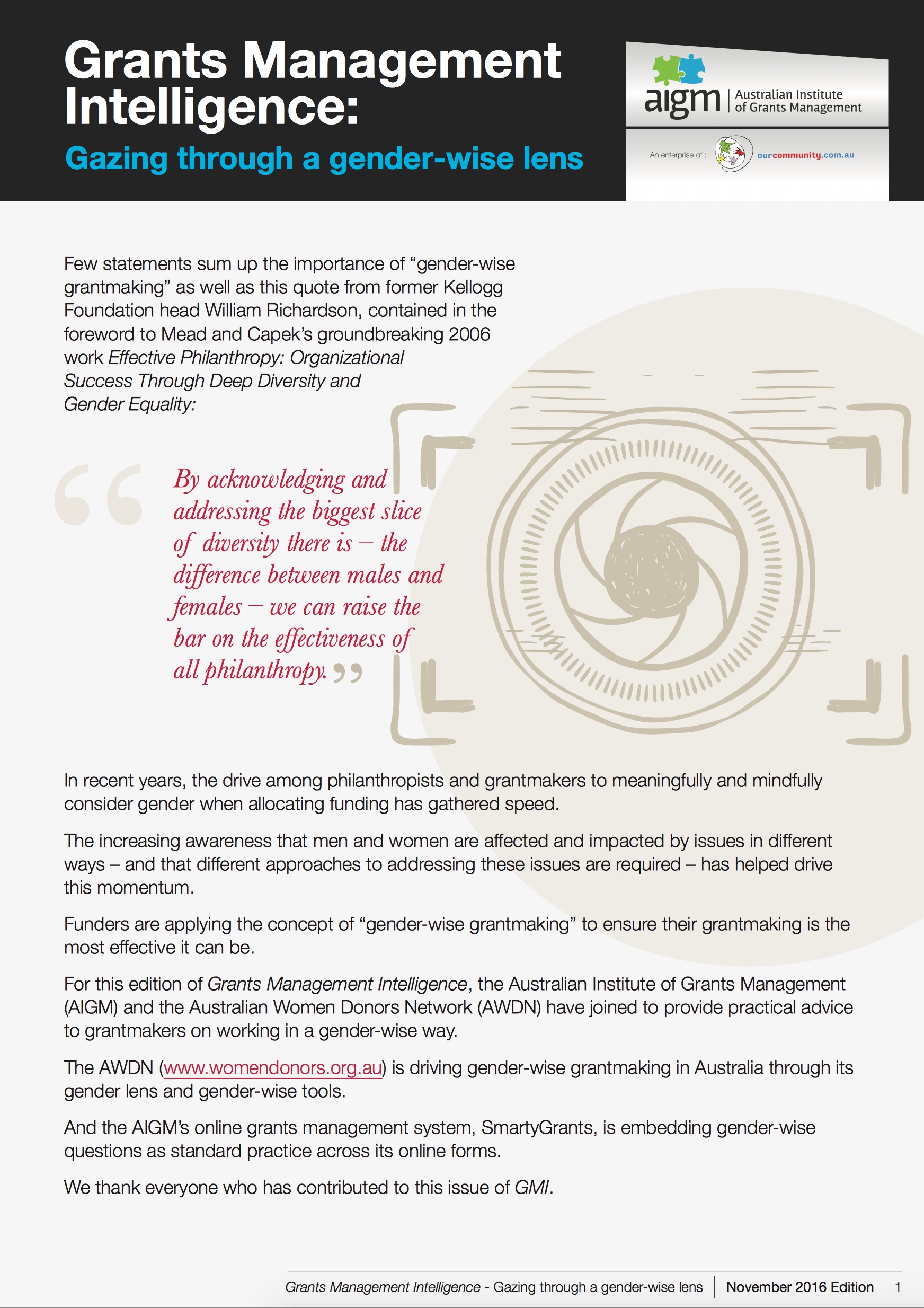 NOV 2016: GENDER-WISE
What the Australian Women Donors Network's
Deanne Weir,
Sex Discrimination Commissioner
Kate Jenkins
and Australian of the Year
David Morrison
have to say about gender-wise grants.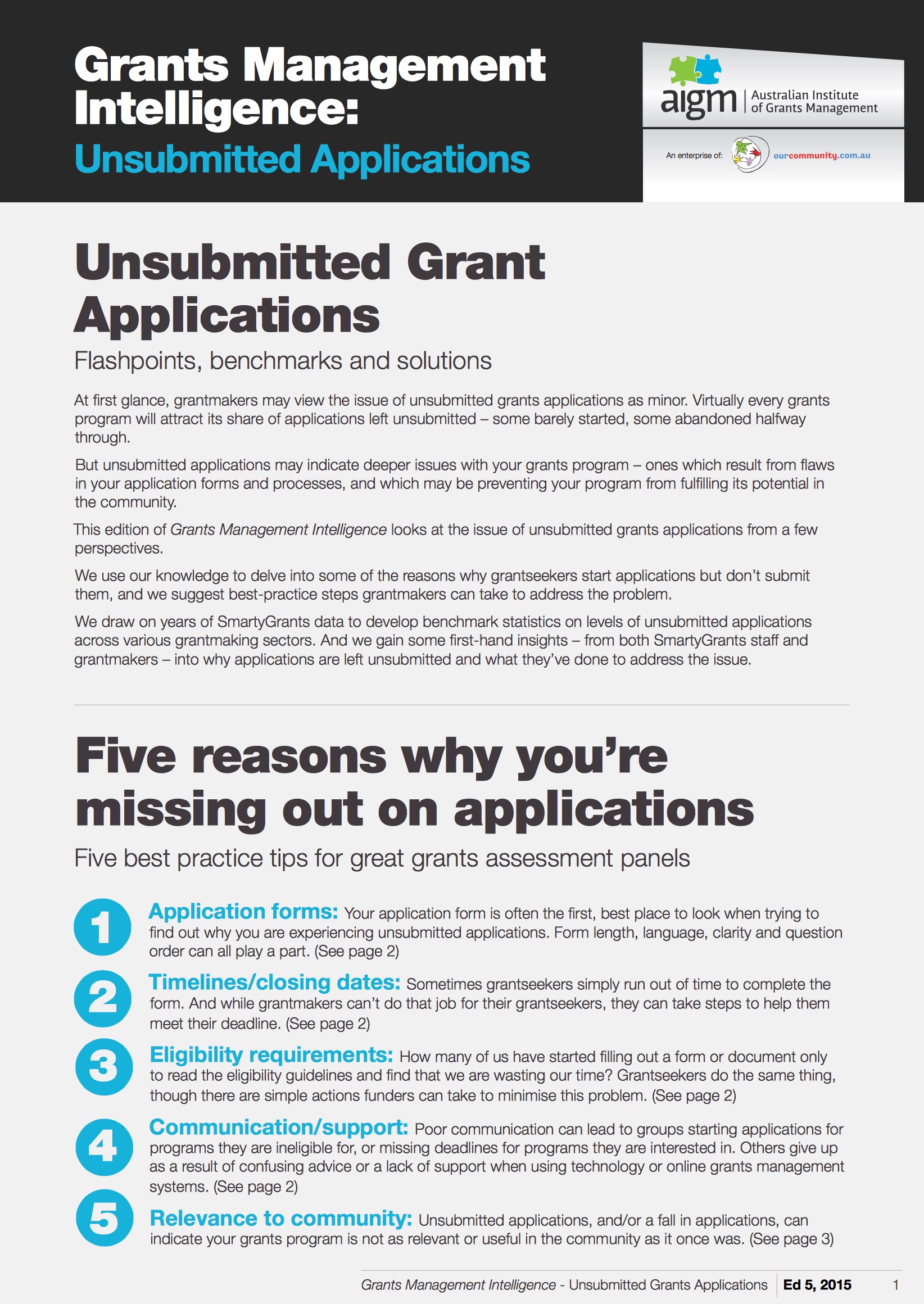 DEC 2015: UNSUBMITTED?

We're here to help with:
- Tackling unsubmitted applications
- Expert tips, ideas and questions .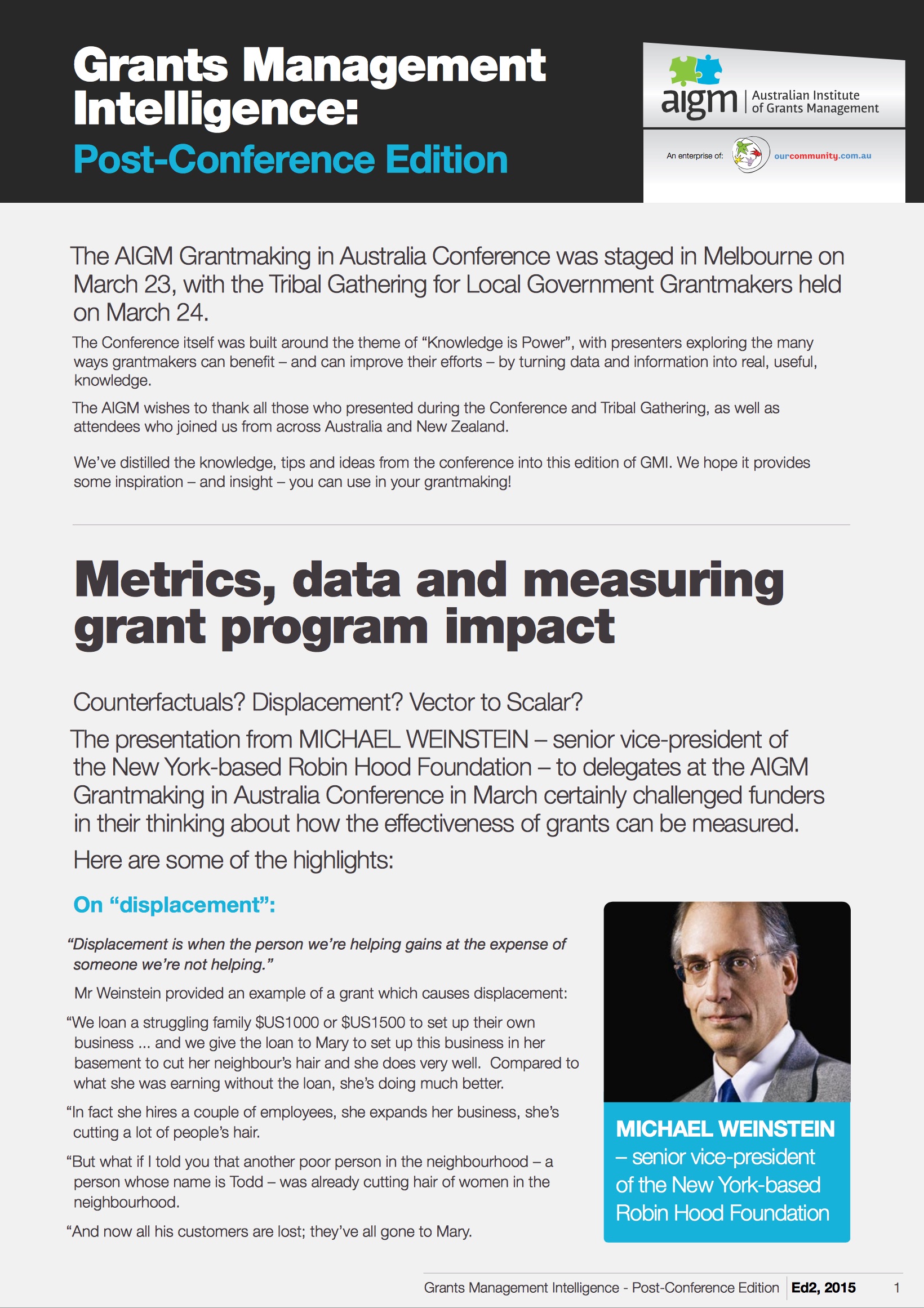 APR 2015: POST-CONFERENCE
Around the theme of "Knowledge is Power", presenters explored the ways grantmakers can benefit - and can improve their efforts - by turning data and information into useful knowledge.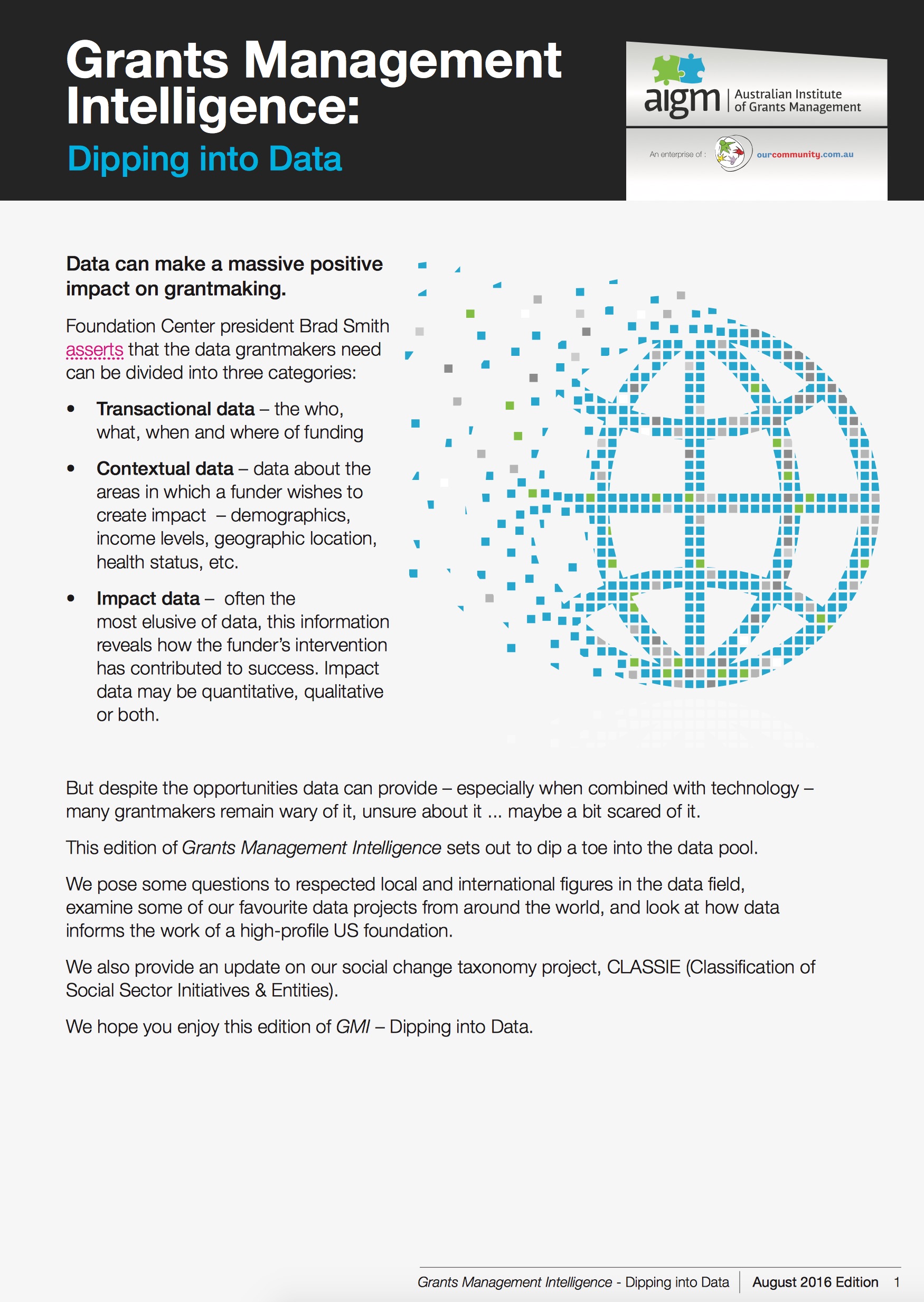 AUG 2016: DIPPING INTO DATA
Our special report into grants and the use of data. Inside:
- US expert
Andrew Means
' insights
- Data and the work of the US
Robin Hood Foundation
- Our social change taxonomy project,
CLASSIE
.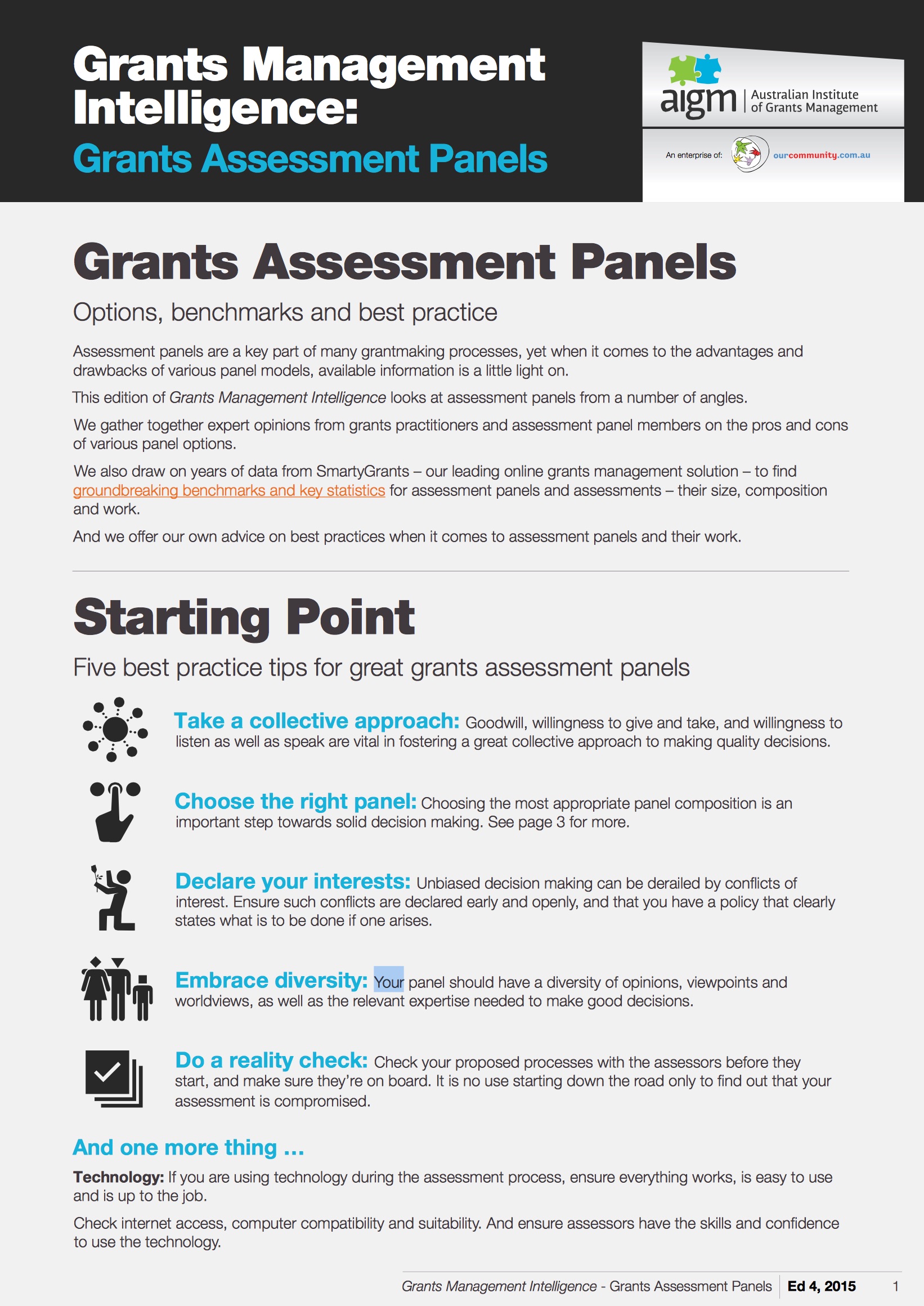 SEP 2015: ASSESSMENT PANELS
Using SmartyGrants data, we examine best-practice assessment, covering:
- Benefits and drawbacks of options
- The gender split
- Timelines and processes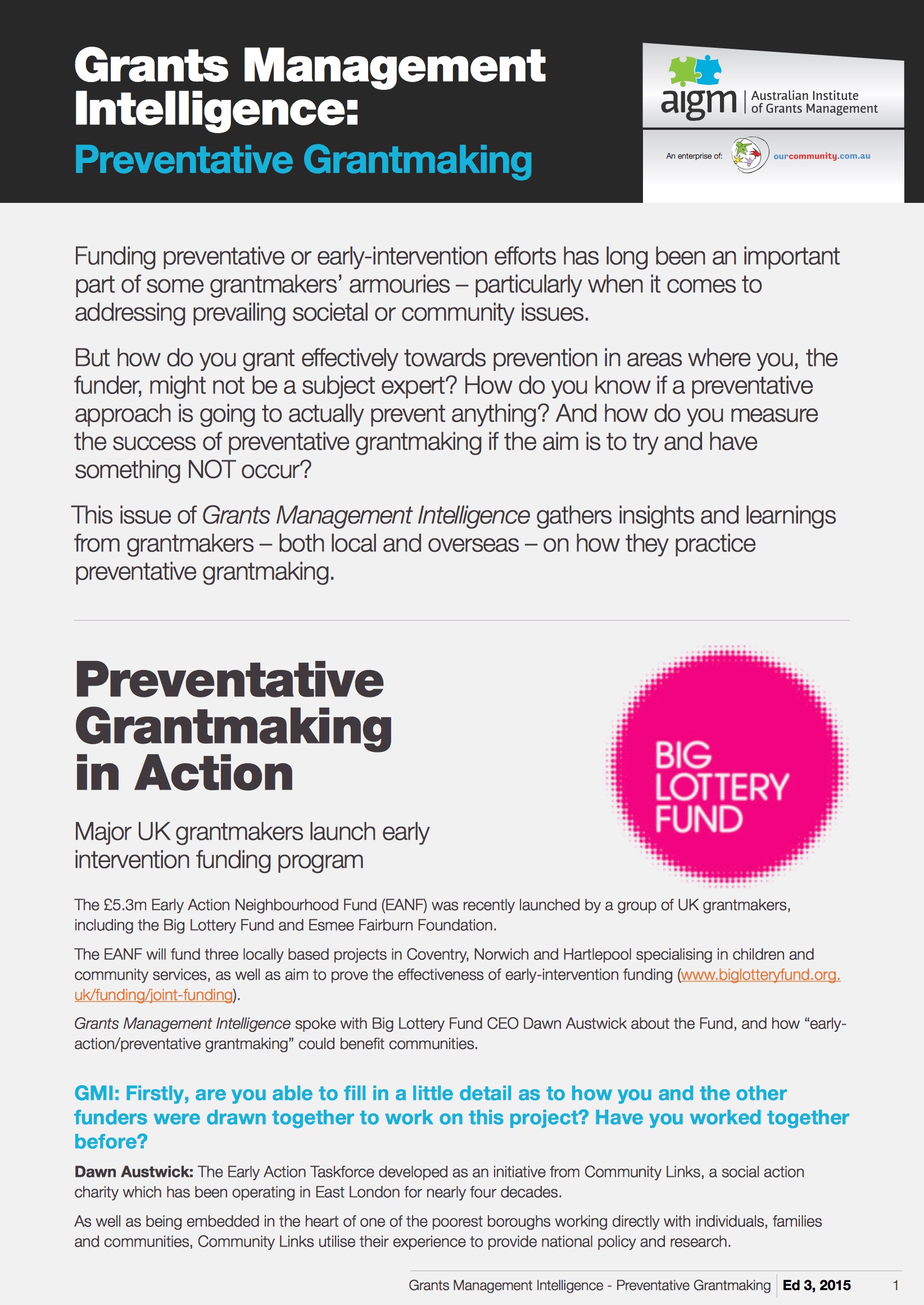 JUN 2015: GET PREVENTATIVE
Insights on "preventative grantmaking", answering:
- How do you know if a preventative approach is going to prevent anything?
- How do you measure the success of preventative grantmaking if the aim is to try and have something NOT occur?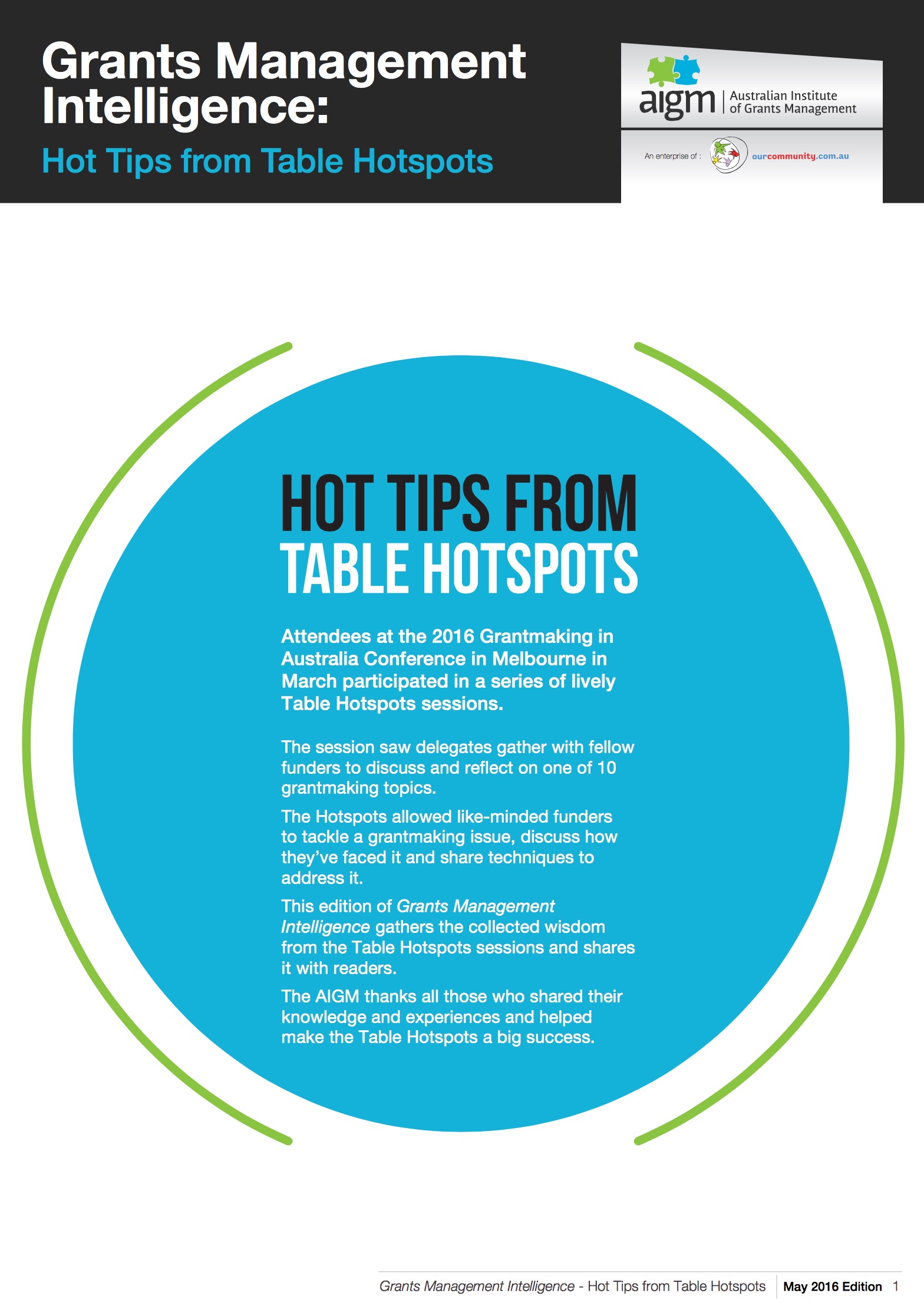 MAY 2016: HOT TIPS
Wisdom from from our 2016 Grantmaking in Australia Conference.
- Feedback and timelines
- Problems with applications
- Funding operational costs
- Highly political processes
- Grant program accessibility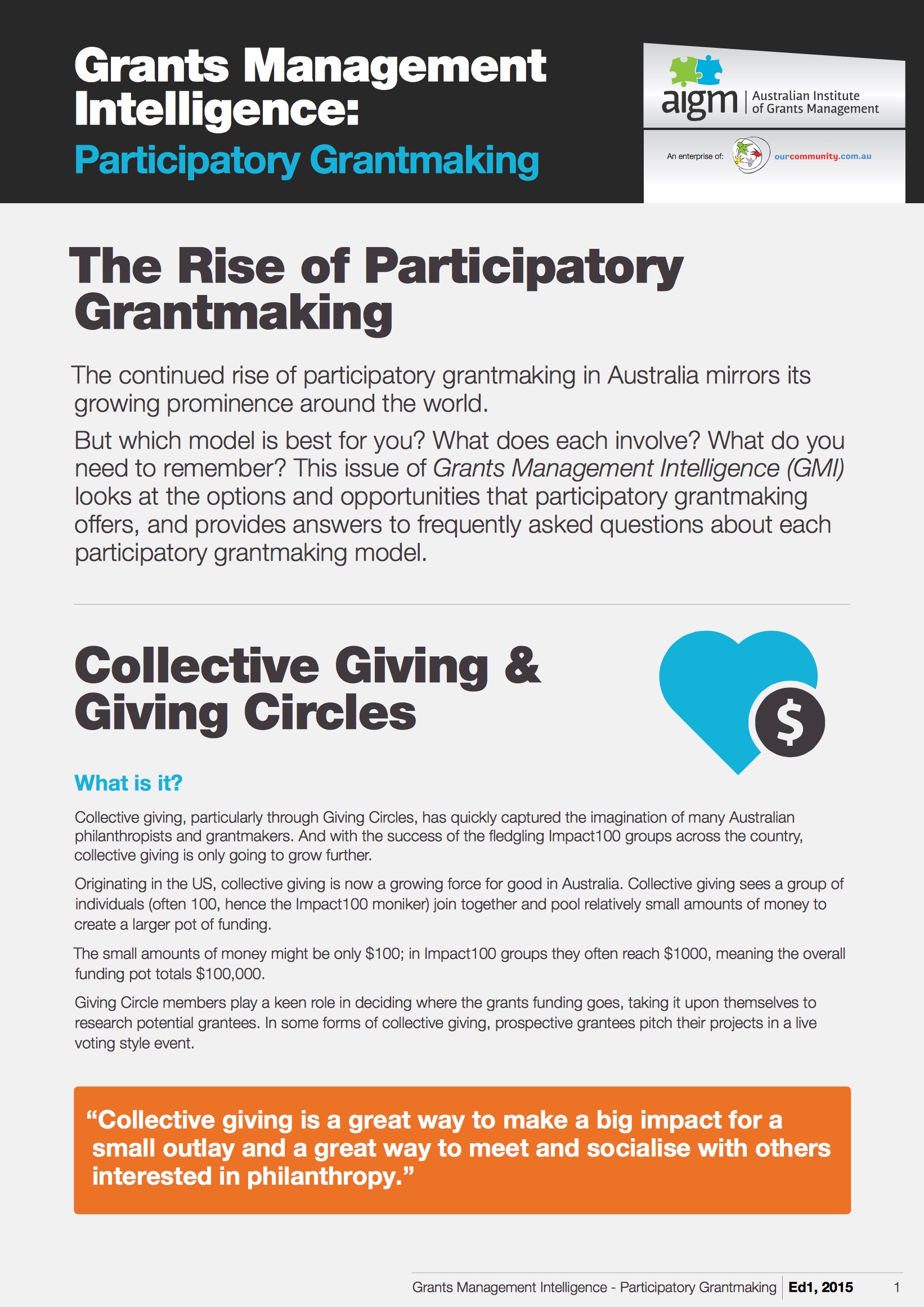 FEB 2015: PARTICIPATION
Options for funders considering participatory grantmaking, including:
- Collective giving and giving circles
- Advisory councils
- Community consultation
- Live grantmaking & contests
- Crowdfunding and crowdsourcing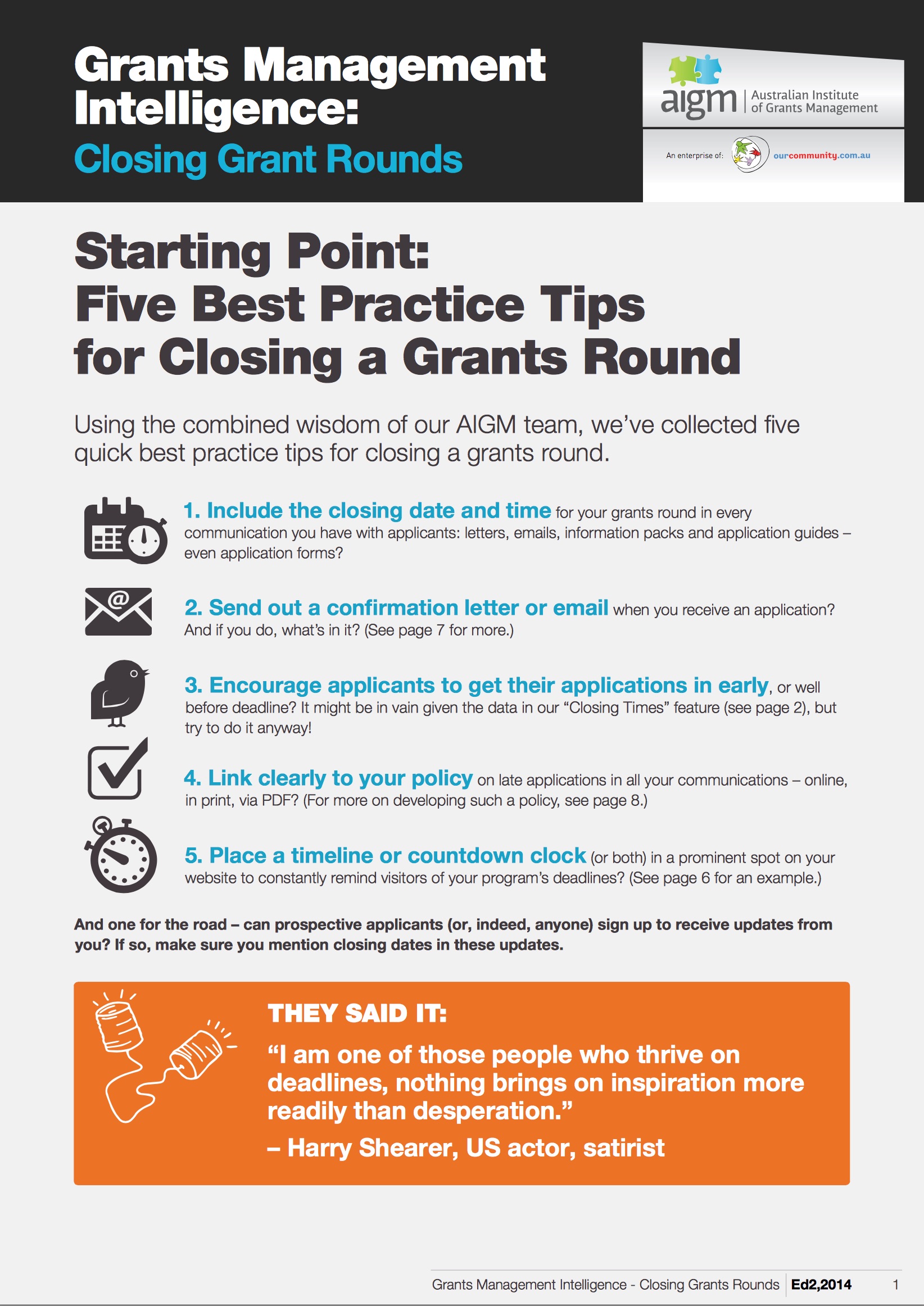 NOV 2014: CLOSING ROUNDS
Facts, stats and more covers:
- When grantmakers close rounds
- Grantseekers' submission habits
- Our best practice benchmarks
- Late application policies
- What to do after closing your round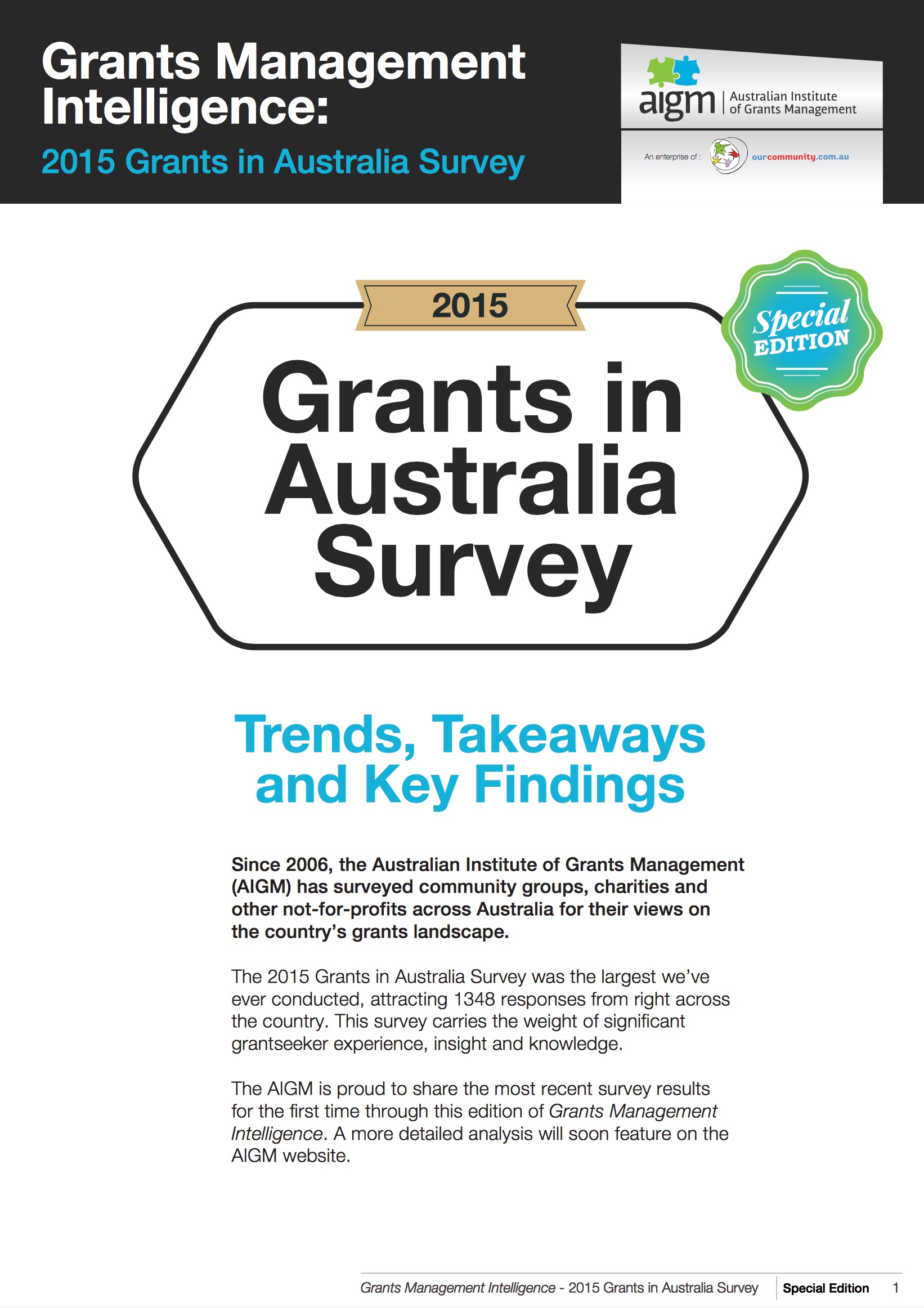 FEB 2016: GRANTS SURVEY
The latest findings explain the:
- Lack of
feedback
from grantmakers
-
Funding
drop for multi-year grants
- The rise of
online grants

-
Briefing
grantseekers