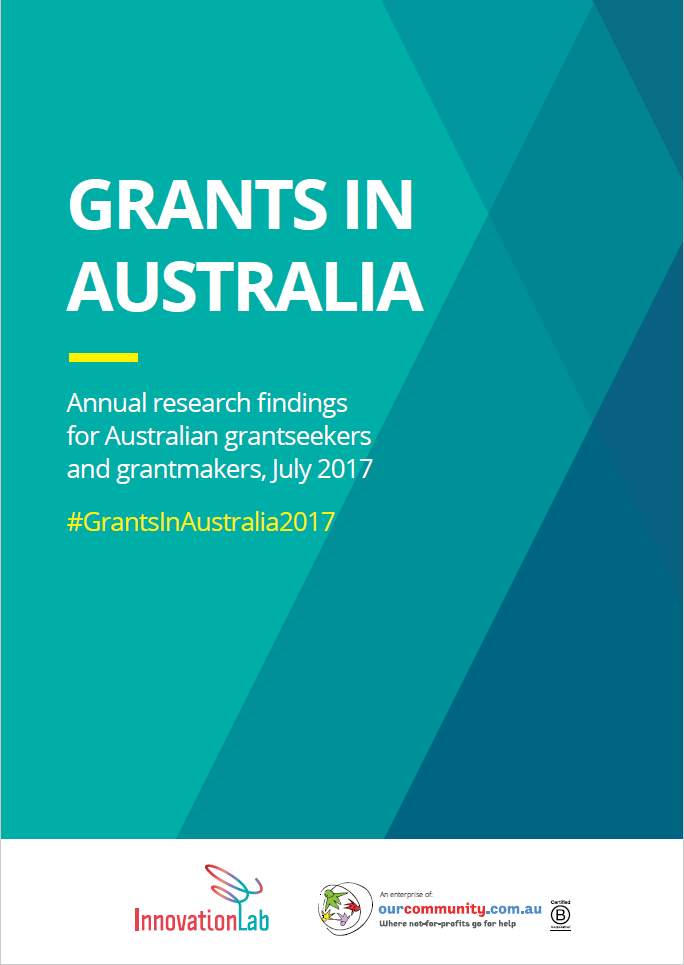 The Grants in Australia research study is the largest survey of Australian community organisations and not-for-profits for their views on grants and grantmakers.
Download Grants in Australia 2017 (PDF 5.2mb)
Take the 2018 survey now and win (closes May 7)
Email: service@ourcommunity.com.au if you'd like a PDF copy.
Released in late July 2017, this is the ninth such report, a resource for Australian grantmakers and grantseekers produced more or less annually since 2006.
Examine the links below for detailed findings from the 2017 study.
Full report + takeaways + NFP benchmarking tool | Report summaries | | Grants survey a wake-up call for NFPs
An output of Our Community's Innovation Lab, the report is part of an ongoing research project that charts the development of the field of grantmaking in Australia from the grantseeking community's perspective.
Results are drawn from a survey of not-for-profit groups across Australia who are invited to share their experiences of grantseeking, as well as their interactions with grantmakers and grantmaking systems.
The survey is the biggest of its type in Australia and informs the work of Our Community and its enterprises (most notably the Australian Institute of Grants Management (AIGM) and the Funding Centre), as well
as provide important data and key reference points for Australian grantmakers and grantseekers, academics, social sector enablers, and others interested in the field.
A total of 1227 people completed the latest survey, conducted online from November 2016 to February 2017. Only grantseekers who had applied for a grant in the past 12 months were eligible to complete the survey.
Below are links to previous Grants in Australia reports, and The Story So Far - our major report outlining findings from the first eight studies.