The Board Doctor
Expert Diagnosis for Board & Committee Ills
If you're on a board or committee there will be times when you need advice from somebody who has experience in dealing with the wide range of issues that may arise. The Board Doctor provides tips, ideas and solutions from a range of experts who have contributed to our newsletters and annual conferences. Our Community have brought together these experts to provide answers to a range of easy to follow exercises. They know the law, they know what has worked in practice, and they trust their judgement, because they've been in the trenches.
---
What's inside?
Recruitment

No Limits: Planning for Succession
In with the New: Induction Processes
Small Pond: Finding New Members
Diversity Rules: Reflecting your Community
Skill Set: Balancing Diversity with Skills

Ethics

Caesar's Wife: Handling Conflicts of Interest
United Front: Board Solidarity
Zip It: Board Confidentiality

People

The Bully
The Distruster
The Pushy CEO
The Maverick
The Spoiler
Founder's Syndrome
The Stayer

Board-Staff Relations

Up Close: Relations with the CEO
Back Channel: Staff Complaints
Good Job: Appraising the CEO

Meetings

Over Time: Reducing Meeting Times
Number Crunch: The Chair & the Finances
In Writing: Reporting to the Board
Running Dead: Encouraging Participation
Drivel Trouble: Improving the Flow
Away Game: Tackling Absenteeism

Governance

Show Me the Money: Board Remuneration
In Writing: Constitutional Clauses
Up to the Mark: Board Performance Benchmarks
Duty Calls: Representing Stakeholder Interests
Ex Officio: Inviting the CEO onto the Board
Start-Ups: Getting Going

Structures

Profit & Loss: Defining 'not-for-profit'
Bankroll: Making Money
In Sickness & Health: Good Times & Bad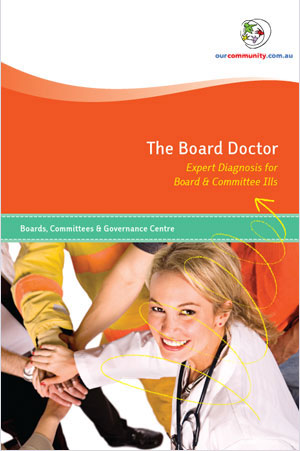 Download a sample
---
$36 (inc GST)
Includes FREE postage within Australia
(Shipped Tuesdays and Thursdays)
---
Format: Paperback
Pages: 95
ISBN: 1876976284
---
Want more?
Our Community has published an entire series of "how-to" guides that can help with your marketing, governance and fundraising needs.
Download a summary brochure