Our Community Matters: Helping to 'Save Our Sector'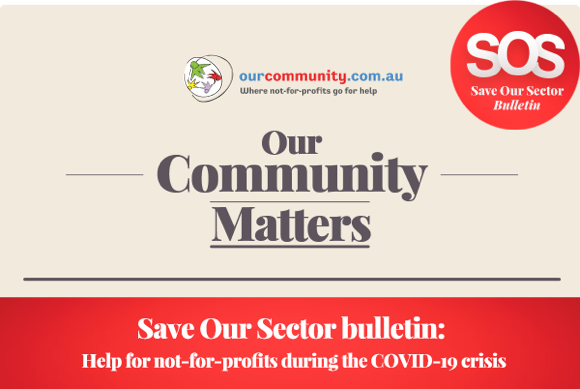 ---
The free newsletter every not-for-profit needs
These are unprecedented and difficult times, which is why we're giving the not-for-profit sector access to a library of capacity building resources to help you stay afloat until we get to the other side of COVID-19. Since March 2020, we've been alerting NFPs to that material, with the Our Community Matters Save Our Sector bulletin.
Subscribe to get the bulletin in your inbox.
Our Community Matters remains a free newsletter with news and views for the community sector with coverage of fundraising, grants, marketing, governance, insurance, the law, research, trends, policy and every major issue relevant to Australia's 600,000 community groups and not-for-profits.
Count on us for tips and advice, such as for dealing with the media, managing risk at your next fundraiser, or working with volunteers. Then there's the fun stuff: book reviews, blog links, quizzes, even the occasional kitten video. In normal times, Our Community Matters is emailed to thousands of community organisations every two months.
---
Past editions
---
Download more back issues
(or click here to visit our "stack" of past editions on Issuu)
2017 | December | October | August | June | April | February
---
2016 | December | October | August | June | April | February
---
2015 | November | September | July | May | March | January
---
2014 | November | October | August | June | May | March
---
2013 | December | October | June | April | February
---
2012 | November | October | September | July | June | April | March | February
---
2011 | November | October | August | June | May | April | March | February
---
2010 | December | October | September | August | June | May | April | March | February
---
2009 | December | November | October | August | July | May | April | March | February
---
2008 | December | November | October | September | August | July | June | May | April | March | February
---
2007 | December | November | October | September | August | July | June | May | April | March | February
---
2006 | December | November | October | August | July | June | May | April | March | January/February
---
2005 | December | November | October | August | July | June | May | April | February
---
2004 | November | September | August | July | June | May | April | February
---
2003 | October | September | June | June | May | March | February
---
2002 | December | November | October | September | August | July | June | May | April | March | February
---