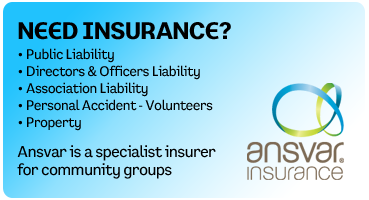 Need insurance or risk management help?
The Community Insurance & Risk Management Centre has been established to help Australian community groups get practical information, support and resources on risk management and to buy affordable insurance in the following areas:
Public Liability
This covers your organisation for legal liability in regards to claims concerning compensation for property damage, personal injury or advertisinginjury. This can be extended to cover functions, festivals and fundraising events organised by your organisation.
Liability of Officials (Directors and Officers Liability)
Covers individual directors and officers in the event they are sued for negligence.
Personal Accident - Volunteers
Covers accidental injury to your volunteers whilethey're representing your organisation.
Property
Covers you for loss or damage to your organisation's building and contents. This may include loss or damage caused by events such as fire, flood, storms, burglary and earthquake.