Hi members,
Welcome to the first edition of Our Community Matters for 2021. It's the free newsletter of OurCommunity.com.au – where not-for-profits go for help.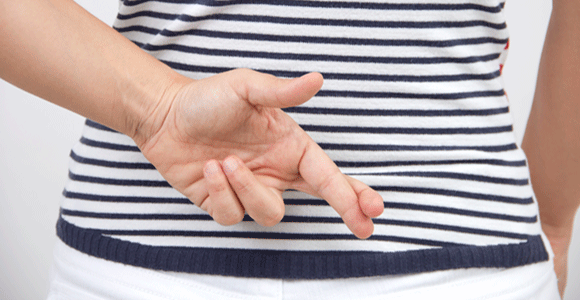 Sorry, not sorry: The trouble with apologies
We all make mistakes, including not-for-profits.
Apologies really matter and are easy to get wrong – just ask Collingwood Football Club president Eddie McGuire.
Communications expert Brett de Hoedt, who's behind the award-winning podcast The Hardest Word, reveals some nubs of wisdom you can use to ensure your apology is real:
Attitude: It's time to get your humble on. That's why so few people deliver meaningful apologies – or any apology at all. You need to accept that you are in the wrong. You need to feel and demonstrate that you are duly chastened. That's tough for most organisations and for leaders in particular.
Take us to your leader: An apology must be delivered by the person in charge if you want to lend your apology authority. This means that leaders may have to apologise for behaviour over which they realistically had no control. (That's why they get paid the big bucks.) One speaker is usually enough – don't apologise by committee.
Faster, faster: Quickly decide whether you need to apologise. If you do, deliver the apology ASAP as an apology delayed is an apology denied.
More ways NOT to apologise
Our Community's thinker-in-residence Chris Borthwick says there are many kinds of apologies. Some even involve being sorry. Others are:
The passive-aggressive apology: "If any hysterical little crybaby has been offended by my recent statement of the true facts of the 5G hoax, I apologise sincerely to all concerned."
The system worked apology: "I apologise sincerely to all concerned for the club's involvement in chattel slavery during the 1960s, but have to point out that our willingness to admit to past sins is greatly to our credit and shows our very real superiority over all the other clubs."
The scapegoat apology: "The Dirtcheap Poisons Dumping Company is sincerely sorry that the 300,000 tons of ammonia stored in its East Sunshine facility exploded and blew a crater in the suburb, and stern action will be taken by the company against nightwatchman Ern Parsons (who was entirely responsible for every aspect of this accident) should any part of him be recovered."
Sector news and comment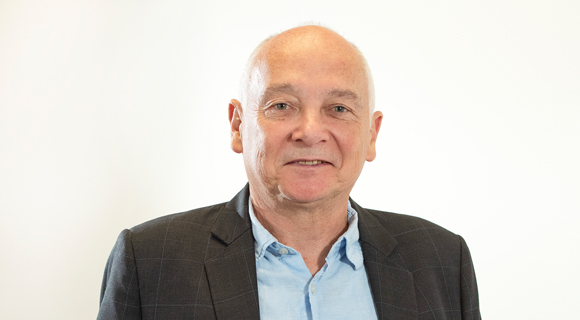 Denis Moriarty
It's time to pull the plug on pokies
"Most not-for-profits are stressed out not by the occasional embezzlement triggered by gambling addiction, but by the continual pressure on their services from people who have been driven by gambling into poverty, family breakdown, despair or homelessness.
"You might then wonder why other not-for-profits – the RSL, most prominently, but also a number of football clubs – have their own poker machines churning out misery on an industrial scale."
As the odds of gambling giant Crown continuing to operate in Australia lengthen, Our Community Group managing director Denis Moriarty argues it's time governments ended their unhealthy addiction to pokies.
Sector peak pitches key Federal Budget measures
The Community Council for Australia – the sector's peak advocacy group – has released its pre-Budget submission, featuring a nine-point plan to save the sector. "Never has there been a stronger case for investment in the charities and NFP sector to build more resilient communities through greater engagement in our society and our economy," it states.
The council's proposal includes reforms to DGR status, fundraising, giving incentives, sector investment, volunteer processes, tax concessions, and estate duties for the wealthy.
Social connection rising, mostly, amid COVID-19
Australians remain optimistic, with trust in government at an all-time high, according to research into the impact of COVID-19 on community connection. The Scanlon Foundation Research Institute's Mapping Social Cohesion report, a new addition to our COVID-19 NFP Research Hub, draws on a 140-question survey of thousands of people last July and November – revealed that:
28% of respondents' jobs were affected by the pandemic
73% (up from 64% in 2019) were satisfied with their financial situation
54% (up from 33%) trusted the Federal Government
84% (up from 80%) said multiculturalism was good for Australia
35% (down from 40%) admitted to feeling negative toward Muslims
56% (new data) felt negative towards those of Sudanese descent
Have your say in our diversity study
Our Community is developing resources to help not-for-profits reflect the diversity of modern Australia, and we need your help. We're looking into the cultural and social barriers that make it difficult for some people to find a place in community groups. If you're from an under-represented group and share our concern that work is needed to ensure that Australia's diversity is reflected in its community groups, we'd like to hear your opinions – and your stories.
Your COVID-19 response essentials, fast
The Save Our Sector bulletin, published throughout 2020, was full of resources to help your organisation survive the pandemic. You'll still find all of that essential guidance online at the SOS page including plug-and-play policies, how-to webinars, technology and working-from-home guidance, volunteer tips, 'Agony Uncle' tips, research and trusted knowledge sources.
Financial and fundraising help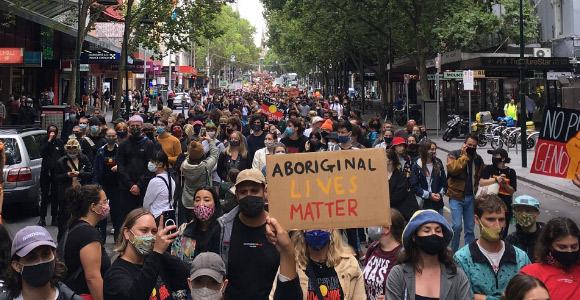 'Survival Day' donations show how your not-for-profit can benefit
Amid calls to change the date of Australia Day, some Indigenous organisations are seeing a spike in financial support spurred on by campaigns, social media and influencers.
Tap the link below to read about the Australia Day experience of Indigenous women's support agency Djirra, which saw more than a thousand extra donations on the day compared to last year, following calls by feminist campaigner Clem Ford and others.
If you do it right, you too can turn topical events into opportunities and fury into financial support.
Insights from Giving Tuesday's bumper year
Generosity campaign Giving Tuesday is growing fast as more Aussies than ever get involved in the global event, according to a report being published next week. Get the report as soon as it's released by signing up to the Giving Tuesday newsletter.
And at a free webinar next week, Australia's Giving Tuesday organisers will offer extra insights and answer questions live. Sign up now for 1pm AEST on Wednesday February 24.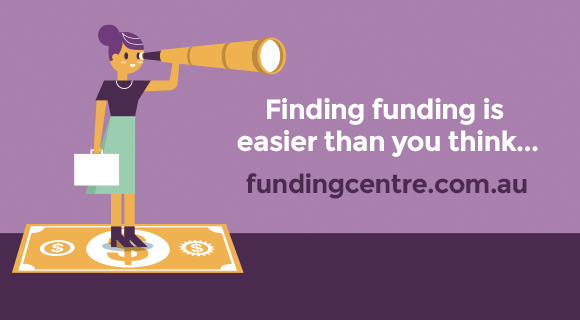 Great grants: New listings on the Funding Centre
Here's a selection of the grants listed on Australia's best and most affordable grants and fundraising hub. Get a 14-day free trial to test it for yourself!
Social justice 'small grants' worth $1,000 to $10,000 are available for projects addressing isolation, exclusion, stigma and discrimination linked to mental health, with priority given to small groups without funding and projects targeting women. Applications close Monday, March 29.
Community conservation grants of up to $10,000 will fund field projects and education programs to help protect native species, habitats, landscapes and cultural heritage. Applications close Friday, February 26.
Grants for infrastructure and community investment projects worth $5,000 to $10 million are available to local government and NFPs in regional and remote areas. The community stream targets events, planning and capability-building, while the infrastructure stream targets investment-ready projects. Applications close Friday, March 5.
Community grants worth $1,000 to $10,000 are available to local projects by charities and social enterprises that help people prepare for natural disasters, build community resilience to such disasters, and reduce climate risk. Applications close Wednesday, March 31.
Help others improve their financial health
The leader of the Commonwealth Bank's not-for-profit sector team, Julienne Price, explains how the new guide Your Financial Health gives you the tools to help others build their financial confidence, with tips like these:
Find a good budgeting app or calculator
Use transaction notifications
Track spending
Get the right kind of counselling.
What's the future for our economy?
CommBank chief economist Stephen Halmarick will outline Australia's recovery in his next economic update, titled "The Road Ahead". Watch live, 1–2pm AEDT, Wednesday, March 10.
Become a better leader in 2021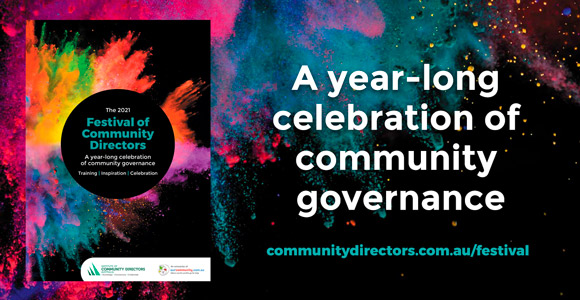 Get smart with the Festival of Community Directors
The Institute of Community Directors Australia (ICDA) has released the latest Festival of Community Directors training calendar to help you set up a productive year.
"2020 was all about survival for so many community organisations. In 2021, it's time to think about how we can get back on track," Our Community group managing director Denis Moriarty says about the year-long series of webinars.
More than 8000 board members, CEOs and others signed up last year for the festival's webinars, which featured a different theme each week. Many are offered free.
Webinars coming soon (all times AEDT, prices for ICDA members/non-members):
Join a board, make a difference
If your new year's resolution is to make a contribution to your community, consider joining the board of a not-for-profit. Here is what Adjunct Professor Susan Pascoe of the Community Directors Council says about the benefits:
"There are great advantages to being a member of a community board – purposeful engagement with others, improving the local community, affirmation and a sense of wellbeing from volunteering, and learning governance skills if this is your first board."
But getting the right fit is crucial. Here's how:
Is board service right for you?
Before you sign yourself up, you need to be aware of what you're signing up to and you need to make an honest assessment of whether you're willing and able to make the required contribution and commitment.
You should not confine your search to just one group or one area of interest – not all boards will have vacancies at the same time and not all will fit your needs and desires for board service.
Obviously, you don't want to join just any old board, but one whose focus, mission and direction you support. Joining a board that matches your interests will help to ensure you stay engaged, energised and focused. A good place to start is to look at the groups you are already involved with.
Meet your perfect match with our FREE Board Matching Service
Here's a handful of the not-for-profit board vacancies currently advertised online with the Institute of Community Directors Australia (ICDA) and Good Jobs.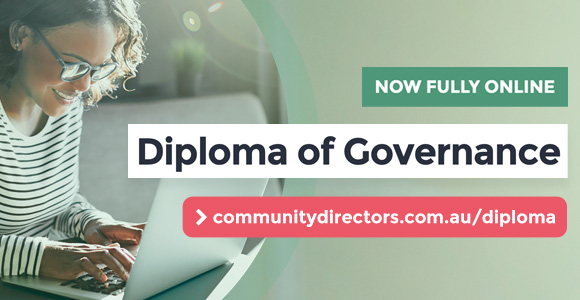 Distance diploma student blitzes online governance course
Broome student Eloise Page has completed ICDA's new online governance diploma course in less than six months, despite living 2000km from the nearest capital, Darwin, being the mum of four, and working full-time as a manager at an Indigenous corporation. Ms Page told us that with all these commitments, she would never have been able to complete a face-to-face course. She said virtual discussions and roleplays with other students were a highlight, and she now had renewed confidence in tackling challenging governance issues at her organisation. "It has exceeded my expectations," Ms Page said.
Help Margarita to learn to lead
Not-for-profit CALD2LEAD exists to support the next generation of third-sector leaders from culturally and linguistically diverse (CALD) backgrounds.
It's offered a $1000 scholarship to would-be student Margarita Roja, who wants to complete the ICDA Diploma of Governance so she can better help the Spanish-speaking community in Melbourne. Our Community has matched CALD2LEAD's generosity to the tune of $1000. Now CALD2LEAD is seeking donations via GiveNow to cover the remaining cost – and you can help.
Great events you should know about
Convention to shake up politics
The first national convention for "community-minded independents" goes online this month, 26–28 February, with the goal of attracting more independents to politics. Hosted by Cathy McGowan, who broke the Lib-National hold on the federal Victorian seat of Indi, the event features keynotes from her successor Dr Helen Haines and former independent Dr Kerryn Phelps. Registrations close Monday.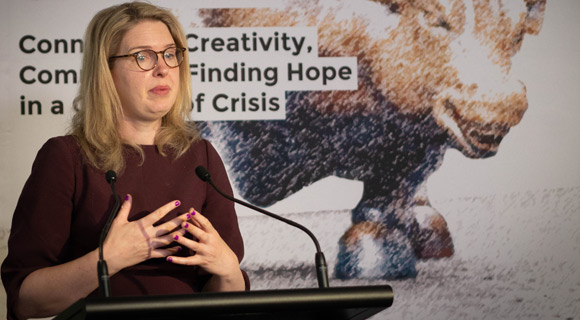 Add Communities in Control to your calendar
Watch your inbox for details of Communities in Control, the must-attend virtual conference aimed at established and emerging community leaders. The 2021 extravaganza will be happening on May 17–18, but in the meantime, here's audio, transcripts and video of last year's event to whet your appetite.
Win a free ticket to the film fest that aims to change the world
Thanks to the Transitions Film Festival, the virtual community-minded film festival with the theme "Visions for a Better World", we're giving away a limited number of free tickets to Inherent Good, a documentary about a universal basic income. For your chance to win, tap the link and use the entry code INHERENTCOMMUNITY. Winners notified February 20.
Who's new at Our Community House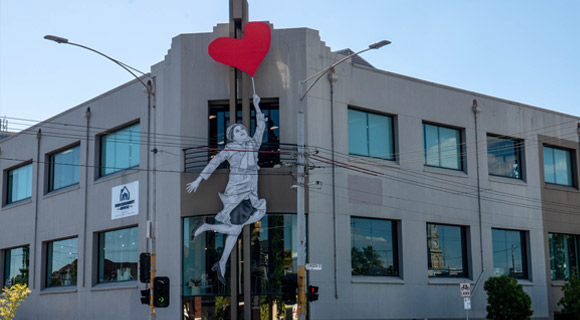 Our Community House is more than just this newsletter's Melbourne HQ. The building that anchors Baby Guerrilla's two-storey artwork Hope (pictured) is also a co-working space for like-minded for-purpose groups.
New arrivals include the Centre for Public Impact, helping shape government thinking; Everyhow, combining collaborative, critical, and creative thought; Food Frontier, an alternative protein thinktank (yes, really); Satellite Foundation, helping young people whose parents face mental illness; Suicide Prevention Victoria; Volunteering Victoria; and Emergent, led by strategist Holly Ransom.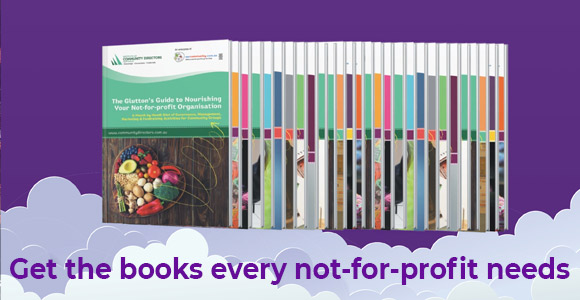 Plan your year with this book
You can never get enough guidance, which is why we recommend our book The Glutton's Guide to Nourishing Your Not-for-profit Organisation ($36), which is crammed with ways to get the most out of 2021. Visit our online bookshop for more titles.
Spread the word about Our Community
Forward this email to anyone in your network who needs these resources. Better yet, encourage them to sign up to our emails at ourcommunity.com.au/subscribe.
Join our free Not-for-Profit Happy Hour Facebook group. There you'll find a rapidly growing community of NFP peers sharing discussions, resources and virtual morale. Join in at facebook.com/groups/nphhaustralia.
About this newsletter
Our Community Matters, edited by Matthew Schulz, is your free community sector update, brought to you by Our Community, Australia's centre for excellence for the nation's 600,000 not-for-profits and schools. It's published monthly.
Subscribe | Read back issues | Contact us if you'd like to reproduce any of our content

Best wishes,
The Our Community team.
---
This email was sent to ${recipient.email}.
Change of details? Email your updates to service@ourcommunity.com.au. You can unsubscribe from Our Community marketing emails here To unsubscribe from Our Community Matters please email us with the subject line "Unsubscribe-OCM".

Message sender: Our Community Pty Ltd | ABN 24 094 608 705
Our Community House, Wurundjeri Country, 552 Victoria St, North Melbourne, VIC 3051
service@ourcommunity.com.au