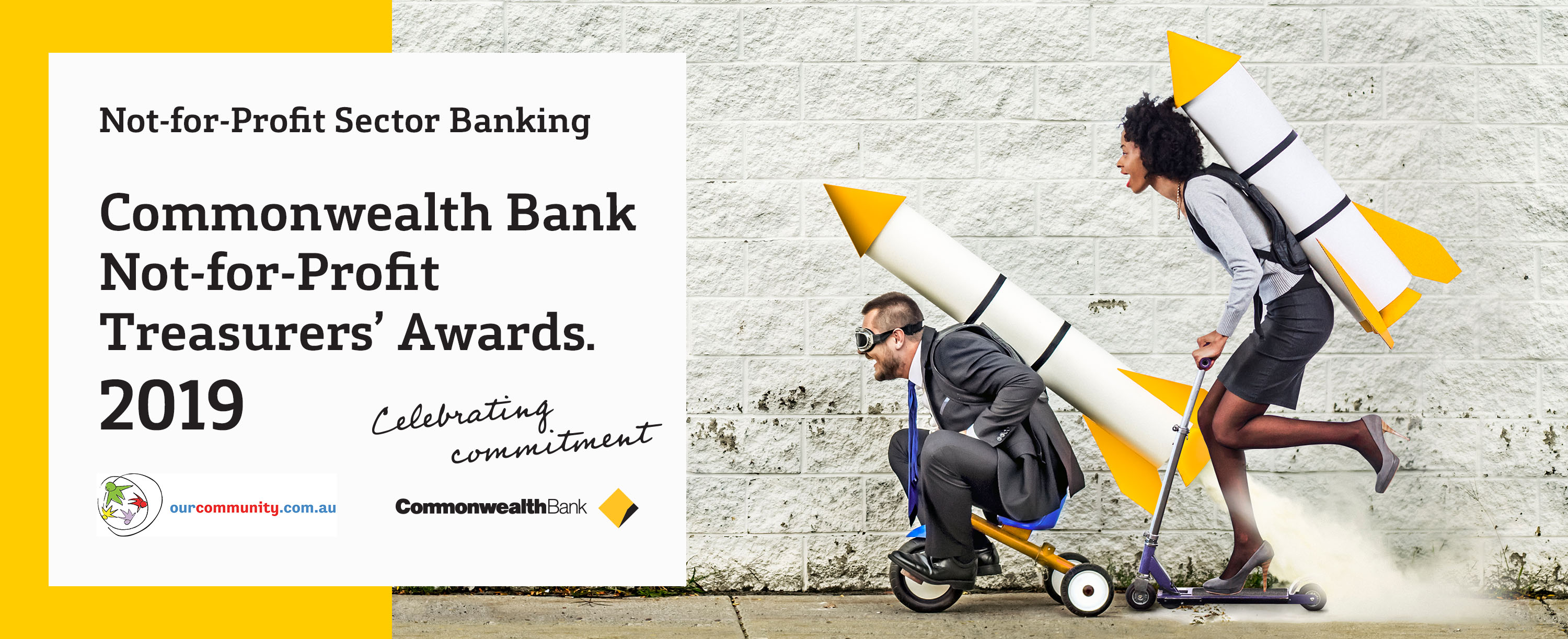 The 2019 Commonwealth Bank Not-for-Profit Treasurers' Awards
---
About the Not-for-Profit Treasurers' Awards
Not-for-profit treasurers have to get the basics right. There's no room for flimflam, big talk, or massaging the figures. The money just has to be there - or everybody misses out. We owe treasurers a lot.
Most treasurers are untiring, painstaking, and efficient. They work long hours without asking for thanks or recognition. They keep the group afloat.
Every community organisation understands how much they owe to the person who keeps track of the finances. But they don't often tell them so. Our Community and the Commonwealth Bank and their Not-for-Profit Sector Banking team believe Australia's treasurers deserve some recognition.
The Commonwealth Bank Not-for-Profit Treasurers' Awards are designed to provide that recognition.
The winners of the Not-for-Profit Treasurers' Awards are announced at a gala event held during Not-for-Profit Finance Week.
Download last year's Enhancing Financial Literacy Booklet (PDF 538kb)
---
Key Dates
Nominations Open: Monday, May 20, 2019
Nominations Close: 11.00am AEST, Friday, July 26, 2019
Winners announced: During Not-for-Profit Finance Week, commencing Monday, September 16, 2019
---
Resources for not-for-profit treasurers
The Community Finance Centre has been established by Our Community in conjunction with CommBank Not-for-Profit Sector Banking to provide tools and resources to help improve the financial management of not-for-profit groups, and provide access to better and more cost-effective banking services. Find what you need from the list below:
Financial Policies
The Institute of Community Directors Australia's downloadable financial management policies provide the information and support you need to safeguard and grow the finances of your not-for-profit organisation.
Financial Literacy Tools
Our financial literacy help sheets, financial tutorials and checklists provide the advice a treasurer needs to keep the organisation's books balanced.
Damn Good Advice Guides (Free)
Not-for-Profit Finance Week
Not-for-Profit Finance Week highlights the importance of good stewardship over the finances of Australia's many community organisations. Events during Not-for-Profit Finance Week are designed to celebrate and provide financial literacy education for the staff, volunteers, board members and treasurers who oversee the finances of Australian not-for-profit organisations.
Fundraising Resources
Our Community has developed a range of resources and tools to help community groups raise more funds. Go to the Community Funding Centre to get information on grants and fundraising in Australia.
The Funding Centre's grants database, help sheets and tools are specifically designed for not-for-profit organisations and schools, no matter your location, size or type.
Donations Hub
Through the GiveNow.com.au online giving service, Our Community is helping Australians give more to the community - through donations of money, time and goods. GiveNow Week, which is held in December every year, aims to focus attention on the many ways that individuals, families, businesses and groups can make a difference to the community. Over $90 million has been donated using this free service to date.
---
Why the Not-for-Profit Treasurers' Awards?
There are hundreds of thousands of community groups in Australia who rely on the unsung and unpaid labour of honorary treasurers.
Responsible for the financial wellbeing of their organisation, they often go above and beyond the call of duty to make sure ends meet.
Recognising this, the Not-for-Profit Treasurers' Awards have been established to show appreciation of the immense contribution community treasurers make to their community groups, the community sector, and to Australia.
This national competition, an initiative of Our Community and the Commonwealth Bank, is designed to unearth four unsung community treasurers who fulfil the duties of ensuring good financial management, good financial governance and good financial outcomes.
Read about the past winners of the Not-for-Profit Treasurers' Awards.
---
Questions?
Email treasurersawards@ourcommunity.com.au
---
Terms & Conditions
---
Register for Notification
If you'd like to be notified when the Not-for-Profit Treasurers' Awards are open for nominations, please complete the following form. We'll send you the details as soon as they're available.
* denotes required fields