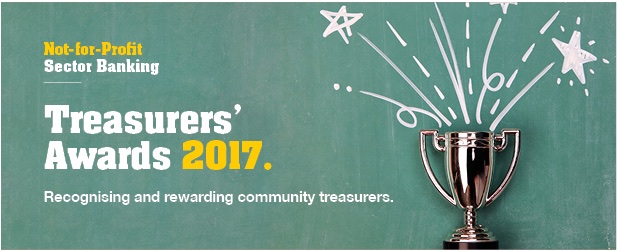 2017 Commonwealth Bank Not-for-Profit Treasurers' Awards
Not-for-profit treasurers have to get the basics right. There's no room for flimflam, big talk, or massaging the figures. The money just has to be there - or everybody misses out. We owe treasurers a lot.
Most treasurers are untiring, painstaking, and efficient. They work long hours without asking for thanks or recognition. They keep the group afloat.
Every community organisation understands how much they owe to the person who keeps track of the finances. But they don't often tell them so. Our Community and the Commonwealth Bank and their Not-for-Profit Sector Banking team believe Australia's treasurers deserve some recognition.
The Commonwealth Bank Not-for-Profit Treasurers' Awards are designed to provide that recognition.
The winners of the 2017 Not-for-Profit Treasurers' Awards have now been announced. You can read about them here.

---
This year the awards are split into two parts: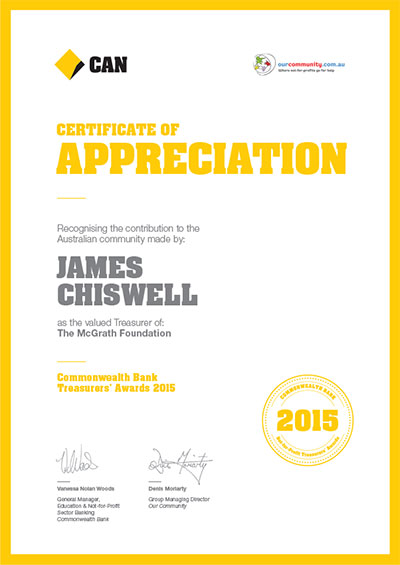 Category A: Nominate and recognise your treasurer:
Tell your treasurer you appreciate all that they do for your community organisation by nominating them to receive an official 2017 Not-for-Profit Treasurers' Award Certificate of Appreciation. We will send you the Award Certificate with your treasurer's name on it.
Who's eligible:
You can nominate anyone who has served as a treasurer of an Australian not-for-profit organisation at any time in the past 12 months.
Nominations for the 2017 Not-for-Profit Treasurers' Awards are now closed.
Category B: Apply as a treasurer and win $5000:
Treasurers can enter by sharing their wisdom to help others working in the not-for-profit sector overcome similar challenges. This year we are asking treasurers to contribute and share their practical knowledge by creating one of the following resources:
A financial template
A financial policy
A summary and outline of a financial webinar
There are three $5,000 donations to be won, one for the best submission in each category. You can find out more about this year's wisdom section and gain some inspiration for each resource category at
www.ourcommunity.com.au/wisdominfo
.
Who's eligible:
You may enter this section of the awards if you have served as a Treasurer of an Australian not-for-profit organisation at any time over the past 12 months. Note that you must nominate one organisation to receive the $5000 donation, though you may cite your experience with more than one.
Applications for the 2017 Not-for-Profit Treasurers' Awards are now closed.
Download the 2017 Enhancing Financial Literacy Booklet (PDF 538kb)
---
Congratulations to our 2017 winners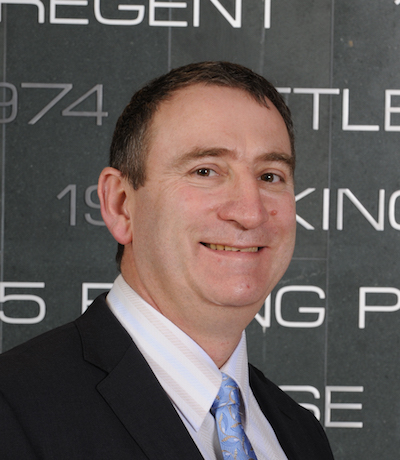 Bruce Clarke, Melbourne Mustangs Ice Hockey Club, Victoria
The Melbourne Mustangs compete in the Australian Ice Hockey League. Although the team competes at a national league level, all positions at the Club are unpaid and the players are amateurs.
Bruce commenced as Honorary Treasurer of the Mustangs at the start of 2017. He found the role advertised on a volunteers portal and saw it as an excellent way to put something back to the local community and help young people achieve their sporting dreams.
Bruce has been able to apply many of the skills from his full-time role as CFO of the Moonee Valley Racing Club to benefit his role as Treasurer of the Mustangs. He views his role as more than just a typical treasurer. As well as performing all of the usual reporting duties, he has prepared and implemented a range of technology strategies to ensure continued financial strength, checks and balances.
"I am thrilled to win this Award on behalf of the Melbourne Mustangs. The prizemoney will be well-used in helping our amateur team compete in the national competition."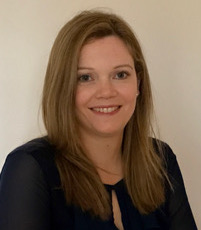 Sinead Glennon, Genetic and Rare Disease Network, Western Australia
The Genetic and Rare Disease Network improves the lives of families affected by genetic and rare diseases and works to connect, inform, support and empower them.
The idea of skills-based volunteering with a worthwhile charity appealed to Sinead so she applied for a role with the Genetic and Rare Disease Network through Our Community's Board Matching service. This is her first time undertaking the role of Treasurer for a not-for-profit group and she is really enjoying the responsibility and workload.
She has found that her accounting background and expertise is extremely beneficial to performing the role and informed her thinking about the difficulty faced by treasurers who are performing the role without any accounting knowledge or expertise. For this reason, she has designed various tools for not-for-profit treasurers that help them better achieve financial sustainability and safe practices.
"I am thrilled to be a recipient of this Award. I am excited that my submission has been so well received and I hope it continues to be of use to other treasurers, especially those who find the financial analysis aspect of their role to be daunting."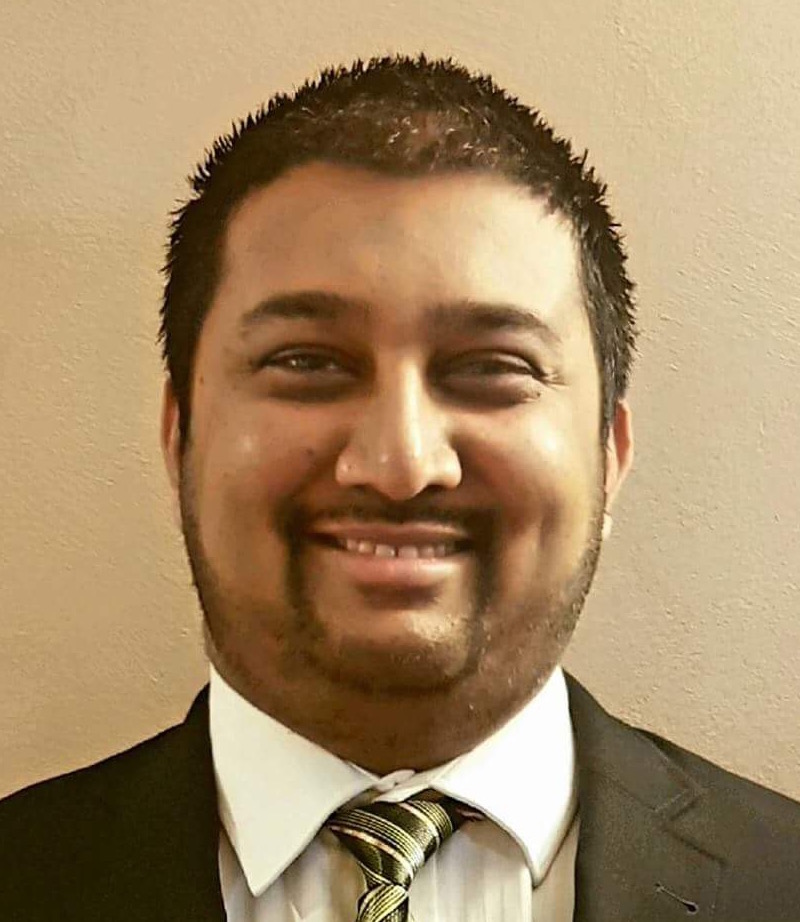 Kaveen Bachoo, Hepatitis Queensland, Queensland
Hepatitis Queensland, the peak body and central voice for liver health in the Sunshine State is a not-for-profit, community organisation dedicated to improving health and social outcomes for Queenslanders affected by, or at risk of viral hepatitis and liver disease.
As Treasurer and Head of the Finance & Audit Committee, Kaveen employs his practical experience from various roles with BHP Billiton, Xstrata and now Glencore to passionately drive the financial strategy of Hepatitis Queensland with a particular focus on prudent management of accounts, cost control and sophisticated reporting to support Hepatitis Queensland's core activities.
He looks forward to continuing to give back to his community and considers it an honour, a privilege and a joy to be involved with Hepatitis Queensland at every level: Treasurer, volunteer and supporter.
"I feel very privileged to be receiving this award - thank you. It is a gratifying experience to use my knowledge and passion about finance and steer Hepatitis Queensland (HQ) in its journey of financial sustainability."
---
Key Dates
Nominations Open: Monday, March 6, 2017

Nominations Close: 11am AEST, Friday, July 28, 2017
Winners announced and certificates distributed: During Not-for-Profit Finance Week, commencing Monday, September 18, 2017
---
Resources for not-for-profit treasurers
The Community Finance Centre has been established by Our Community in conjunction with CommBank Not-for-Profit Sector Banking to provide tools and resources to help improve the financial management of not-for-profit groups, and provide access to better and more cost-effective banking services. Find what you need from the list below:
Financial Policies
The Institute of Community Directors Australia's downloadable financial management policies provide the information and support you need to safeguard and grow the finances of your not-for-profit organisation.
Financial Literacy Tools
Our financial literacy help sheets, financial tutorials and checklists provide the advice a treasurer needs to keep the organisation's books balanced.
Damn Good Advice Guides (Free)
Not-for-Profit Finance Week
Not-for-Profit Finance Week highlights the importance of good stewardship over the finances of Australia's many community organisations. Events during Not-for-Profit Finance Week are designed to celebrate and provide financial literacy education for the staff, volunteers, board members and treasurers who oversee the finances of Australian not-for-profit organisations.
Fundraising Resources
Our Community has developed a range of resources and tools to help community groups raise more funds. Go to the Community Funding Centre to get information on grants and fundraising in Australia.
The Funding Centre's grants database, help sheets and tools are specifically designed for not-for-profit organisations and schools, no matter your location, size or type.
Donations Hub
Through the GiveNow.com.au online giving service, Our Community is helping Australians give more to the community - through donations of money, time and goods. GiveNow Week, which is held in December every year, aims to focus attention on the many ways that individuals, families, businesses and groups can make a difference to the community. Over $70 million has been donated using this free service to date.
---
Why the Not-for-Profit Treasurers' Awards?
There are hundreds of thousands of community groups in Australia who rely on the unsung and unpaid labour of honorary treasurers.
Responsible for the financial wellbeing of their organisation, they often go above and beyond the call of duty to make sure ends meet.
Recognising this, the Not-for-Profit Treasurers' Awards have been established to show appreciation of the immense contribution community treasurers make to their community groups, the community sector, and to Australia.
This national competition, an initiative of Our Community and the Commonwealth Bank, is designed to unearth three unsung community treasurers who fulfil the duties of ensuring good financial management, good financial governance and good financial outcomes.
Read about the past winners of the Not-for-Profit Treasurers' Awards.
---
Questions?
Email treasurersawards@ourcommunity.com.au
---
Terms & Conditions
---
Register for Notification
If you'd like to be notified when the Not-for-Profit Treasurers' Awards are open for nominations, please complete the following form. We'll send you the details as soon as they're available.
* denotes required fields