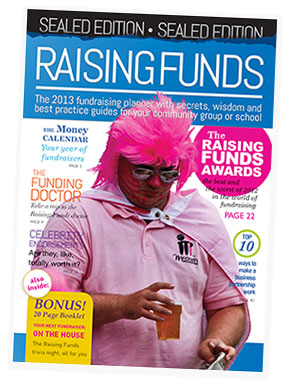 RAISING FUNDS: SEALED EDITION
Your 2013 Fundraising Planner
After more than a decade of bringing you the latest and greatest hints, tips and tools for better fundraising, Raising Funds has released a special Sealed Edition.
This special one-off publication is a 2013 fundraising planner that contains secrets, wisdom and best practice guides to help community groups and schools unearth stacks of money all year long.
This is every community group's must-have resource for fundraising in 2013
Key sections include:
The Raising Funds Awards - the best and worst of 2012 in the world of fundraising. Find out who's been crowned 'campaign of the year'
The Money Calendar - fundraising ideas to use throughout the year to ensure your group's coffers are always topped up
The Fund Doctor - a six-point comprehensive health check to ensure your group is on track for a profitable year
A surprise supplement - hidden within the sealed edition is a supplement that might as well just be a blank cheque
What to do when your funding is cut - a guide to surviving and thriving following a funding cut - essential reading in the current economic climate
The Fundraising Oracles - two industry 'oracles' let us know what the future of fundraising has in store
And much, much more!
Only $25 (Inclusive of GST and Postage)