Media Release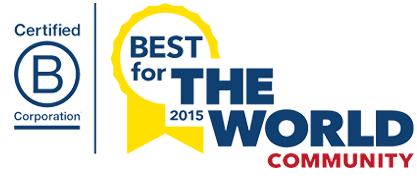 Australia's leading social enterprise, Our Community, has today been recognised as one of the best businesses in the world for community impact.
The business was awarded 'Best for Community Impact' by the American organisation B Lab, scoring in the top 10% of B Lab-certified benefit corporations worldwide in the community impact category.
B Lab is a Philadelphia-based not-for-profit that oversees certification of benefit corporations ('B Corps'), businesses that meet rigorous standards of social and environmental performance, accountability, and transparency.
The Best for Community Impact list is compiled by B Lab annually and is drawn from around 1200 certified B Corps ranging across more than 120 industries.
Other 2015 Best For Community Impact honourees include Roshan, Afghanistan's leading telecommunications company; Beneficial State Bank, an innovative triple-bottom line community development bank based in California; Echale a Tu Casa, a Mexican social housing construction company, and A to Z Wineworks in Oregon.
B Lab simultaneously released separate lists honouring the companies that are 'Best for the World' (overall impact), 'Best for the Environment' (environmental impact), and 'Best for Workers' (employee impact). The full list can be found at bestfortheworld.bcorporation.net.
Our Community has long led Australia in providing a model for socially minded businesses, and became a Certified B Corp in December 2014.
The organisation operates under a cross-subsidisation model, aiming to reach as many organisations as possible with products and services that both fill a need and create social impact.
Paid products and services (newsletters, books, training, SmartyGrants subscriptions, jobs listings) subsidise free or reduced-cost ones (the commission-free GiveNow online donations service, the free Policy Bank and the free Board Matching Service, for example) that may otherwise be unaffordable to the organisations that are doing the most to build stronger communities.
'We do some things for profit, and some things for purpose, but most things fit with both aims. Everything we do must fit with our mission - to build stronger communities,' founder and group managing director Denis Moriarty said. 'We're extremely proud to have our social impact recognised through this important listing.'
'Today's honorees inspire all companies to compete not only to be best in the world, but best for the world,' said B Lab co-founder Jay Coen Gilbert. 'We hope many will take the first step by using the B Impact Assessment to measure and manage their impact with as much rigor as their profit.'
Further information/comment:
Denis Moriarty - Group Managing Director, Our Community
0417 184 744 |
denism@ourcommunity.com.au
Katie Kerr - B Lab
+1 610 293 0299 |
katie@bcorporation.net
(Download this media release in Word format here: www.ourcommunity.com.au/files/MediaReleaseBest_for_Community_April_2015.docx)