---
Who we are
Our Community is the engine room for creating and disseminating practical, affordable training, leadership and technological solutions that allow not-for-profit and grantmaking organisations to get on with the crucial work of building stronger communities.
Our partners in that work are not-for-profit organisations and social enterprises; government, philanthropic and corporate grantmakers; donors and volunteers; enlightened businesses; and other community builders.
We were one of the first companies in Australia to be accredited as a B Corporation, a process that provided external validation of our social credentials. In 2020 we ceased our B Corp accreditation in favour of legally mandating our social mission, becoming one of the first companies in Australia to enshrine our values in our constitution, which states: "commercial imperatives are afforded equal priority to our social mission, our commitment to employees, and our responsibility to the environment in which we work".
Our Community's offerings include:
The Our Community Group is evolutionary as well as revolutionary. Our websites and our services are always changing.
Our vision centres on social inclusion and social equity. Our dream is that every Australian should be able to go out their front door and stroll or wheel to a community group that suits their interests, passions and needs - or log on and do the same.
We want to help make it easy for people to join in, learn, celebrate, worship, plant trees, play a game, entertain and be entertained, care and be cared for, support others and be supported, advocate for rights and celebrate diversity. To get involved. To be valued.
---
Our board
Carol Schwartz AO, Chair
Carol is one of Australia's leading business identities. A Member of the Reserve Bank of Australia Board, Carol has extensive experience in business, property, the arts, and community organisations, and has been a director on a large number of public company and government boards. She is Our Community's founding chair.
Carol is passionate about social change, having founded the Trawalla Foundation, a social investment body, as well as the Women's Leadership Institute Australia, which is working to radically boost the number of women in leadership positions in Australia. She is convenor of the Property Male Champions of Change group.
Carol's directorships include the Reserve Bank of Australia, Qualitas Property Partners and the Trawalla Group. She is also an Executive in Residence at Melbourne Business School, a council member of the Australian Innovation Research Centre, University of Tasmania, board member Centre for Advanced Journalism, University of Melbourne, member of the Enterprise Melbourne Advisory Board, and member Harvard Kennedy School's Women's Leadership Board.
Dr Simon Longstaff AO, Director
Simon has served on the Our Community Board since its inception in 1999, applying a balanced business and ethical lens to the organisation's governance.
The Executive Director of The Ethics Centre, Simon is one of the world's pre-eminent ethicists. He began his working life on Groote Eylandt (Anindilyakwa) in the Northern Territory where he worked in the Safety Department of the then BHP subsidiary, GEMCO. He is proud of his kinship ties with members of the island's Indigenous community.
Following a period studying law in Sydney and a brief career teaching in Tasmania, Simon undertook postgraduate studies in philosophy as a Member of Magdalene College, Cambridge, commencing his work as the first Executive Director of The Ethics Centre in 1991, where he has overseen a range of landmark initiatives, including the world-famous Festival of Dangerous Ideas.
Simon serves on a number of boards and committees across a broad spectrum of activities. He was formerly a Fellow of the World Economic Forum.
Denis Moriarty AM, Group Managing Director
Denis Moriarty is the founder and group managing director of Our Community.
Denis has a strong background in executive and change management in both the government and private sectors. He spent his early career as a bureaucrat tearing down pictures of Queen Elizabeth in government offices and pushing through government reforms and privatisation as a deputy secretary and commissioner.
His inspiration for starting Our Community came through his involvement with not-for-profit boards, which led to a realisation that technology and knowledge could be democratised to accelerate social sector reform. This thinking was crystallised during his 18-month participation in the Vincent Fairfax Ethics in Leadership Awards, run through the Ethics Centre.
In 2001 Denis was awarded the Centenary Medal in recognition of his establishment of Our Community, and in 2020 he was awarded a Member of the Order of Australia (AM) for his significant service to the community, to social welfare, and to public administration.
He describes himself as a social capitalist, and he believes markets, wealth and giving can be revolutionary when they are combined with a progressive social agenda. The biggest philanthropists in the world, he says, exist primarily through their business acumen.
Denis believes Australians and their governments need to be constantly reminded that while we delight in and promote the value of "communities", they are more than just an abstract notion, and it's the 600,000 community organisations in Australia that are the true catalysers of communities. That's why the mission of Our Community is to build stronger communities through stronger community organisations.
---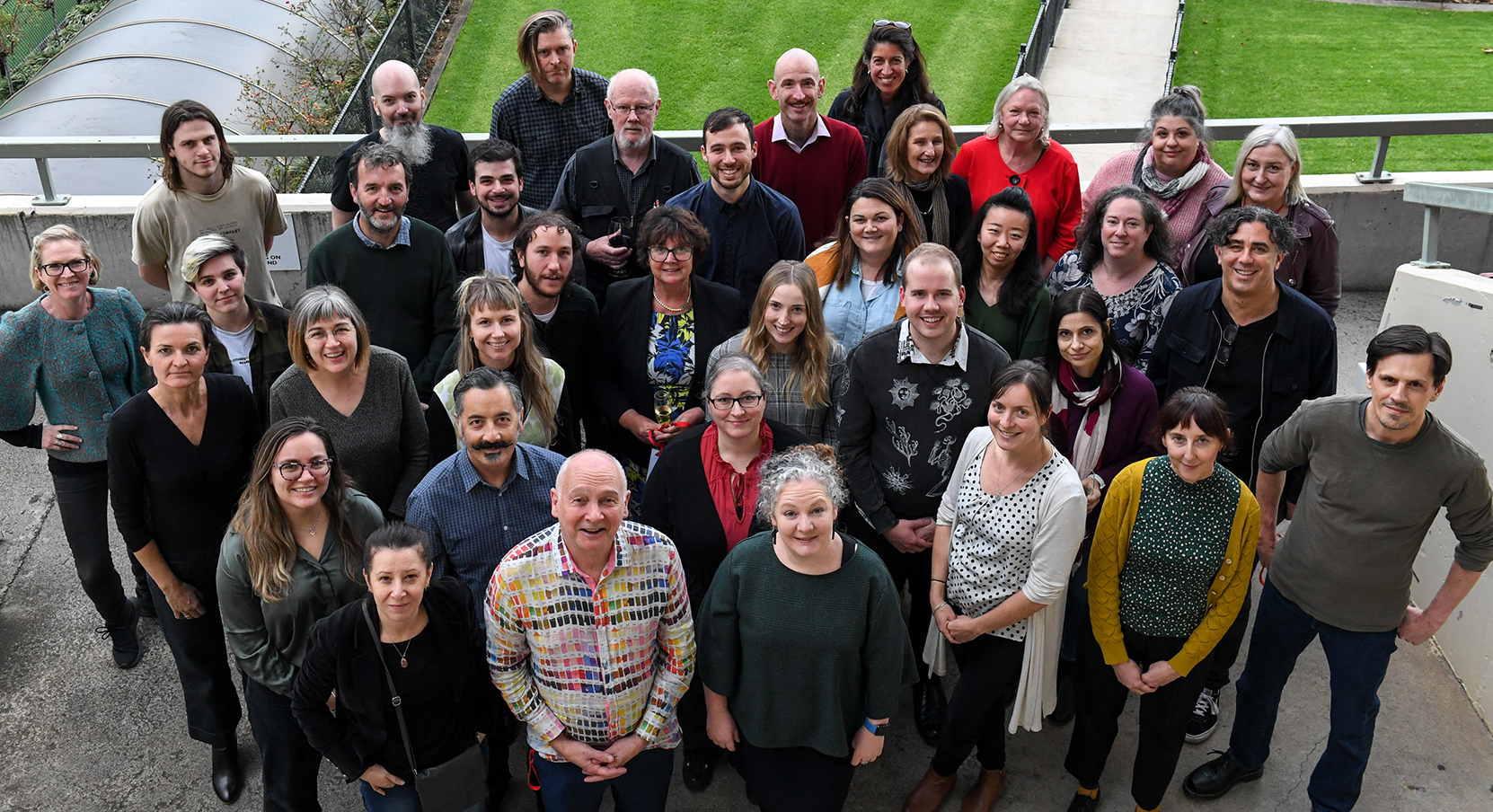 Our Community is dedicated to making work easier for not-for-profits and the organisations that help them. Picture: Penny Stephens
Our staff
Our dynamic, committed team of good-natured social justice warriors comprises people who live and breathe community. Our staff have overwhelmingly been drawn to Our Community by the opportunity it gives them to use their networks, experiences and skills for good. Many have been with the organisation since the start, or have left and come back, or have been around for more than a decade.
The team includes:
Ali Badiei
Ali joined Our Community in 2021 as a full time Java developer for SmartyGrants. Ali has significant experience working as a Java developer at an enterprise level, from Australia Post most recently and various other organisations before that. He holds a Master of Computing from RMIT in Melbourne. Ali is passionate about building new and improved features to support the community sector and revolutionise grantmaking.
Stefanie Ball
Stef heads up the Funding Centre, Our Community's online grants database and fundraising capacity-building website. She is also communications coordinator in Our Community's Innovation Lab, where she works with the rest of the team to research and write resources to help not-for-profit organisations understand data and become more data driven. Stef has a degree in journalism from the University of Queensland and is interested in closing the gap between Indigenous and non-Indigenous Australians, reducing mental health stigma, and intersectional feminism.
Georgie Bailey
Georgie joined the SmartyGrants team in March 2019 as Director, Education and Business Development. She brings a wealth of practiced and proven strategic leadership, honed from her many years leading teams in Commonwealth government grants administration. Georgie was in charge of the implementation and transformational roll out of SmartyGrants across 25 grant programs valued at over 80 million dollars. Georgie is available to work with clients by taking their latest challenges combining them with her real world experience, to design solutions that work and get it done. It's a very powerful combination, a SmartyGrants super user, a proven dynamic business processes designer and a strategic leader trusted by some of Australia's substantial grantmakers. We're excited by what this initiative means to our clients.
Sarah Barker
Sarah is the Chief Technology Officer at SmartyGrants. She is also on the board of directors for the Social Impact Measurement Network of Australia (SIMNA). Sarah started her career in the corporate sector, spending 10 years working in technology consulting and IT transformation, before moving to the social sector working for VSO International in London. She holds a Bachelor of Engineering (Software)/Bachelor of Commerce, a Graduate Certificate of Sustainability and a Diploma of Governance. She is particularly passionate about IT/data for good and women's economic empowerment.
Chris Borthwick
Chris Borthwick is Our Community's Thinker in Residence, as well as a key writer of speeches, books and publications, and the author of millions of words of practical advice. He has for some years been active in advocacy and lobbying for people with disabilities, and he has written widely on disability issues, health promotion, and organisational structural change. Chris has qualifications in arts and law. His previous position was as Managing Editor of the Health Promotion Journal of Australia.
David Bradley
David joined the SmartyGrants team in March 2019 as a Training and Support Specialist after an extended period working in Learning and Development in Tokyo, Japan. Originally working in research laboratories as an instrument technician, he has also held positions in fashion, logistics, hospitality and tourism. David is driven by helping people become the best they can be and has a passion for sports and gaming.
Fiona Bramham
Fi joined Our Community in July 2021. She started her career in human resources working for State Government and the consulting sector. Fi soon left HR and joined the City of Greater Geelong as a Community Development Worker. This is where she found her passion and commitment to working with communities, particularly those experiencing social and economic exclusion. Some of the initiatives she has been involved in are community information, digital Inclusion, community leadership and community safety. Fi also worked for The Sexual Assault and Family Violence Centre and Torquay Community House. She lives on the Surfcoast and loves family, fitness and the Carlton Football Club.
Kerryn Burgess
Kerryn edits many of Our Community's newsletters, books and web pages. She has a degree in journalism and a graduate diploma in editing and publishing from RMIT, and she is accredited by the Institute of Professional Editors Limited (IPEd). As well as working part-time for Our Community, Kerryn is a freelance editor, writer and indexer.
Jimmy Campion
Jimmy is a software developer with 20 years experience. He brings to his work on the SmartyGrants and GiveNow platforms extensive experience in web-application development, design and architecture from industries such as publishing, utilities, education and finance. Jimmy is passionate about delivering user-friendly software of a high quality. He has an honours degree in Computer Applications from Dublin City University.
Gina Cirillo
Gina is the SmartyGrants Training and Events Specialist, overseeing the design, coordination and delivery of the SmartyGrants training program. Along with writing and coordinating the monthly distribution of SmartyNews to a global grantmaking community, she also coordinates all SmartyGrants related events including monthly networking events and an annual grantmaking conference. When she's not working give Gina a lump of clay, a pottery wheel, a glass of whiskey and some sweet tunes. She looks forward to having an Australian as the head of state and to a time when equality is a given for all.
Cecille Cruz
Cecille joined Our Community as a SmartyGrants developer in 2013. She worked as a developer in the Philippines and Singapore for more than a decade before migrating to Australia in 2011. Her previous roles entailed developing, maintaining and supporting a range of web-based applications including an automated billing system, a merchant and banking loyalty system and an insurance system application.
Mike Curtis
Mike joined the Our Community team in 2022 as a Java developer with the SmartyGrants team. Mike has been a software developer for more than 20 years, with a focus on productivity tools and applications, most recently for a local engineering firm. His work has ranged from test automation of aircraft systems through to business web applications. He enjoys travelling, skiing, and is a qualified seaplane pilot.
Simon Di Berardino
Simon is one of our Training and Support Specialists at SmartyGrants. He joined Our Community in 2022. Simon has a Master of Arts and Cultural Management and has previously worked as a trainer in the fields of retail and consumer technology. In his last role, he was responsible for upskilling a national team of trainers, as well as designing and delivering high-quality training sessions for numerous stakeholders. In his spare time, Simon enjoys films, music, board games, reading and socialising.
Michelle Eddy
Michelle joined the Our Community team as Finance Manager in early 2020 bringing a wealth of skills and knowledge from 7 years working in Public Practice accounting in Tasmania and Melbourne. After deciding to make the move from corporate to the not-for-profit/social sector in 2019, she took a 6 month career break to travel before landing her 'dream job' with Our Community. In her spare time Michelle is a keen swimmer and runner and loves to spend her weekends outdoors escaping the hustle and bustle of the city.
Kim Gutknecht
Kim joined the Funding Centre team in February 2021 as a Knowledge Services Administrator, helping to keep the grants database in tip-top form. Prior to joining the Our Community team she worked in customer service within the event and medical industries.
Jesslyn Ham
Jesslyn joined the SmartyGrants team in 2020 having previously worked for an insurance company as software developer. Jesslyn worked for various companies in Jakarta before her move to Australia. She enjoys solving problems and keeps active by playing basketball, hiking and going to the gym.
Abby Iverson
Abby is the Community Manager at Our Community House which means she's a one-stop-shop for all things communication, memberships and even a good ol' chat. Abby is a passionate creative who shares the same values and drive as the social sector members she works so closely with.
Lisa Jennings
Lisa joined Our Community in 2018 as a community trainer, and now works as the Institute of Community Directors Australia's Director of Learning and Education. She spends her days training, writing and overseeing the content and learning resource creation for the Diploma of Governance and other offerings. Lisa's background is as a professional orchestral musician, lecturer and university department head in music and arts management, and used to work in social enterprises and government using the arts as a vehicle for learning and social change. Lisa holds qualifications in music performance, arts management and public policy.
Amy Johannsohn
Amy is Our Community's Creative Manager, handling the design and development of promotional materials, books, newsletters and websites for Our Community and GiveNow. She has been intimately involved in the development of GiveNow since its outset. Amy has a Bachelor of Business (Marketing)/Bachelor of Tourism from Monash University, an Advanced Certificate in Digital Media and Web Design, and a postgraduate Diploma in Graphic Design from RMIT. As a passionate campaigner for change regarding how animals are treated in our society, Amy authors a blog on compassionate eating in Melbourne, and volunteers with various animal advocacy groups.
Alex Lloreda Alex joined the SmartyGrants team in 2019 as a software developer. He brings over 15 years of experience in the Telco and Finance sectors, having worked in companies big and small, even his own start-up. He has a Masters in Software Engineering and Bachelor degree in Computer Science from Universitat Politecnica de Catalunya. He's passionate about triathlons and he's always trying to convince someone to join him for a lunch-time run. He likes his architectures loosely-coupled, and his languages strongly-typed.
Alan Matic
Alan manages the information technology assets at Our Community, as well as forming an integral part of the training management team. Intrigued by the notion of a social enterprise providing high quality community services, technology, resources, and training to the not-for-profit, corporate and government sectors, Alan joined Our Community many moons ago as part of the funding database management team, and has since taken on a diverse range of roles in information technology, marketing, training coordination and project management.
Maureen McGinnis
Maureen joined the Our Community team in 2010 after 30 years in the motor vehicle industry with Melton Toyota. Maureen has a long-standing interest in planning and loves to organise and coordinate Our Community's acclaimed events and conferences.
Michael McLellan
Michael is one of our Training and Support Specialists here at SmartyGrants. He joined Our Community in 2022. Michael has a Bachelor of IT and has partially completed a Master of Science. His unique combination of professional experience in customer service, IT systems, business analysis and application support will prove valuable as our team continues to work to make life easier for SmartyGrants users. In his spare time, Michael enjoys training in Brazilian jiujitsu and volunteering as an IT mentor.
Alex McMillan
Alex is Manager, SmartyGrants Managed Services, a role she took up after cutting her teeth in not-for-profit and grantmaking services through various roles at Our Community, and externally in professional and voluntary roles with organisations including Red Cross and Climate for Change. She has an undergraduate degree in Media and Communications and a Master of International Relations from the University of Melbourne.As Manager, Managed Services, she oversees a dynamic team of a SmartyGrants and grantmaking experts dedicated to helping customers achieve their goals. Her interests lie in international aid and climate change action, and she spends her free-time volunteering with organisations taking climate action.
Mark Mehzad
Mark is the principal software developer for the Our Community, ICDA, AIGM, Funding Centre and GiveNow websites. He has a Master of Software Systems Engineering from the University of Melbourne and more than nine years of experience in IT architecture and development. Mark was the recipient of Our Community's 2012 Innovation Award and was part of Melbourne University's 2013 Dean's Honours List, which recognises high-performing students.
Nathan Mifsud
Nathan is a data scientist in Our Community's Innovation Lab. He has done research in youth mental health and higher education, is an enthusiastic teacher, and has a PhD in cognitive neuroscience from UNSW. He cares about social good, the lives of animals, and tight hex bolts.
Lidia Milevski
Lidia has a Business Degree from RMIT and several years of experience in the banking sector. She performs a range of essential administrative and financial tasks at Our Community, including assisting the Financial Manager to keep the accounts in order.
Rose Mircevski
Rose is Executive PA to Denis Moriarty and manages the Our Community office and its resources. Rose holds a Diploma in Business (Governance) and is currently working towards a Diploma in Leadership. She has an outstanding record of achievement in service development and has worked with a number of organisations where she has held key administrative positions. For several years Rose served as school council president at one of Victoria's largest public primary schools.
Denis Moriarty AM
Denis Moriarty is the company's founder and Group Managing Director. Denis has a strong background in executive and change management in both the government and private sectors. Denis' inspiration for starting Our Community came through his involvement in not-for-profit boards, which led to a realisation that technology and knowledge could be democratised to accelerate social sector reform. Denis was awarded a Member of the Order of Australia in the Australia Day Honors list in 2020 for his significant service to the community, to social welfare, and to public administration. Denis also received the Centenary Medal in 2001 in recognition of him establishing Our Community. He describes himself as a social capitalist - believing markets, wealth and giving can be revolutionary when they are combined with a progressive social agenda.
Jon Moyles
Jon develops web applications and software-as-a-service. His background includes user experience design and applications programming for projects in the health, training, primary industries and transport sectors. He is passionate about ensuring that the software he works on is not only functional but also easy and pleasant to use. Jon is part of the SmartyGrants team.
Grace Neville
Grace joined the Our Community team in 2018, working on scheduling for the Institute of Community Directors Australia. She is currently studying a Bachelor of Arts/Music at Monash University, majoring in sociology and classical voice. When she's not at work (and sometimes when she is) you'll hear her singing a wide range of tunes, often at different venues around Melbourne. She's passionate about women's rights, and enjoys heated discussions over a shared plate of vegetarian food.
Vinh Nguyen
Vinh joined the GiveNow team as a junior Java developer in 2016, soon after completing his Master of Information Technology at RMIT university. He is passionate about creating software that helps and improves our daily activities, lives and experiences.
Tim Nolan
Tim brings more than two decades of experience in full-stack enterprise application development, design and architecture to Our Community's SmartyGrants team, gained in the software, finance, government and telecommunication industries. Tim is active in the Open Source community providing a liason for SmartyGrants, is the author of the popular JSCover project, and has become SmartyGrants' leading contributor. Tim's experience gives him a deep appreciation of what makes software and software teams successful. He has a double degree in Computer Science and Electronic Engineering from the University of Melbourne.
Linda O'Halloran
Linda joins us with more than three decades experience in human resource management. She started her HR career in the Victorian Public Service holding various HR management positions in a range of Departments. She then spent a number of years in the consulting sector focussed on HR and payroll transformation and outsourcing. Her most recent role saw her spend almost a decade working in the not for profit sector. Linda believes that HR is so much more than policy making, it's the people that make organisations great and HR should be the beating heart of that organisation.
Paola Oliva-Altamirano
Paola is Our Community's Director of Data Science. Paola trained as an academic researcher in Astrophysics based at Swinburne University of Technology from 2012 to 2017. Now she is bringing her research and data science skills to Our Community's Innovation Lab. She is part of the "data science for good" movement, which seeks to keep not-for-profit organisations up to date with technology. Paola believes that everyone should have access to education. She followed this passion by co-founding the Organisation for Central American Astronomers: "Astrophysics in Central America and the Caribbean (Alpha-Cen)," providing mentorship to students in underdeveloped countries. She was selected as an Uptake Data Fellow in 2018 and a participant of the leadership Veski program, inspiring woman in STEM side-by-side, in 2020. In 2021, she joined the Standards Australia committee helping to write the Standards for the use of Artificial Intelligence.
Max Penno
Max is our Support & Training Team Leader at SmartyGrants. He has been with Our Community since 2019. Max leads our support and training team to deliver first-rate customer support and training. He aims to make life easy for SmartyGrants users by promoting best practice and efficiency in support and training operations day-to-day. Max values high-quality education in all aspects of grant management. A background in operations management, business administration and degree lecturing drives his passion for development of people and processes in order to achieve excellence in work and education. Max is a graduate in music composition and business administration. He also holds a postgraduate qualification in commerce and a Master of Business Administration (Educational Leadership). In his spare time, Max enjoys writing music for screen and mentoring higher education students in various disciplines of business in the creative industries.
Greg Peyton
Greg is the SmartyGrants scrum master. He joined the Our Community team in 2022, bringing more than 20 years' experience in delivering digital projects - including global CMS builds, e-commerce and banking sites and apps and marketing campaigns (data, strategy and reporting) - for global agencies/brands, and startups both in the UK and Australia. Outside of work, Greg has a passion for the arts - especially theatre, live music and pop culture - and loves to travel abroad when that's possible.
Lachlan Pollock
Lachlan joined Our Community in 2016, having previously worked with the GiveNow team on social media projects. After completing a Bachelor of Arts degree at The University of Melbourne in 2018, Lachlan joined the team full time as a project manager, with a focus on the online training. Since then, Lachlan has moved into a marketing role, overseeing Our Community's day-to-day marketing needs, and working alongside others on developing and delivering short- and long-term marketing and business development goals. When he's not at work, Lachlan enjoys eating food and watching sport.
Josh Presser
Josh has extensive experience leading the management and delivery of large-scale Commonwealth grant programs in the Settlement and Multicultural Affairs, Disability Employment and Families and Communities portfolios. He holds a Bachelor of Commerce (Management) and Arts (Media and Communications) from Deakin and Swinburne Universities. Josh joined Our Community in January 2020 as Director, Special Projects, SmartyGrants, where he spends his days building tools and resources to help drive best practice grantmaking. As a member of the SmartyGrants Managed Services Team, he can also provide SmartyGrants users with hands-on assistance at any stage of the grantmaking lifecycle.
Kathy Richardson
Kathy is an Executive Director of Our Community and the group's "Chaos Controller". She works alongside the Group Managing Director to oversee the organisation's many enterprises, and helps to lead reforms and new business directions. A journalist who spent the early part of her career working in community newspapers, Kathy also spent two years working in Thailand with the Thai government's Department of Technical and Economic Cooperation. She has a degree in journalism from RMIT, a Diploma in Business (Governance) and a passion for equality and social justice. A grants, data, governance and impact enthusiast, Kathy has served on a range of not-for-profit boards and grantmaking bodies. Kathy was awarded an Eisenhower Fellowship (Innovation) in 2014.
Sarah Richardson
Sarah manages partnerships for the Institute of Community Directors Australia (ICDA) with the aim of developing training program at scale for partners who need to reach people in their orbit to build stronger communities. Sarah's partners in that work are many government departments (local, state and federal), not-for-profit organisations and social enterprises; philanthropic and corporate grantmakers; donors and volunteers; enlightened businesses; and other community builders.
Charles Rignall
Charles is the Business Development Manager in the SmartyGrants team. With more than 35 years of global sales and customer engagement experience, Charles has worked with major IT hardware and software vendors in Australia and the USA. He commenced his career with IBM, and since 2000 has focused on business process solutions. Charles is a voluntary member of the Business Development Board for one of Victoria's regional health, welfare and community services providers.
Jen Riley
Jen joined Our Community as Chief Impact Officer in January 2022. She brings to the role 20+ years working in the social sector for both government and not-for-profits and is skilled in strategic planning, program and product design and management, outcomes measurement, and evaluation. Jen is currently focused on the roll out of the Outcomes Engine within SmartyGrants and helping clients to collect and report on their outcome data across grant portfolios. Jen's passion is technology and outcomes and helping organisations understand and improve their impact.
Eden Rose
Eden is a Project Director working on OC House, Good Jobs and other projects in the innovations team. He holds a Bachelor of Arts from Monash University and previously worked in the Programs Team at The School of Life Australia. His passion for community and equality has led him to become a member of Melbourne's annual Homeless Memorial committee for the past five years as well as volunteer as a student mentor at St Kilda Youth Service.
Lauren Self
Lauren joined the team in September 2021 as a grants researcher. She has more than six years' experience within the not-for-profit sector as an Events Executive, working with organisations such as Breast Cancer Now, Peter MacCallum Cancer Foundation and WaterAid. She has also spent some time teaching English as a foreign language in Vietnam and Australia. In her spare time Lauren enjoys tutoring, going to the gym, drinking copious amounts of coffee and escaping the hustle and bustle of the city with her dog.
Maria Sulema
Maria is Our Community's Security Analyst. She started her career as a software tester at Vet Anti-Virus, where her interest in security began. She progressed through her career to take up roles as a test manager for security products and later working in the health sector managing in-hospital software. She holds a Bachelor of applied Science (Computer Science) and recently completed a Cyber Security Course. When not at work she enjoys spending time with family and friends, gardening and cooking with her children.
Sandra Sandra
Sandra joined the SmartyGrants team in 2021 as a business analyst. She brings to the role a combined experience and passion in both the IT and community services sectors. She started her career in the finance tech industry with roles ranging from programmer to IT service management analyst for over 12 years. In 2017, she entered the community services field where she worked as a case worker and project officer in family violence, youth, and education sectors. Sandra loves both worlds and ecstatic to be part of Our Community family where her work and passion go hand in hand. Her other favourite past times include spending time with her cool kids, growing vegetables, sewing, knitting and other random crafting activities.
Matthew Schulz
Matthew is an experienced journalist who oversees a range of Our Community publications, websites and media activities. Before joining the Our Community team, he was a digital editor and producer at the Herald Sun and Sunday Herald Sun, after working as a reporter for the masthead's web and print editions. He's also worked in commmunity news in Melbourne and Adelaide. He has a shared Walkley Award for coverage of Victoria's devastating 2009 bushfires and has a BA honours in Communications.
Jodie Shanks
Jodie is Director of Platform Transformation at SmartyGrants. She has been with Our Community since 2012. In her current role, Jodie helps guide SmartyGrants' strategic direction, with a focus on product transformation. Previously, Jodie worked in a variety of different roles, from marketing and communications to membership management to bank analyst to tour guide. She became head of our Training and Support area in 2017, working on continual improvement of our interactions with clients and colleagues. Before joining SmartyGrants, Jodie was immersed in the grantmaking world whilst working within the research and planning area at Beyond Blue. Jodie holds a Bachelor of Business (Information Systems), has a Diploma in Business Management and has train-the-trainer qualifications. One of Jodie's passions is continuing to build on the immense impact that SmartyGrants and SmartyFile plays on a global level for funders and their recipients.
Jon Staley
Jon joined Our Community in 2020 as a trainer. Jon is also a teacher, film-maker and writer with extensive experience working with marginalised youth and Aboriginal communities. He was founder and Executive Manager of the successful social enterprise Youthworx for 12 years, and has overseen the production of many films in collaboration with young people and communities. In 2017 he co-wrote and directed the short film Brown Paper Bag with Aboriginal storyteller Boori Pryor that won the award for Best Indigenous Film at the St Kilda Film Festival 2017.
Adele Stowe-Lindner
Adele is the General Manager of the Institute of Community Directors Australia, an Our Community enterprise. Adele has spent the last 20 years of her career leading not-for-profit organisations to scale up, both in London and Melbourne, with experience in the youth, homelessness, refugee and welfare sectors. She holds a Master in Applied Anthropology and Community Work, a Master of Leadership and a Diploma of Management. Adele is passionate about building community and loves her voluntary role sitting on community boards.
Eugene Terentev
Eugene is a senior software developer in the GiveNow team. Eugene brings more than 25 years of experience in the telecommunication industry, building high-capacity transaction switching platforms and integrations with a broad range of external systems. Eugene's passion lies in delivering efficient robust software that helps streamline business processes. Eugene holds a Bachelor of Computer Science from Kaunas University of Technology, Lithuania.
Daniel Tietelbaum
Daniel keeps the Our Community House machine well-oiled, the space bright and beautiful, and the tenants entertained and informed. Daniel's passion lies in playful thinking and learning, and has a wealth of experience in facilitation and education, as well as a passion for the performing arts. He has held roles with the School of Life and Monash University, aand facilitated playful professional development for a range of not-for-profit organisations and companies.
Orgil Tumurbaatar
Orgil is a Data Analyst who supports SmartyGrants' client engagements by creating reports and analysing data. He also handles data migrations, gets involved in SmartyGrants reporting and works on other data-related projects with the Innovation Lab. Orgil has experience in monitoring, evaluation and learning (MEL) and delivering data and reporting solutions in various development projects funded by international donor organisations. He has been involved in projects across several sectors including economic and community development, environment, energy and water utility. He came to Australia driven by a desire to take a deep dive into data analytics, completing a graduate program at Monash University. Outside the office, Orgil spends his time with his young family and travelling to new places.
Cathy Truong
Cathy is the Executive Director of GiveNow. Over the past 15 years, she has focused on building resources available to the not-for-profit sector by promoting innovative philanthropic practices, capacity building and impact investing. Cathy has worked at the Trawalla Foundation, the Foundation for Young Australians and Social Ventures Australia. Prior to that, she worked in the corporate sector, where she was a consultant with PriceWaterhouseCoopers in Australia, Asia, USA and England. Cathy is on the board of the Women's Leadership Institute Australia.
Ronald Wibowo
Ronald is part of the SmartyGrants team. He has over 15 years of experience in enterprise IT across the retail and finance (superannuation) sectors, and four years experience as a development lead (VicSuper, previous role). He holds a first class honours degree in Computer Science from Swinburne University and is passionate about software development and technology.
Georgia Wilton
Georgia works as a Business Analyst and Support Specialist. Having joined the SmartyGrants team in 2013, Georgia knows her way through each and every element of the SmartyGrants system and you'll be lucky to find someone that can skin a site faster. Georgia's an avid member of the Our Community Slack channel dedicated to cats, and can often be found playing doctor to the office plants. She appreciates the comradery her team and the Our Community office provides, and enjoys spending time with her favourite colleagues outside of hours.
Irene Zelios
Irene joined the SmartyGrants team in 2019 as an account management and support specialist. She has qualifications in member services, banking, business administration and training. Her previous job was as a ghost guide in Melbourne's notorious former Pentridge Prison.
---
Why we're here
Our Community works to build stronger communities through stronger community organisations. We've discovered over the years that there are many routes to that destination, and we're having fun (and creating change) as we investigate which are the best ones to pursue.
Social sector organisations - not-for-profit organisations, community groups, schools - are absolutely vital for the development of a thriving and vibrant Australia, helping us navigate the changes in work, learning, technology, demography, social roles and support that are having such major impacts on our lives in the 21st century.
With few exceptions, social sector organisations have always been much loved by the more than 65% of Australians who belonged to one or more, but historically many were under-resourced and highly vulnerable. Starvation, dysfunction and disorganisation in the areas of fundraising, financial management, marketing and governance had put the foundations of this important $100 billion sector at risk.
Since its formation in 1999, Our Community has worked with a range of partners to create and share information and training that can be easily understood and immediately used by busy volunteers and hard-pressed staff.
We have also worked to bring all parts of this vast $100 billion sector together to achieve a united voice and bring to bear its combined purchasing power.
We later brought this same real-world approach to our work with grantmakers and businesses seeking to make their money go further and achieve more productive and authentic community connections.
The products and services we have developed and disseminated are having a real and sustained impact on the fortunes and effectiveness of many thousands of not-for-profit organisations across the country and the grantmakers, businesses and community builders who work alongside them. This has had immeasurable flow-on effects for the health and success of Australian society as a whole.
In 2019, we launched the latest step in our mission, Our Community House - a co-working space that provides a space where not-for-profit organisations, social enterprises, peak bodies, government agencies and socially minded businesses work together alongside academics, data scientists and communications professionals in the quest for faster and more effective social change. OC House fosters a fundamentally different work culture, one that respects its employees' desire for an authentic life balance, while offering the opportunity to shape the world, and help others to do the same.
Our Community that leads Australia in providing a model for socially minded businesses. We operate under a cross-subsidisation model, aiming to reach as many organisations as possible at the lowest cost possible. Paid products and services (e.g. newsletters, books, training, SmartyGrants subscriptions, jobs listings) subsidise free or reduced-cost ones (no or low cost fundraising through GiveNow, the free Policy Bank, the free Board Matching Service, etc.). Many of the things we do turn a profit, but everything we do must contribute to our social objectives.
---
How we work
We are dogmatic and passionate. We strive for fairness and we question authority. We accept increments, but strive for revolution. We use our balance sheet to create social change.
We are tolerant of risks and failures. We celebrate success and learn from our mistakes.
We believe in a work environment that allows for an authentic work-life balance. We value our flat structure: we share the cleaning as well as the decision-making.
Ethics, inspiration and innovation are at our core.
Our ideal environment is at the edge of chaos - the estuary region where rigid order and random chaos meet and generate high levels of adaptation, complexity and creativity.
Our Manifesto describes more of who we are and how we work.
And you can read our service pledge to see our committment to our clients.
---
How we survive
Our Community is a self-sustaining enterprise that was seed-funded by a forward-thinking group of social investors.
Founding Group Managing Director Denis Moriarty and founding Chair Carol Schwartz AO led a group of social investment pioneers - Justin Liberman, Dan Phillips, Dr Richard Reed, Lou Panaccio - who became the first social investors in Australia to fund a private company established solely to enhance the social good.
The seed investment enabled Our Community to start up in 1999, ride through the tech-wreck saga that emerged soon after, and grow to a point of self-sustainability.
We now proudly turn a profit while at the same time providing essential products and services for free or at prices low enough for even the smallest community group to be able to afford. Our social mission remains at our core.
Our independence means we're also able to play an advocacy role, speaking with an independent voice about the needs of not-for-profit organisations of all sizes and types.
---
Who we work with
Not-for-profits are our key partners in our work to build stronger, more inclusive communities. They're the experts.
Tens of thousands of groups have joined up as members, signed up for one of our newsletters, read our online materials, attended one of our workshops or conferences, or used our products. You can browse a list of the not-for-profit groups we work with.
We also work with peak bodies, philanthropists, social investors, grantmakers and community development professionals in government agencies, particularly at local government level, where community advocacy is particularly strong.
A key part of our work takes place in concert with business. We believe that business is good and can do good. We partner with businesses who feel the same way about their role in creating shared value for the communities in which they work.
We apply an ethical screen to our purchasing decisions (for example, we won't buy things from or do business with companies that don't have women on their boards). You can read about the businesses we work with and why.
---
How we came into being
Like any pioneering, innovative and risky idea, Our Community was born from the wisdom, passion and experience of a small number of highly committed people.
Chief among those was founder Denis Moriarty, who gained his inspiration from his time as a Fellow in the Vincent Fairfax Fellowship program then run by the St James Ethics Centre.
Denis was one of the inaugural 15 Australians in 1995 to be awarded the Vincent Fairfax scholarship to explore issues of leadership and ethics. He pays tribute to the Vincent Fairfax Foundation for his inspiration in starting Our Community and for its ongoing commitment to ethical leadership.
Another person integral to the genesis of Our Community was the founding chair and lead investor, Carol Schwartz AO - an outstanding leader, thinker and achiever. In addition, Rhonda Galbally worked at Our Community until her departure in 2009.
Then there was the founding team (and their families) - some of whom began working before the organisation officially began. These were the "true believers" - people who left very senior jobs in business and in communities and hacked the long nights, early mornings, no weekends and many uncertainties inherent in breathing life into this highly experimental model.
Patrick Moriarty, Brian Walsh, Kate Caldecott, Rose Mircevski and Chris Borthwick were there from the start - Our Community owes much to their passion and perseverance.
The team has grown considerably but never waned in its good humour, high standards, passion and dogma for pursuing the ambitious task we have set ourselves.
You can read more about our history and our achievements in our first years of operation in our 15 year report. (PDF).
---
How you can stay informed
The easiest way to remain in the loop is to subscribe for our free newsletter, Our Community Matters, and our email promotions and updates.

---
How we know that it's working
Some indicators (as at October 2018) of the impact we are having include:
$43 million generated by our activities and re-invested into building more tools and resources
135,000+ individuals educated through our training and conferences
3,300+ connections made between not-for-profits and new board members
7,000+ pages of capacity-building web content created
100,000+ pages of capacity-building newsletter content created and disseminated
50+ capacity-building books published
Partnering in a revolution in banking and legal services for not-for-profits
25,000 hours and $1 million saved for not-for-profits through the creation and free distribution of templates for policies and procedures
Creation of tailored training for not-for-profits, including Australia's first diploma-level course for not-for-profit directors
$96 million collected in donations for 4000 not-for-profits (including millions that would otherwise have gone in fees)
Convening of 44 thought-leadership conferences
600,000+ grant applications processed via our grantmaking software
Countless hours saved by grantmakers and grantseekers via the same software
300+ grantmakers using our software, our "benevolent Trojan horse" for spearheading grantmaking reform
(We recognise that many of the items listed above are outputs, not impacts. Like many for-purpose organisations, we're still working on finding the best ways to more meaningfully and reliably assess and measure these difficult but important concepts.)
The other way that we know what we are doing is working is that people tell us so. In fact, one of the joys of working at Our Community is the amazing amount of great feedback we get about our written materials, websites, tools, conferences and events.
Our Community has won a variety of awards, including the 2007 'Cool Company' Social Capitalist Award, an Australian Marketing Institute Award for Marketing Excellence and a 2010 Rotary Community Service Award. We were a finalist in the 2018 Telstra Business Awards in the Social Change Maker category, and in 2020 won the Technology for Community Impact Award in the Best Private Sector Organisation category.
During our time as a B Corp, Our Community was included for four consecutive years in the B Labs "Best for the World" (Community) honours list - a designation recognising those in the top 10% of all accredited B Corporations worldwide.
---
Our service pledge
We treat our members and customers as we like to be treated by the people and organisations that we interact with - as decent human beings. We approach every interaction with goodwill and assume others will do the same.
We do our absolute best to quickly and accurately answer any question or request for assistance, whether by phone or email (though we do prefer email). We despatch orders quickly - usually on the same day as payment clears.
In our interactions with members, customers and partners, we pledge to:
Be human: Our Community will use a respectful, conversational voice, and will avoid scripts and the use of corporate doublespeak.
Be personal: Our Community staff use their real names and a personal touch.
Be accountable: Our Community will make it easy for members and customers to contact us and will participate in public dialogue, where appropriate, to demonstrate our accountability.
Be ready: Our Community anticipates that problems will and do occur from time to time. We pledge to respond swiftly, intelligently and empathetically.
Be honest: Our Community will demonstrate our good intentions by speaking plainly, honestly and candidly with customers about any issues that might arise.
Our expectations of members, customers and partners:
Be understanding: We hope you will show the respect, good humour and kindness to people inside Our Community that you'd like shown to you.
Be yourself: It would be great if you could use a consistent identity in your interactions with us - this helps to foster a long-term relationship.
Be helpful: Please recognise that problems sometimes occur and give Our Community the information and time required to competently address any issues that do arise.
Be fair: We ask that you share any issues that you're having with us directly, or in a setting that gives us an opportunity to respond, so we can work with you to solve problems.
Be open: Please trust in Our Community's good intentions and be open to what we have to say.
Our Manifesto (PDF) says some more about who we are and how we work.
Privacy Policy
We are as concerned about your data and privacy as you are, and we do our best to protect it. You can read our full privacy policy.
Social Media Policy
We work hard to maintain a safe and friendly environment for our stakeholders, whether online or in person. While we encourage friends, followers and members of the public to share thoughts and opinions via our social media channels, we expect that this will be done in a respectful and relevant manner. As such, we reserve the right to remove any post and block/ban any user at our discretion.
You can read our full social media policy.
---
Our contact details
Email: service@ourcommunity.com.au
Phone: (03) 9320 6800
---
Still have questions?