Media Release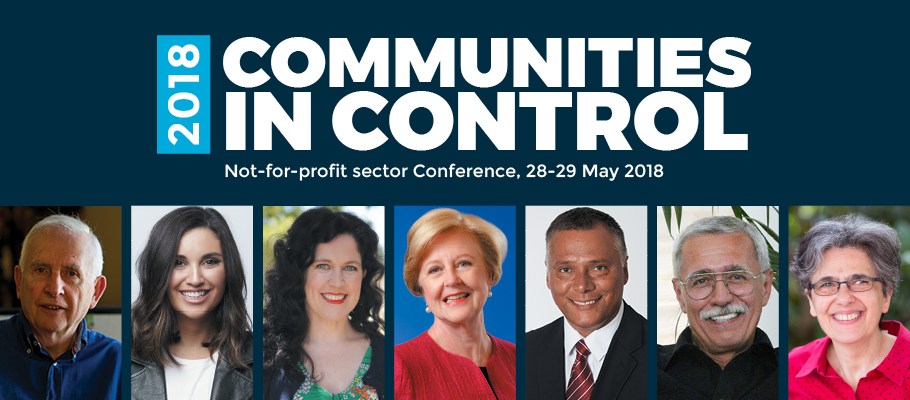 In the battle for a fair go, it's time to put Communities in Control
Australia's progressive leaders, thinkers and doers are converging in Melbourne for the annual Communities in Control conference, a two-day event aimed at fighting inequality.
From campaigning former Human Rights Commission President Gillian Triggs's keynote address, to outspoken indigenous leader Stan Grant asking how many Sorry Days are needed for change, the event aims to bring back a fair go.
We're expecting up to 1000 delegates at Melbourne's Moonee Valley Racecourse on Monday and Tuesday, May 28-29, with a baker's dozen of speakers and special guests, ready to surprise and provoke. These include:
For community groups trying to do a lot with so little, the affordable event by social enterprise Our Community is a chance to take stock of the never-ending battle for resources and social change, to explore ways to do better with what we've got.
Our Community managing director Denis Moriarty is unapologetic about the progressive lineup, reflecting the B Corporation's agenda of a business with a conscience.
He accepts this year's theme of "activating community leadership to combat inequality" isn't something that's going to come easily, but "it's a fight worth having", with the fight for good a big reason Communities in Control is the Our Community crew's favourite time of year.
"It's an incredible line-up of some of the most inquisitive, creative, courageous and forward-thinking Australians, a chance for all the community groups we're so closely involved with to tap into new ways of doing things, and a once-a-year opportunity to catch up with old friends," Mr Moriarty said.
Mr Moriarty is most excited about the appearance of Professor Triggs, who will deliver the Joan Kirner Social Justice Oration, in memory of the pioneering late Victorian Premier.
"Professor Triggs' unflinching advocacy for the disadvantaged amid heavy political pressure helps qualify her as one the most qualified to speak about the battle for equality in this country," he said.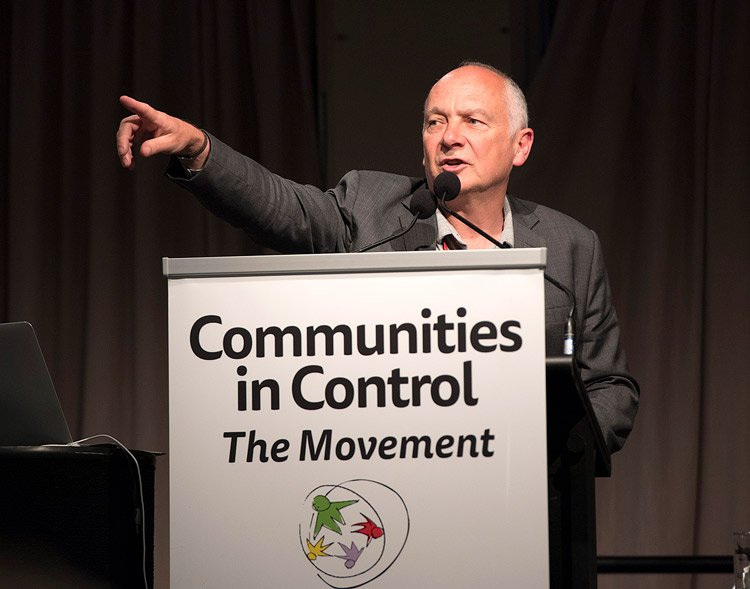 Our Community's Denis Moriarty at last year's Communities in Control conference. Picture: Ellen Smith
Yet all speakers are expected to add to a compelling case for what must be done for Australia to retain its mantle as the most liveable, welcoming and fair-minded place we'd like it to be.
"We know many of our delegates have walked out of this event changed people, more ready to take a stand, to take action and to do it more effectively," Mr Moriarty said.
"I'm not a betting man, but since we're at the Moonee Valley Racecourse I'll take any wager that this conference will change lives for the better."
CONTACT:
For media requests Matthew Schulz 0409 626 619 (matthews@ourcommunity.com.au)
MEDIA RESOURCES
www.communitiesincontrol.com.au (for programs, schedules, background)