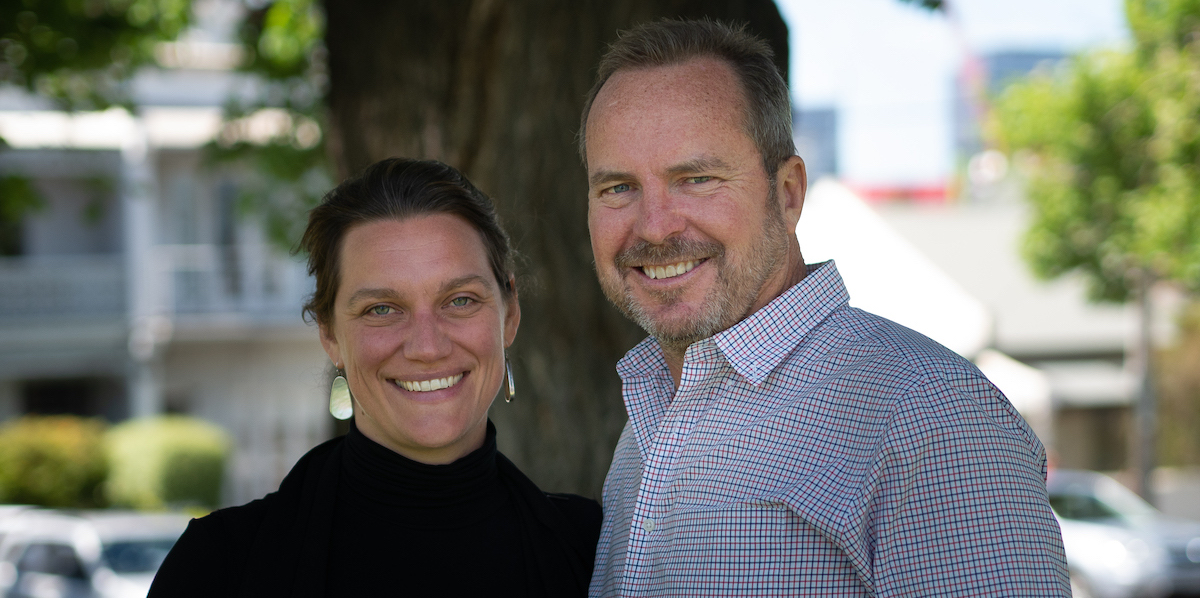 Cardiac arrest victim Suzi Young and her husband Ross Wyatt. Picture: Matthew Schulz.
How a phone app, a "tattooed angel" and community connections saved a life
By Kerryn Burgess, editor, Our Community Matters
Being active in your local community is rewarding and feels good - but it can also save your life.
That's the experience of Melbourne woman Suzi Young, 38, who experienced a sudden cardiac arrest at a community working bee in July this year and was brought back to life by people around her.
"I'd been intending to get to a working bee for the 10 years that I've lived in the area, and on this particular Sunday the stars aligned. I was there with my husband and my son who's six years old, and there were other local volunteers there. It was a really lovely atmosphere."
Ms Young and the other volunteers were part of Merri Stationeers, a local group committed to beautifying and maintaining the land along the train line through the inner northern suburb of Northcote, planting it with indigenous shrubs and grasses.
Ms Young had just started working again after enjoying a chat and a cup of tea with some other volunteers when she collapsed.
"I wasn't doing anything particularly rigorous at the time. I just stopped and dropped dead, basically."
A cardiac arrest, unlike a heart attack, is triggered by an electrical malfunction in the heart. About 25,000 people have a cardiac arrest out of hospital in Australia each year, and the Heart Foundation estimates that as few as five percent survive to be discharged from hospital.
Ms Young has no memory of what happened next, but her husband, Ross Wyatt, recounts it vividly:
"Paul - another volunteer - and I had only just met and we were shovelling mulch onto a garden bed. We both saw her go down and immediately went to her aid. Paul called 000 while I placed Suzi in recovery position and tried to get a response. Her breathing stopped and I could feel no pulse."
Fifteen years earlier, Ms Young had been diagnosed with hypertrophic cardiomyopathy (HCM), a disease in which the heart muscle becomes abnormally thick. Many people with the disease have no symptoms and lead normal lives. Ms Young had been one of them until that Sunday in July.
But it had already been an atypical weekend for the family. Often, Sunday mornings saw them at home, each preoccupied with chores, tasks and play in separate rooms of the house - a routine that on this Sunday could easily have had deadly consequences. With every minute that passes without CPR and defibrillation following a cardiac arrest, the odds of survival decrease by about 10 per cent. According to Ambulance Victoria, the chances of survival double if someone is defibrillated before paramedics arrive on scene.
"Fortunately, I was in a very public place, where people saw me collapse," said Ms Young.
When Paul Hosking dialled 000, he didn't know that his call would trigger an alert via GoodSAM, a mobile phone app that connects qualified first-aiders to patients in the first critical minutes of cardiac arrest while paramedics are on the way.
Jess Fitzgerald, 29, visiting from New Zealand, was one of those first-aiders whose mobile phone sounded the GoodSAM alarm. She'd just missed a train from Merri station into the city when a siren alarm on her phone alerted her to the medical emergency unfolding only 100 metres away, but out of sight from where she stood.
Seconds later, she was on the scene, where Mr Hosking and Mr Wyatt had started CPR with guidance from the 000 operator.
Mr Wyatt could hardly believe his ears. "A few minutes into CPR, with no idea how this was going to turn out, I heard the words behind me I will never forget:
'I'm a paramedic, can I help?'
"I looked around and there was Jess. I didn't know where she had come from or why she was there, but obviously I yelled, 'Yes!'
"Paul and I were so impressed at how she immediately took competent and effective control of the situation - repositioning Suzi and taking over CPR compressions while calmly but assertively giving direction and reassurance to Paul and me. Her work was exemplary, respectful, considerate and, above all, competent.
---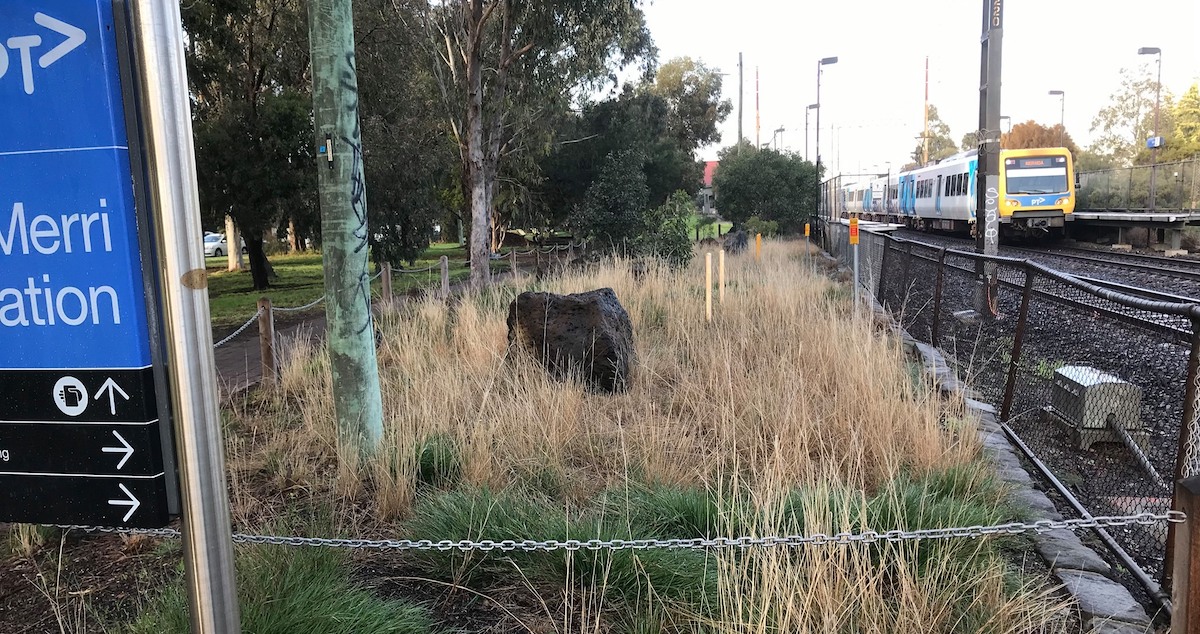 Suzie Young was volunteering with the community group Merri Stationeers when she collapsed near the train station. Picture: Merri Stationeers.
---
"Meanwhile, a fire engine equipped with a defibrillator approached the scene, but it got stuck on the wrong side of the railway tracks as the boom gates came down.
"When the fire engine arrived, Jess just yelled, 'Scissors! Defibrillator! Now!' She was all over it, as a trained person on the scene knowing exactly what to do.
"A few minutes after that a MICA unit and an ambulance arrived and Jess immediately merged with the team, who allowed her to continue her work."
Ms Young spent a week recovering in hospital and undergoing tests related to her condition. Surgeons implanted a defibrillator in the side of her chest to restart her heart if she suffered another cardiac arrest.
In October, the implant saved her life when her heart stopped again while she was walking her son to school. This time, she passed out for 20 seconds. She came to after the defibrillator fired, called triple zero herself, and spent one night in hospital.
How does Ms Young make sense of having died twice in three months?
"I can tell you, the universe has my attention," she told Our Community Matters, referring to the search for meaning.
"I'm just being very reflective, you know. It's taken me a little while to return to work and I'm still kind of doing that, in a reduced way. So I've had lots of time to just be with my family and just hang out. And just being able to witness life. It's pretty simple. Just making [my son] Alex's lunch, you know, it's pretty simple. I don't ask for much, but I feel very grateful that I can do that."
She refers to Jess Fitzgerald as her "tattooed angel", although Ms Fitzgerald doesn't see herself that way.
"I don't really feel like I've saved someone's life!" she told Our Community Matters.
"It was the quick actions of Paul and Ross, beginning CPR and calling 000. Without them and GoodSAM partnering with Ambulance Victoria, I would have still been waiting for a train, oblivious to the situation.
"I've worked for many years as a lifeguard and duty manager in the community, and as a outdoor education teacher all over the world. Those careers both require me to have CPR and AED training as a minimum.
"I'm simply grateful to be in the right time and place to assist and offer everyone support with what I'm trained to do."
Mr Wyatt is grateful too, to both Ms Fitzgerald and the GoodSAM app.
"What the GoodSAM app does is find a way to instantly connect people at the right time with the right skills and the right needs. It's pretty clever like that, and it made a massive difference in our outcome," Mr Wyatt said.
"There's a few apps around that if you're experiencing mental health issues or it could be loneliness or it could be marriage break-up - there's apps around now that connect you to other people that are going through the same thing, so you can kind of form communities around that. And for me, that's a much healthier use of apps than seeing what the Kardashians are up to."
But the app alone doesn't save lives. Mr Wyatt says community connectedness is crucial when it comes to staying safe and well.
"It does speak of the need for people to be aware and watching out for each other, and the more that we have connection with other people, the more likely you are, when you need help, to get that help.
"When I think about it now, it's about the increasing trend towards isolation and connecting only through social media… There's no substitute for being physically with people to keep yourself safe in so many ways - safe from loneliness, isolation - so that when you really do need help, whether it's help to put out the bins or help to restart your heart, having people around is really important."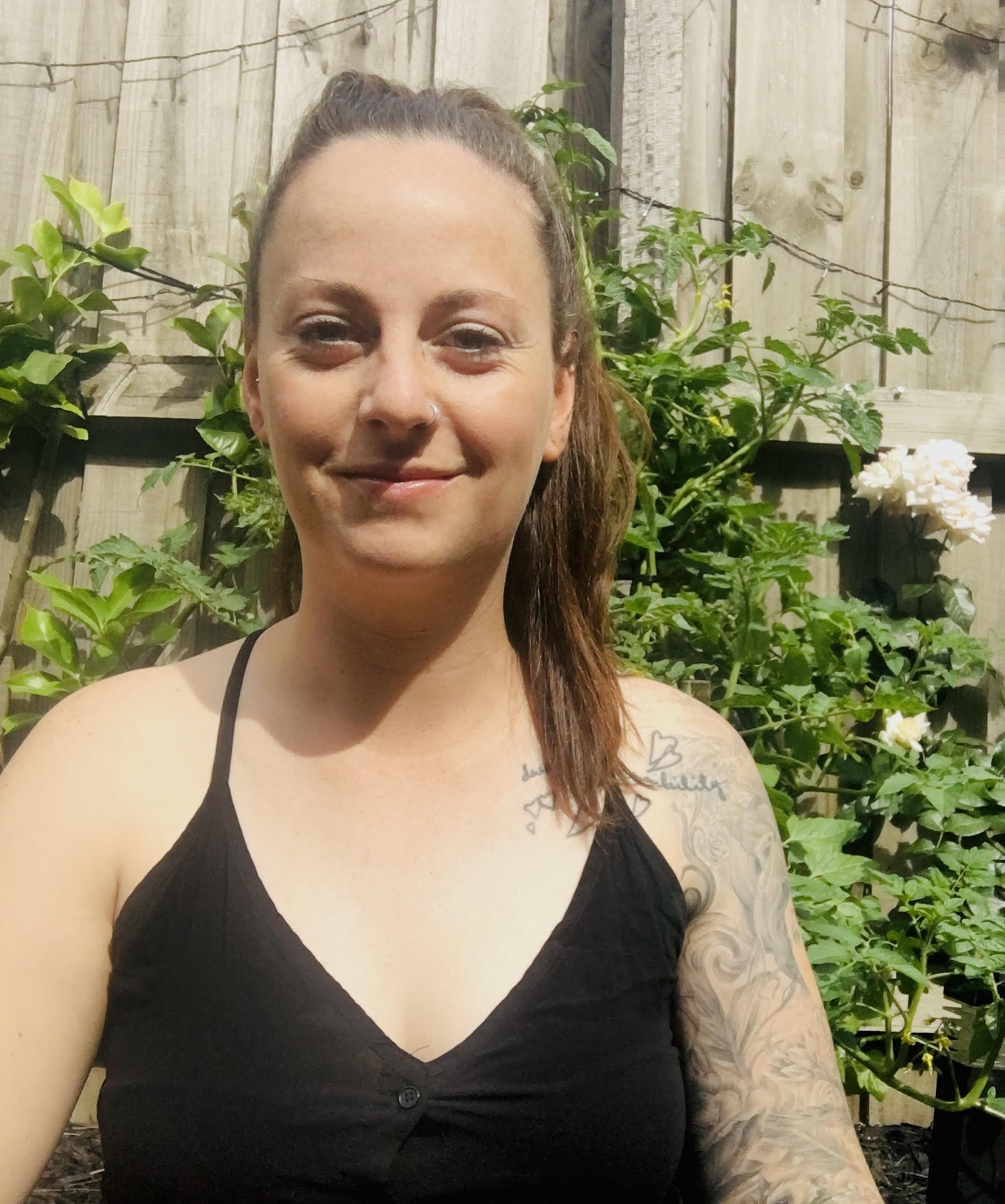 "Tattoed angel" - off-duty paramedic Jess Fitzgerald led the effort to save Suzi Young's life.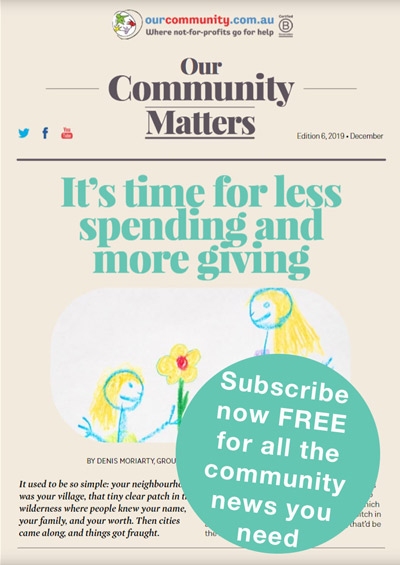 ---
What Suzi Young wants you to take away from her near-death experience
Learn CPR, encourage people you know to learn CPR, and don't be afraid to use it in an emergency.
Know where your nearest defibrillator is.
If you have first aid qualifications, download the GoodSAM Responder app today: go to https://www.goodsamapp.org/.
Keep your ambulance service membership current.
Make a will, make an emotional will, and make arrangements for life insurance if you need to.