Our Community News
---
OPINION: Stop blaming politicians, start getting active
If the existing structures aren't working for you, then it's up to people to join a movement, or start something themselves, writes Our Community's Denis Moriarty.
---
RESEARCH: Study seeks to arrest fall in grassroots leaders
South Australian research has put a microscope onto the leadership of "grassroots associations" to find out what can be done to arrest the decline and to maintain vital organisations that provide critical social connections. Find out more.
---
GRANTWRITING: Don't hate me, I'm a grantwriter
The founder and director of Grant Professionals, Robert Palaricciotti, spoke to Grants Management Intelligence about how grantwriters are helping to improve the grantmaking industry.
---
ALAN SCHWARTZ: Introducing the Universal Commons
Leading Australian philanthropist Alan Schwartz is tackling one of the hardest challenges the planet faces: to put a true value on the social and natural capital of the world, including health, literacy, trust, clean water and biodiversity. Here's how.
---
SECTOR HELP: Introducing the Future 500 Leaders program
Up to 500 people from across Australia have the opportunity to win a part- scholarship to study for the Diploma of Business (Governance) thanks to the Trawalla Foundation and Our Community's Institute of Community Directors Australia (ICDA).
---
CHRISTMAS: Give the gift of giving
Our Community's Thinker-in-Residence Chris Borthwick explains why donating to charity beats unwanted gifts at Christmas.
---
CULTURE SHOCK: Why Aussie game is just not cricket
The explosive review that picked over the toxic culture linked to Australian cricket's shameful ball tampering affair has laid bare the risks for leaders who think, "It can't happen to us".
---
MEASURE THIS: Funders the key to evidence-based practice
Our Community's chaos controller Kathy Richardson examines a future where there are proper incentives for using evidence, and where the dollars follow.
---
GARY BANKS (AO): What happened to evidence-based policy?
The past decade has seen a major decline in the use of evidence-based policy, and Prof Banks delves into why with reference to Humpty Dumpty, JFK and 'The Castle'.
---
RADIO WAVES: Tune in to the power of community
If anyone doubted the power of community to connect us, keep us healthier, and battle disadvantage, they'd need look no further than community radio.
---
ANALYSE THIS: Free tech tool for NFPs released
Not-for-profit directors wanting to know more about the performance of their organisations should be aware of a new free workplace analytics tool.
---
REACHING OUT: How to use your 'social connectors'
An Australian study into the role of these special individuals has described the incredible resource and potential they represent, particularly when it comes to engaging with people in the community whom services find the hardest to reach.
---
CHILD SAFETY: Action must follow national apology
While the apology was an important moment in Australian history, it will be the actions to safeguard children from abuse that matters most, writes Moores principal Skye Rose
---
#GIVINGTUESDAY: A wave of giving starts right here, right now
Community groups in this part of the world had the chance to be the first to get on board a growing global giving trend dubbed #GivingTuesday.
---
FUNDRAISING: Social media campaign is just gut instinct
Australian charity AusEE - which helps those with a rare gut disorder - is among organisations involved in the #GivingTuesday buzz. AusEE president Sarah Gray says the volunteer-run organisation relies on supporters to keep its work going, and runs several campaigns each year, using social media to get the message out.
---
WHAT'S NEXT? The future of grantmaking
Our Community's "chaos controller" explains how the Australian Institute of Grants Management (AIGM) and its sister enterprise The Innovation Lab are helping drive grants innovations such as automated shortlisting, AI-driven classification, smart maps and an outcomes engine.
---
GROWING UP: Greening Australia's culture shock
How Greening Australia reinvented itself, going from a bloated, self-interested and often dysfunctional not-for-profit to one with a powerful environmental agenda to save the world.
---
FINANCE HELP: Watchdog to tackle rip-offs
The head of the new Australian Financial Complaints Authority (AFCA), which starts business on November 1, has promised easier access for the most vulnerable needing help with finance disputes.
---
PAY RATES: Reaction to entitlements ruling
A recent Federal Court case has sent shock waves among employers by allowing a casual employee to claim permanent employee entitlements even though he was paid a higher casual rate.
---
COMMENT: Culture is key to healthy community organisations
Companies, charities and community organisations that haven't yet been hauled over the coals should meditate on the word "yet", writes Our Community's Denis Moriarty. | Culture special report
---
NEED SUPPORT?: Taking your pitch from mediocre to memorable
A convincing pitch is a powerful tool you can use to unlock opportunities, form relationships with investors or volunteers, attract funding, and inspire new audiences.
---
GOOD PRACTICE: Good culture starts at the board table
Culture can make or break an organisation. Is your board doing all it can to create a good organisational culture?
---
SPELL IT OUT: Our Community's culture? Read the Manifesto
How Our Community's workplace "Manifesto" helps foster a good culture.
---
REGULATIONS: Whistleblowing law shake-up is "imminent"
Blowing the whistle on trouble could be the best thing you ever do for your organisation. Find out why.
---
AWARDS: Being treasurer is more than a numbers game
There's more to not-for-profit treasury than numbers, explains Suzana Vlahovic, one of four community treasurers awarded in the 2018 Commonwealth Bank Not-for-profit Treasurers' Awards.
---
EVENT WRAP: Board members aiming higher after conference
Community directors are better equipped to crack the code when it comes to regulation, data, culture, media, finances, legal challenges, their internal politics, and much more, following ICDA's recent conference in Melbourne.
---
LEGAL THREATS: Avoiding scandal by promoting good culture
Changing your company culture may help you prevent sexual harassment and child protection failures in the workplace, according to Moores principal lawyers Catherine Brooks and Skye Rose.
---
KEYNOTE: How Susan Pascoe sees the future for NFPs
Community directors face an unprecedented burden of increased regulation, decreased funding and low community trust, according to the former commissioner of the Australian Charities and Not-for-profits Commission, Susan Pascoe.
---
ACNC REVIEW: Sector welcomes findings
Thirty recommendations from a wide-ranging review into the operation of the Australian Charities and Not-for-profits Commission (ACNC) have been largely welcomed by the social sector following their release last month.
---
GOOD DATA: Why not-for-profits must do data better
Dr Lucy Bernholz, a world-recognised thinker on digital and data trends, and a specialist in helping not-for-profits manage digital assets better, says groups must improve the way they handle data, in the interests of keeping our civil society strong.
---
COMMENT: Reef grant is hardly gold standard
The Federal Government's close to half-billion dollar grant to the Great Barrier Reef Foundation isn't exactly best practice writes Thinker-in-Residence Chris Borthwick.
---
POLITICS: Libs turmoil gives sector new minister
ACT Senator Zed Seselja has been appointed the Federal Government's new minister responsible for charities and not-for-profits, the sector's sixth since 2013.
---
LEADERSHIP: Keenan Mundine on Indigenous leadership
There are many different paths to community leadership, but probably none so rarely travelled as the one taken by Keenan Mundine who went from a childhood on the Block in Redfern, to speaking on criminal responsibility to an audience at the United Nations.
---
DIVERSITY: The critical need for disability leadership
Christina Ryan, CEO and founder of the Disability Leadership Institute, has been examining what "disability leadership" is and how to use this information to combat the fall in Australia's global business rankings.
---
NEW SYSTEMS: DSS to revamp grants for families and children
The Federal Department of Social Services (DSS) is expected to make major changes to its $217 million annual grants programs aimed at families and children.
---
COMMENT: When is a charity not a charity?
Chris Borthwick, our Thinker-in-Residence, takles Tony Abbot's codemnation of the ACNC investigation into Catholic Education Melbourne, and asks the question "When is a charity not a charity?" and the equally important question, "When is a beard not a beard?"
---
DONATIONS: Community donors keep giving as others cut back
While the national trend in giving is facing a slump, donations through Our Community's donations platform, GiveNow, are at an all time high. The GiveNow team provides some insight into why and how they're fighting against the dip.
---
LEADERSHIP: If ethics is so obvious, why is it so hard?
Most not-for-profit leaders aim to set - and expect the people in their organisations to practise - high standards of ethical behaviour, but experts in the field of human behaviour and management say humans are irrational and tribal, and getting them to behave in a particular way isn't always easy.
---
VIDEO REPORT: What makes a good community leader?
What makes a good community leader? We asked the question of former Australian Human Rights Commission president GillianTriggs, US education pioneer Mary Gentile, political commentator Jamila Rizvi, animal rights advocate Philip Wollen, social researcher Hugh Mackay, and economist Nicholas Gruen, as well as several articulate delegates at our recent Communities in Control conference
---
DIVERSITY: Why diversity makes good sense for NFP leaders
A highly effective board should be representative of the community, or stakeholders, it exists to serve. This makes sense, right? You need people who understand the needs and wants of your organisation's stakeholders to effectively govern your organisation. And, gender diversity should be the easiest for your board to tackle.
---
RESOURCES: The trouble with good leadership
Our Community's Thinker-in-Residence Chris Borthwick cites Caeser and a recent CEO's meltdown in examining what not to do when trying to be a better leader. Plus, tap here to see more resources we have for NFP boards.
---
FINANCIAL HEALTH: Survey reveals treasurers' weak points
Top not-for-profit treasurer Sinead Glennon says treasurers must pay more attention to policies, risk management, cash management and planning, or they could be risking financial trouble.
---
LEARN TO LEAD: Inside the Australia Council's program
The Australia Council for the Arts - the federal government's arts funding and advisory body - provides specialist training for a nominal fee to selected upcoming and experienced arts leaders in a program that takes just 50 candidates per year. So what's involved?
---
SHARING THE LOAD: How to do more (with more)
In this article from the respected Nonprofit Quarterly, these US experts examine a highly effective way to more effective work with the same - or even less funds - while also reducing the stress on your organisation. (Reproduced with permission)
---
COMMENT: Thai caves rescue shows power of community
When disaster strikes, it is human nature that drives us to rush to the rescue, but it is good organisation that gives a rescue mission every chance of success, writes Our Community's Denis Moriarty.
---
ANALYSIS: The twin foundations of leadership
The Ethic Centre's Dr Simon Longstaff says good leaders may need to cope with unpopularity to challenge "unthinking" actions.
---
FINANCE: Top treasurer's advice, plus a chance to win
Top not-for-profit treasurer Sinead Glennon says treasurers must pay more attention to policies, risk management, cash management and planning, or they could be risking financial trouble. Plus enter the Treasurers' Awards now and win $5000 for your organisation.
---
OPINION: ASIC levy stems from a state-federal mess
Update: Our Community's Managing Director discusses the new extortionate ASIC levy first imposed, then exempted, on charities registered with the ACNC.
---
ATO ADVICE: Tree planting is now less taxing
Tax law is fiendishly complicated, so one small country Victorian not-for-profit organisation went straight to the top to help its members to understand it.
---
CROWDRAISERS: Charity sleep-out shoots for the stars
South Sydney Christian charity Georges River Life Care raises money each year for its domestic violence support services, but in 2018 it ramped up its efforts with GiveNow's latest peer-to-peer fundraising tool, CrowdRaisers.
---
OUR CONFERENCE: Why it's time to put Communities in Control
Australia's progressive leaders, thinkers and doers converged in Melbourne for the Communities in Control conference, a two-day event aimed at fighting inequality. Read our conference wrap
---
GOOD BUSINESS: Our Community "Best for Community", again
For the third year running, Our Community has been honoured in the annual B Lab list of companies that set the gold standard globally for how business can be a force for good.
---
LGBTQI+ LENS: Why our data scientists are chasing rainbows
Our Community's Innovation Lab is doing its bit to "grow the pot of gold under the rainbow", crunching the data to help improve the flow of funds to lesbian, gay, bisexual, transgender, queer and intersex groups.
---
VIDEO: Abuse survivor tells why this child safety toolkit is a must
An abuse survivor has backed a new partnership that has delivered this free and essential resource to community organisations. DOWNLOAD NOW
---
WINNERS' VIEWS: Best responses from our Grants survey
This year's Grants in Australia study is set to generate the most detailed insights since we started doing these surveys in 2006, if these winning responses are anything to go by.
---
DATA THREAT: NFP cyber attack highlights data dangers
A CYBER attack in which cyber criminals threatened to release the details of 8000 clients of Family Planning NSW - including those seeking help about contraception and abortion - has highlighted the threat to other not-for-profits, as well as the new laws that require them to notify authorities about data breaches. Here's the latest guidelines.
---
WOMEN'S BUSINESS: The role of gender in winning grants
Our Community's latest data science project combines two of our passions: grants and gender equity. We set out to find out whether an applicant's gender would affect the result of their application for funds.
---
MORE NEWS
---
FREE DOWNLOAD: Equip yourself with our child safety toolkit
---
FREE POLICY: Improve your complaints process
---
PARTNERSHIPS: What are your legal options for collaboration?
---
PRO BONO POWER: Partnerships power free legal help
---
RISE OF THE MACHINES: Dangers of data on autopilot
---
POWER IN UNITY: Cooperate to propagate
---
KEYS TO CHANGE: Jocelyn's mission to end family violence
---
SHARE THE SPACE: Co-locate to collaborate
---
THEY SAID IT: How to make collaboration work
---
DATA: Astrophysicist turns to the grants universe
---
STUNNING: The Geelong Project's collaboration breakthrough
---
COMMUNITY: Backyard sessions bringing people together
---
SECURITY: How to manage passwords in your organisation
---
CROWDRAISE: Fundraising tool gives people the power, for less
---
COLLABORATION: Community Directors Intelligence tells you how
---
PARTNERSHIPS: The Impact Assembly's change agenda
---
MEET THE TRAINER: Gina Cirillo
---
CONNECTIONS: 50 hot tips for finding the right business partner
---
VIDEO: to boost directors' credentials
---
SECTOR TRENDS: The big issues for not-for-profits
---
ON ADVOCACY: When it's time to speak out
---
HELP SHEET: The 12 rules of advocacy
---
STAND STRONG: Why advocacy is crucial for not-for-profits
---
DATA FOCUS: New not-for-profit chief's advocacy warning
---
CHARITY SHAKEUP: So what do US tax changes mean for us?
---
PEOPLE POWER: How GetUp grabbed your attention
---
ADVOCACY TOOLKIT: How to change a law
---
THINKING AHEAD: Our Community House announced
---
TALENT: Meet the Community Directors Council
---
ETHICAL DECISIONS: Get help with a free independent helpline
---
GREAT QUOTES: Mobilising the grassroots to create change
---
ADVICE: How to communicate with clout
---
CHILDREN: How Royal Commission into child abuse affects you
---
MEET THE TRAINER: Richard Edge
---
DATA DRIVE: CLASSIE system has new bells and whistles
---
BOYCOTT: Why Our Community wants Oz Day date to change
---
ORDER OF AUSTRALIA: Unrepresentative, uncaring, unchanged
---
TAX RULING: Decision less taxing on directors' decisions
---
SOCIAL IMPACT: Airbnb turns to community groups
---
MEET THE TRAINER: Patrick Moriarty
---
HELP SHEET: Eighteen tech tools for the 2018 not-for-profit
---
FIRST PERSON: Random Hacks of Kindness
---
HEALTHY COMMUNITIES: How are your community's Vital Signs?
---
MAPPING SOCIAL COHESION: We're still sticking together, just
---
FUNDRAISING: Why loyalty is such a powerful motivator
---
GLOBAL: Community groups the frontline of inequality fight
---
GOVERNANCE: Community directors' scholarships open doors
---
RESOURCES: IT help - free, discounted, donated
---
FUNDRAISING: Spread the load to build financial sustainability
---
ADVICE: Top five financial questions for not-for-profits
---
RSL's finance battle a lesson for us all
---
SUSAN PASCOE: Top regulator joins forces with Our Community
---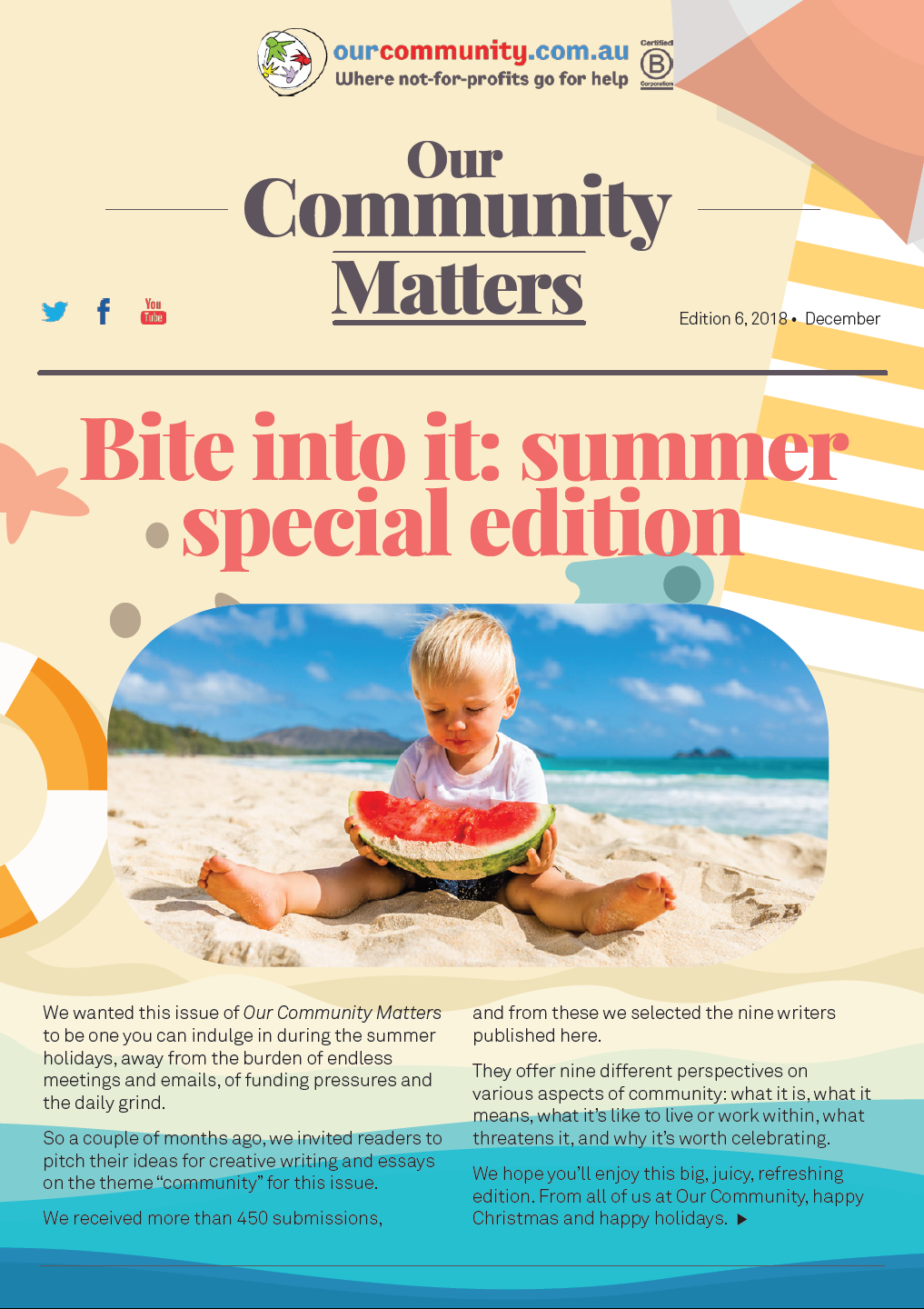 ---
Useful Our Community links
Media releases Official comment
Our Community publications schedule
---
---
Tweets by OurCommunityAU
---
Media inquiries
Kathy Richardson
(03) 9320 6800
0439 397 781
kathyr@ourcommunity.com.au
Denis Moriarty
(03) 9320 6800
0417 184 744
denism@ourcommunity.com.au