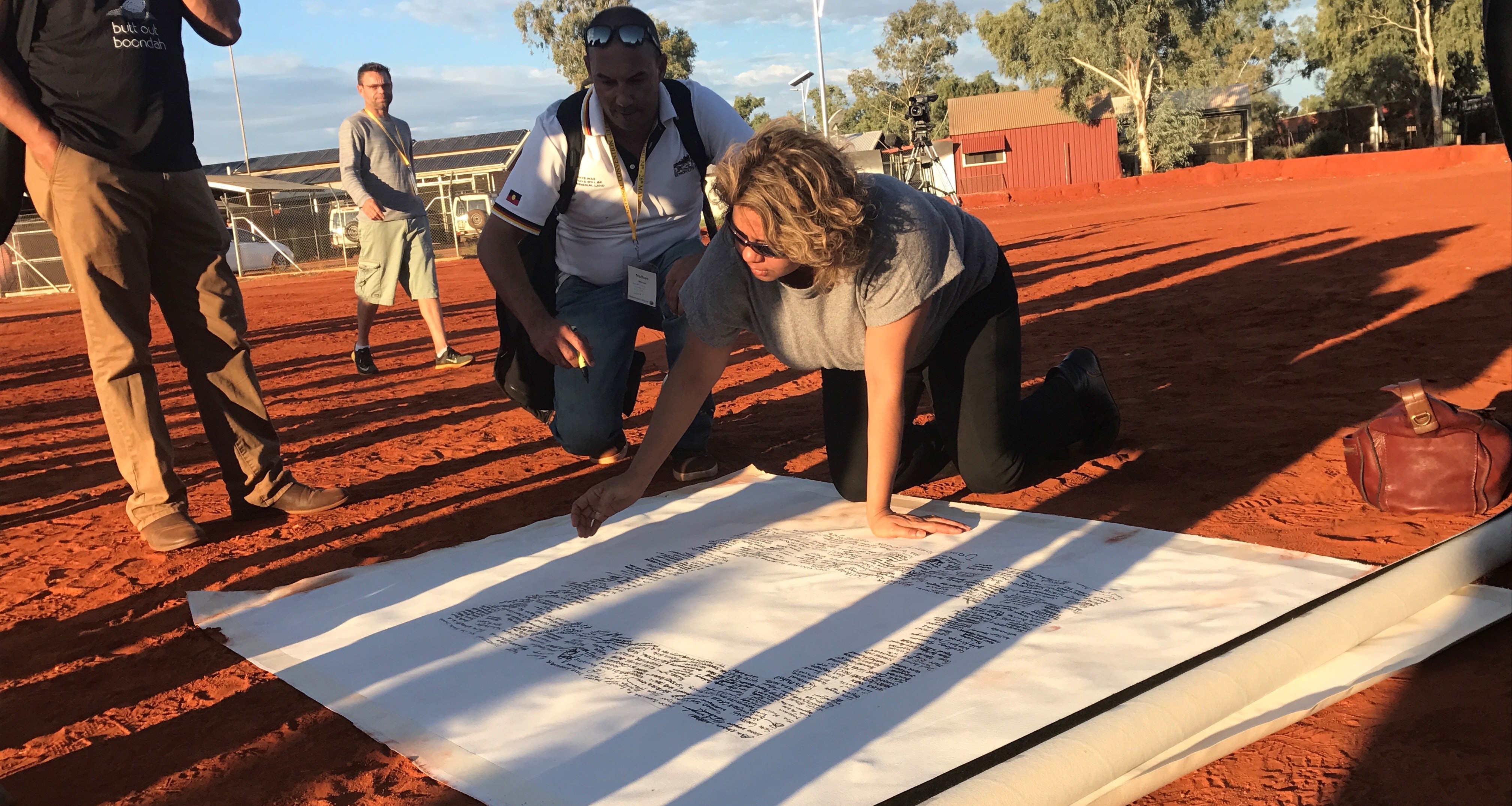 The Uluru Statement from the Heart is surrounded by the signatures of delegates to the 2017 First Nations Constitutional Convention. Picture: Australian Human Rights Commission via Flickr / Creative Commons licence.
Time for the Commonwealth to show a bit of heart
By Denis Moriarty, group managing director, Our Community
The Uluru Statement from the Heart is 417 words long. That's 2668 characters, or nine tweets. Reading it takes only a couple of minutes (you can find it at 1voiceuluru.org/the-statement).
Yet many of its opponents don't seem to have taken the trouble to look at it.
The statement, drawn up by the First Nations Constitutional Convention in 2017, asks for "a process of agreement-making between governments and First Nations and truth-telling about our history." It wants "a First Nations voice enshrined in the constitution."
Anybody who works or volunteers for a community-based organisation knows that the strength of such an organisation comes from its ability to bring people together. That comes from giving your people the respect they deserve, which in turn derives from listening to and acknowledging what they have to say.
When particular groups of people are consistently not being listened to, not being acknowledged, the organisation has a responsibility to take action.
Ken Wyatt, Australia's first Indigenous minister for Indigenous Australians, recently floated the possibility that the Morrison government would at least listen to the call of the Uluru Statement, even if he was non-committal about whether a response would make it all the way into the constitution.
He told journalists at the Press Club in Canberra: "The concept of the voice in the Uluru Statement from the Heart is not just a singular voice, and what I perceive it is, it is a cry to all tiers of government to stop and listen to the voices of Indigenous Australians at all levels."
The government responded by throwing him under the bus.
The chorus of complaint that an Indigenous voice would constitute a "third chamber" of parliament sounded loudly, and the government fell in behind it, with Home Affairs Minister Peter Dutton and Prime Minister Scott Morrison turning up the volume.
On the subject of marriage equality, the Australian people were way ahead of their policy makers, and so it is too with the Uluru statement.
The proposal for a First Nations voice enshrined in the constitution is backed by 66 per cent of the population, according to pollsters.
Most people understand that the Uluru Statement doesn't call for an expansion of Parliament House, or for Indigenous people to have the power to veto laws, or to introduce new laws.
They understand that what Indigenous Australians are calling for is a voice in laws and policies that would affect them, a clear and official channel that couldn't be silenced by a government that didn't want to listen, and couldn't be removed except via another referendum.
On this and other problems, we're learning - out of necessity - to deal outside the framework of federal politics. In climate policy, in housing policy, and now in Indigenous policy, the states are being driven to take the lead.
Victoria, the Northern Territory and Queensland are all exploring the possibility of acknowledging Indigenous rights in the kind of treaty that the British invaders so conspicuously overlooked back in the day.
Our Community's Denis Moriarty
The negotiations for a treaty are going to take a while - when you don't have a governance model in place, working out who speaks for the peoples can get complicated - but white folks have been putting it off for nearly 250 years already, so another year or two needn't be a deal-breaker.
Not-for-profit organisations and socially responsible businesses should now be looking at what we and our groups can do to add our weight to the treaty calls at the state level. Let us listen and learn: what are we called upon to do?
The statement may take only a couple of minutes to read, but it's taken 231 years for colonialists to come to terms with it. It's our first chance since 1788 to come to a mutually respectful relationship with the cultures we spent so many decades attempting to erase.
The statement says: "We seek constitutional reforms to empower our people and take a rightful place in our own country. When we have power over our destiny our children will flourish. They will walk in two worlds and their culture will be a gift to their country."
If we will listen, we have nothing to lose. And so much to be won.