Winning Grants Funding in Australia:
The Step by Step Guide
This practical, step-by-step guide will take you through the grant seeking process assisting you to prepare and research a winning funding application.
---
What's inside?
Introduction
Why bother applying for Grants?
Introduction to Grantseeking

Government Grants
Philanthropic Grants
Deductible Gift Recipient Status
How many proposals do I need to write?
Your Grantseeking Timesaver checklist

What the grantseeker wants

Sustainable funding
Core Funding
Twelve rules for grantseekers

What the Grantmaker wants

It's not about you, it's about them

Finding a suitable grant for your group

Cast your net wide
Beat the bushes
The Easy Grants Newsletter and search database
Other information

How to choose a suitable grant

Finding out about the grantmaker
Checking the impact of success on your finances
Pre-prep
What Resources will it take?
Getting everyone on the same page
Finding friends to support your application
Survey the field
Developing Partnerships and Collaborations

Writing a proposal - Style & Treatment
Writing a proposal - The Contents

Cover letter
Executive Summary
The Proposal
The Budget
Evaluating Results

The Final Checklist
Twenty-One Ways Not to Get a Grant
Aftercare

Managing the Relationship
Reporting to the Grantmaker
Meeting your deadlines

Learning and trying again
Appendix 1 - How to use Easy Grants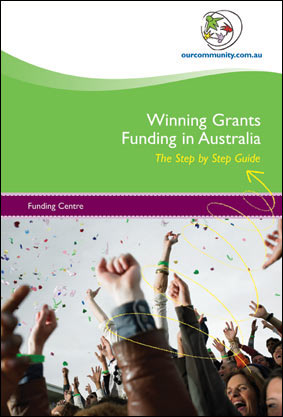 Download a sample
---
$36 (inc GST)
Includes FREE postage within Australia
(Shipped Tuesdays and Thursdays)
---
Format: Paperback
Pages: 70
ISBN: 1876976217
---
Want more?
Our Community has published an entire series of "how-to" guides that can help with your marketing, governance and fundraising needs.
Download a summary brochure