Effective Letters
50 of the Best Model Letters to Help Community Organisations Fundraise, Connect, Lobby, Organise & Influence
Letter writing is an important instrument for a community organisation to have in its toolbox. With this book, that tool becomes sharper and multifaceted. Effective Letters provides 50 templates and a multitude of ideas that will assist you to improve your letter writing skills, marketing, and data storage and use. It provides tips on personalising your correspondence, increasing its impact and effectiveness. This is a 'must have' resource for any community group.
---
What's inside?
Part One - Fundraising Letters

Public Appeals via Direct Mail

Hot Lists
Warm Lists
Cold Lists
Hot and Cold Lists
Sybunts

Large Donors

Making Contact
Making a Will
Seeking a Patron
Chasing Names
Encouraging Involvement

Community-Business Partnerships

Getting a Foot in the Door
Seeking Assistance in Kind
Seeking Donations
Seeking Sponsorships
Seeking Workplace Giving

Letters to Grantmakers

Letter of Introduction
Application Cover Letter
Project Update
Letters of Support
Exploratory Letters

Letters of Thanks

Ordinary Donors
Sponsors
Volunteers
The Public
Local Businesses

Part Two - Letters For The Cause

Getting your Message Out

Letters to your Local Member
Letters to Business
Drumming up Support
Networking
Lobbying the Bureaucracy

Making Use of the Media

Notes to Journalists
Letters to the Editor
Responses
Demonstrations
Interviews

Part Three - General Correspondence

Letters to the Members

Invitation to Join Up
Welcome New Members
Viral Marketing
Function Invitation
Rallying Support

Board Letters

Recruiting New Members
Induction
Confi rmation of Tasks
Absences
Disputes

Special Events

Collaboration
Booking a Venue
Inviting VIPs

Complaints

Letters of Complaints
Receiving Complaints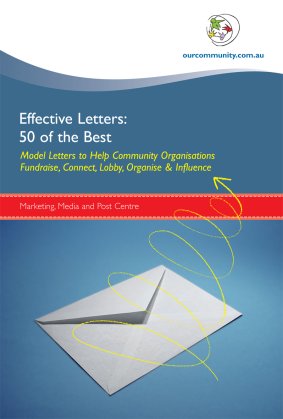 Download a sample
---
$36 (inc GST)
Includes FREE postage within Australia
(Shipped Tuesdays and Thursdays)
---
Format: Paperback
Pages: 145
ISBN: 1876976225
---
Want more?
Our Community has published an entire series of "how-to" guides that can help with your marketing, governance and fundraising needs.
Download a summary brochure