Making Meetings Work
Conquering the challenges and getting great results
If the Board can be considered the mind of a community group, the meetings are the heart. This is where all major decisions are made and the Board comes together as a group to steer the organisation towards its mission.
Making Meetings Work is your guide to overcoming the challenges and complexities that arise in meetings and make them more effective and productive.
---
What's inside?
Before You Take the Plunge

Introduction: Why Meetings?
Names
Style and Function
Before the Meeting

The agenda
The minutes
The meeting papers
The mail-out

The Chair's Meeting

The powers of the Chair
The functions of the Chair
Managing the meeting

The Secretary's Meeting

The venue
Building the agenda
Minute-taking

The Treasurer's Meeting

Planning the budget
Monitoring the budget
Risk management

The Member's Meeting

Debate
Questioning
Speaking
Voting

The Staff Member's Meeting

Status in the meeting
Function in the meeting

Meetings: The Bad News

Malcontents
Dominants
No-shows
Bureaucrats and outlaws
Passengers

After the Meeting

Paperwork
Tasks
Next meeting
Development and change

The Board's Meeting: The Board View

Strategy
Oversight
Renewal
Ten quick ways to improve board meetings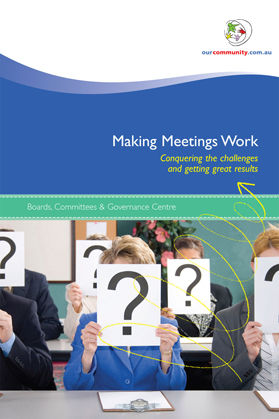 Download a sample
---
$36 (inc GST)
Includes FREE postage within Australia
(Shipped Tuesdays and Thursdays)
---
Format: Paperback
Pages: 89
ISBN: 1876976625X
---
Want more?
Our Community has published an entire series of "how-to" guides that can help with your marketing, governance and fundraising needs.
Download a summary brochure