The Complete Schools Fundraising Handbook
How to make the most money ever for your school, pre-school or kindergarten
The Complete Schools Fundraising Handbook takes readers through the Six Pillars of Raising Funds - donations; grants; community-business partnerships; alumni; special events; and earned income - showing how each and every one of them can be used to bring in valuable funds.
---
What's inside?
The Our Community Fundraising Formula
Laying the Foundations

Recognising your assets
The Fundraising Committee
The Fundraising Action Plan
Volunteers
The Marketing Plan
Fundraising ethics
The database
Building relationships
Learning to sell yourself

The First Pillar: Special Events

Are you really ready for a special event?
The importance of budgeting
Planning for risk
Building on your event
Marketing your special event
Money for nothing
Joining and piggybacking

The Second Pillar: Earned Income

Charging for what you have
Selling your services - "affinity marketing"
Sales to the public

The Third Pillar: Grants

Finding the right grant
Which one do I go for?
Writing a winning application
Reporting
Maintaining the relationship

The Fourth Pillar: Community-Business Partnerships

CSR and CRM
Finding a partnership
Narrowing down the list
Making the approach
Starting the partnership
Building on your partnership
Partnership checklist

The Fifth Pillar: Alumni / Friends

Who are your alumni?
Why keep in touch?
Getting started
Finding your alumni
How to maintain the database
How to engage your alumni community
Alumni communities in action

The Sixth Pillar: Donations

Major gifts
Direct appeals
Online donations
Planned giving
Bequests
One-off donations
Saying thanks

Post Script - Ask and Ye Shall Receive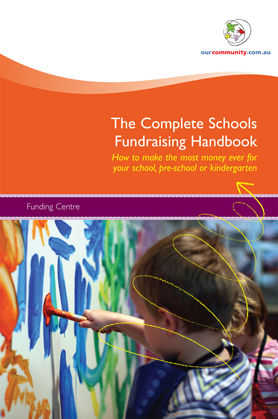 Download a sample
---
$36 (inc GST)
Includes FREE postage within Australia
(Shipped Tuesdays and Thursdays)
---
Format: Paperback
Pages: 120
ISBN: 1876976241
---
Want more?
Our Community has published an entire series of "how-to" guides that can help with your marketing, governance and fundraising needs.
Download a summary brochure