Great Fetes
Fundraising and fun - without the fuss
Whatever the size, fetes were and are about people having fun, but Australian organisations also organise them in order to make money - a best-of-all-worlds marriage of frivolity and virtue.
Fetes offer many benefits to community organisations - if all goes well they can strengthen your donor base, energise your volunteers, publicise your organisation, and be a fun way for your group to connect with the local community, raising your profile and extending your reach.
This book is designed to help you run a successful fete with a minimum of fuss. Drawing on the experience of teachers, parents and fundraising experts, we've pulled together all of the tips and tools you'll need to pull off a fantastic event, including a fantastic set of templates on an included CD-ROM.
---
What's inside?
Introduction
Research
Planning
Committee
Finances
Risk Management
Marketing
Sponsorship & Donations
Venue & Facilities
Entertainment & Activities
Stalls
Catering
Volunteers
Celebrations
Review
Appendices

Appendix 1: Fete Calendar - Timing
Appendix 2: Fete Committee Contact Details
Appendix 3: Sub-committee Contact Details
Appendix 4: Sub-committee Responsibilities
Appendix 5: Fete Checklist
Appendix 6: Fete Budget
Appendix 7: Budget Versus Actual
Appendix 8: Expenses Per Activity
Appendix 9: Income Per Activity
Appendix 10: Activity Profit
Appendix 11: Risk Management Plan
Appendix 12: Home Produce Labels
Appendix 13: Sponsorship Letter to school community
Appendix 14: Sponsorship Letter 1
Appendix 15: Sponsorship Letter 2
Appendix 16: Site Survey
Appendix 17: Equipment Borrowed
Appendix 18: Entertainment Planner
Appendix 19: Entertainment Timetable Per Area
Appendix 20: Entertainment Running Sheet
Appendix 21: Managing Volunteer Management Plan
Appendix 22: Volunteer Flyer
Appendix 23: Volunteer Timetable
Appendix 24: Volunteer Position Description
Appendix 25: Debrief Checklist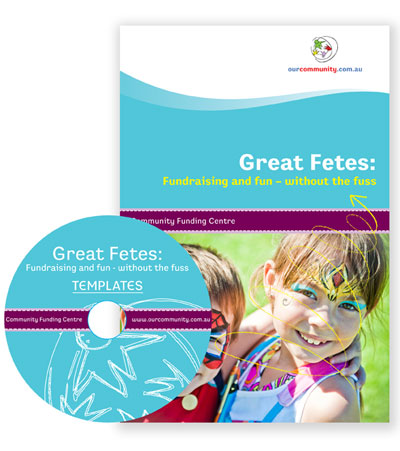 Download a sample
---
$36 (inc GST)
Includes FREE postage within Australia
(Shipped Tuesdays and Thursdays)
---
Format: Paperback
Pages: 125
ISBN: 9781876976361
---
Want more?
Our Community has published an entire series of "how-to" guides that can help with your marketing, governance and fundraising needs.
Download a summary brochure