How to Manage your Grant after Winning it!
Whoopee! Your grant application has been successful! The project's funded and you can sit back and relax, right?
Well, not quite. Now the real work begins. You now have to learn how to manage, review and acquit your grant (not to mention run the project).
This guide is designed to take you beyond the adrenalin of finding out that you've won the grant and help walk you through the process that you'll need to undertake from here on in.
The guide includes a bonus CD including all of the templates you will need to successfully manage your grant.
---
What's inside?
Introduction
Negotiating the contract
Developing and signing the contract
Claiming and receiving payments
Negotiating changes to the contract
Monitoring performance
Correcting performance issues
Acquitting funds
Assessing outputs and outcomes
Evaluating the program
Sharing lessons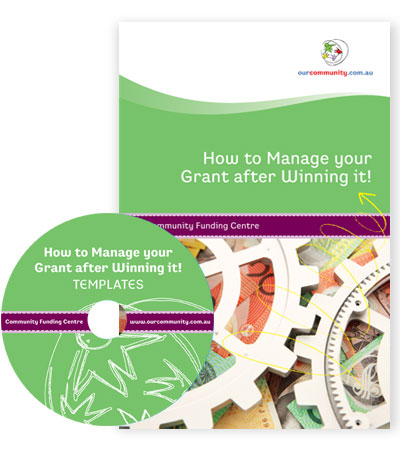 ---
$36 (inc GST)
Includes FREE postage within Australia
(Shipped Tuesdays and Thursdays)
---
Format: Paperback
Pages: 46
ISBN: 9781876976322
---
Want more?
Our Community has published an entire series of "how-to" guides that can help with your marketing, governance and fundraising needs.
Download a summary brochure