How to Stand out from the Crowd
The Complete Marketing & Media Handbook for Community Organisations
Are you serious about attracting new members, volunteers, supporters or raising more funding for your community group?
Discover the importance of strategic marketing and brand development as well as how to effectively action daily marketing activities such as direct marketing, working with the media and using technology effectively to achieve organisational strategic goals.
Learn about database management, writing media releases and using email to spread the word about your organisation.
Topics covered in this book: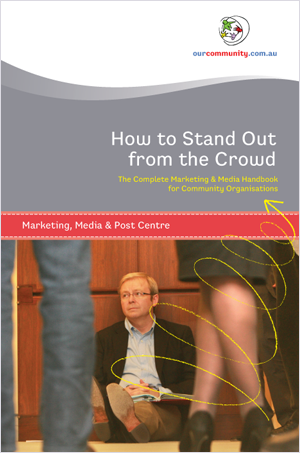 Section One - Starting Out

Introduction to marketing for community groups
Marketing methods
Producing a marketing strategy
Developing a marketing plan
Targeting your audience
Split and integrated communications strategies
Selecting a spokesperson
Using and supporting a spokesperson
Spreading the word for free
How to write a tagline
Developing an information sheet
Tell people what you do - in 100 words or less
Branding and your community group
Working with celebrities and VIPs
Marketing special events

Section Two - Marketing by mail and in print

Database basics
Creating and using lists
Using your database effectively
Using direct mail to spread your message
Producing winning newsletters
Producing a great brochure
Using your annual report as a marketing tool

Section Three - Marketing through the media

Why media is important
What's news?
Building a media team
Cultivating media contacts
Creating a winning media kit
Writing a media release
Driving home your message
Attracting coverage in your local media
Bringing the media to you
Targeting the right media for your story
When should you invite the media?
Hitching a ride on what's in the news
"Hooking" the media
Letters to the editor and opinion pieces
Preparing for a successful interview
Quick tips on conducting a successful interview
Creating a tasty sound bite
Managing a media crisis
Setting the agenda for the media
Planning ahead to attract coverage
Generating coverage through research
Why it can pay to advertise

Section Four - Marketing and the Web

Why you must get online
How to get to the top of the search engine results
Creating a great website
A checklist of website essentials
Using email to spread your message
Internet advocacy
Introduction to Web 2.0
Web 2.0 applications that can help market your group
Setting up a blog to market your group
Marketing and social networking sites