Finding the Simple Secrets of Successful Community Groups Volume 2
Another 400 tips on running a more effective community group and school
Looking for more simple secrets to make your community organisation more effective and efficient? This book contains well over 400 additional tips and handy hints to assist community groups in the 21st century. The common-sense tips are contained in 50 practical columns written by Dr Rhonda Galbally AO, and cover topics such as keeping the volunteer army happy, finding the perfect venue for your event, communicating a clear message, going in search of in-kind support for your group and much more.
---
What's inside?
Turning an annual report into a year-round marketing tool
Fundraising traps - and how to avoid them
The art of delegation - how to share the workload
Having the numbers at your fingertips - the first steps for a new treasurer
Undertaking a mid-year review
Keeping young at heart - tips on involving youth
Going in search of in-kind support for your group
Putting a dollar value on the work of volunteers
Going, Going, Gone! Maximising your auction night
A plan to grow by - Looking into your organisation's future
Listening and acting when the community speaks
Using word of mouth to make the big sell
Deciding whether to take the money or run - ethical fundraising
Cooperation and collaboration on community projects
Mobilising the community into action
Creating an online drawcard for your cause
Evaluating your success
The gentle art of negotiation
Finding the right words - tips to successful public speaking
Lifting the barriers to participation
Keeping the volunteer army happy
Calculating the hidden costs of special events
Taking the time to improve your funding application
Taking a business outlook at your activities
Becoming an agent of change in your community
Working out if you are getting the runs on the board
Finding a click way to raise money online
Selling the community vision
Keeping your group safe and sound
Finding the perfect partner
Customer service for community groups
Showing your creative side
Providing positive feedback
Setting and scoring goals in your organisation
Budgeting on a special event
Teaching new board members old tricks
The responsibilities of the board
Location, location, location - finding the perfect venue for your event
Building an effective media team
Communicating a clear message
When first impressions count
Increasing your network of influence
Asking people to leave a lasting legacy
A dollar saved is a dollar made for your group
Finding the next leader of the band
Building your people power
Planning for a successful leap into the New Year
Winning the race against time
How good financial reports can lead to greater financial understanding
Plan to turn fundraising words into action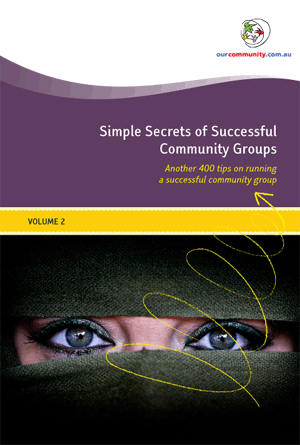 Download a sample
---
$36 (inc GST)
Includes FREE postage within Australia
(Shipped Tuesdays and Thursdays)
---
Format: Paperback
Pages: 83
ISBN: 1876976209
---
Want more?
Our Community has published an entire series of "how-to" guides that can help with your marketing, governance and fundraising needs.
Download a summary brochure