Latest Our Community News
OUR COMMUNITY MATTERS: Read the latest edition here
Click here for the latest sector news and comment, must-read help sheets, practical knowledge, events and much more. Plus subscription info inside. More editions: Apr | Mar | Feb | Back editions
---
2021 CONFERENCE WRAP: How to 'Think Bigger: Fix Everything'
Australia's most progressive leaders, thinkers and community agitators have gathered in their hundreds - in person and online - to spur on practical solutions to society's toughest problems.
---
COMMENT: Who says we can't change the world'
Our Community group managing director Denis Moriarty reflects on what Communities in Control is all about in a comment piece appearing in rural and regional newspapers nationally.
---
TOP TREASURERS: Your chance to win $5000
The 2021 search for Australia's best community treasurers is underway, with the four best NFP number crunchers to win $5,000 for their community organisations. Enter the Not-for-profit Treasurers' Awards for a chance to win $5,000 for your organisation! | 2020 winners reveal COVID survival tips
---
FUNDING: Three ways to win the funding you deserve
Catherine Brooks, Community Directors Council member and senior advisor at Wendy Brooks & Partners, helped produce the landmark report, The Big Rethink: Fundraising in the era of COVID-19. In this piece, Catherine examines how organisations might adapt some of the lessons of the past year to the new "COVID-normal" world.
---
FREE RESOURCES: Making the most of your balance sheet
Maximising your financial resources means having "clear visibility of the financial health of the organisation, and that starts with understanding the balance sheet.Get your copy of the NFP Balance Sheet and watch the webinars that show you how to use it!
---
OPINION: Proposed charity power grab isn't very charitable
In his latest commentary, Our Community's Denis Moriarty takes aim at the Federal Government's move to give the Australian and Not-for-profits Commission (ACNC) a much wider range of powers, enabling it to deregister organisation if it believes its members might commit an offence.
---
ADVOCACY: Sector anger at 'pre-crime' push by govt
The peak body for not-for-profits has called on the Federal Government to back down from a controversial plan that would penalise charities where authorities feared those groups might commit minor offences.
---
RESOURCES: Back your donations campaign with Giving Facts
Aussies donated more than $3.5 billion at tax time in 2016-17, a 25% increase on the year before, according to GiveNow's interactive Giving Facts infographic. We've scoured the most up-to-date data to bring you the most comprehensive snapshot of giving in Australia in this super-charged infographic.
---
HELP SHEET: Help solve problems for your group in five minutes!
Not-for-profits face many challenges, from small hurdles to seemingly insurmountable issues, whether they are financial, political, human, or organisational. But "breakthrough thinking" could be part of the answer.
---
OPINION: COVID-19 shows us that big fixes need big ideas
If we can spend countless billions to tackle the COVID-19 pandemic, what's to say that we can't be ambitious and address some of the other big challenges facing our country and the globe, argues Our Community Group managing director Denis Moriarty.
---
HELP SHEET: Five reasons your group should share data for good
Not-for-profit data experts Seer Data & Analytics have nominated five good reasons that for-purpose organisations should look beyond their own data projects and consider joining a "data collaborative" to share data: Check out this list and register for a free webinar.
---
NEW DATA: What we learnt from this generosity blitz
More than 400 Australian not-for-profits leapt on board the global giving campaign Giving Tuesday last December, with the backing of Our Community. With the help of data science experts and impact measurement specialists, we've distilled lessons that will inform your next giving campaign. This year, Giving Tuesday will be hosted on November 30. Start planning now!
---
HELP SHEET: Sorry, not sorry: The trouble with apologies
We all make mistakes, including not-for-profits. Apologies really matter and are easy to get wrong - just ask Collingwood Football Club president Eddie McGuire. Communications expert Brett de Hoedt reveals some nubs of wisdom you can use to ensure your apology is real..
---
BUDGET BID: Sector peak pitches key Federal Budget measures
The Community Council for Australia - the sector's peak advocacy group - has released its pre-Budget submission, featuring a nine-point plan to save the sector. "Never has there been a stronger case for investment in the charities and NFP sector to build more resilient communities through greater engagement in our society and our economy," it states.
---
SURVEY: Have your say in our diversity study
Our Community is developing resources to help not-for-profits reflect the diversity of modern Australia, and we need your help. We're looking into the cultural and social barriers that make it difficult for some people to find a place in community groups. If you're from an under-represented group and share our concern that work is needed to ensure that Australia's diversity is reflected in its community groups, we'd like to hear your opinions - and your stories.
---
FUNDRAISING: 'Survival Day' donations show how you can benefit
Amid calls to change the date of Australia Day, some Indigenous organisations are seeing a spike in financial support spurred on by campaigns, social media and influencers. Read about the Australia Day experience of Indigenous women's support agency Djirra, which saw more than a thousand extra donations on the day compared to last year, following calls by feminist campaigner Clem Ford and others.
---
COMMENT: It's time to pull the plug on the pokies
"Most not-for-profits are stressed out not by the occasional embezzlement triggered by gambling addiction, but by the continual pressure on their services from people who have been driven by gambling into poverty, family breakdown, despair or homelessness." As the odds of gambling giant Crown continuing to operate in Australia lengthen, Our Community Group managing director Denis Moriarty argues it's time governments ended their unhealthy addiction to pokies.
---
STUDY OPTIONS: Distance student blitzes governance course
Broome student Eloise Page has completed ICDA's new online governance diploma course in less than six months, despite living 2000km from the nearest capital, Darwin, being the mum of four, and working full-time as a manager at an Indigenous corporation.
---
TRAINING: Get back on track with directors' fest
The Institute of Community Directors Australia's third Festival of Community Directors features an all-new training calendar to help your organisation's board to flourish.
---
GREAT TIPS: Top treasurers reveal their COVID survival plans
Australia's best community treasurers say riding out the tough times requires the kind of creative accounting that won't get you into trouble. Here's their top tips for thriving in a difficult environment.
---
COMMENT: How's this for a Christmas giving idea?
In his latest commentary in regional and rural newspapers across the country, Our Community's Denis Moriarty suggests that this festive season we might all think differently about Father Christmas as a role model.
---
CAMPAIGNS: June's story why we should support Giving Tuesday
Most people are quite ready to give to those in need. It's not just that they're unselfish: the evidence is that giving makes you happier and improves your mental health, so even selfish people might want to indulge in a little philanthropy from time to time. And the people who already donate would probably be even happier if they gave a little more, writes Denis Moriarty.
---
CONFERENCE: Communities in Control kickstarts a better 2021
Australia's most important community conference went digital - of course, but how did it all go? Watch the video highlights and read our in-depth report of a lively affair featuring 17 of the brightest minds, talents and activists with great lessons for the NFP sector. We suggest pencilling in 17-18 May 2021 as a must-see event!
---
COMMENT: With Communities in Control, Australia is better off
Our Community's Denis Moriarty reveals his passion for the event that's at the heart of his social enterprise in his latest comment, which also appears in regional and rural newspapers.
---
NEWS: Accolades to Innovation Lab in not-for-profit tech awards
Our Community's Innovation Lab has taken out top honours in its category in the Connecting Up Australian Not-for-Profit Technology Awards for its work helping organisations to become more data-driven.
---
GENEROSITY: Aussie groups getting on board Giving Tuesday
Not-for-profits are invited to take a closer look at a global giving campaign as it wins a fast-growing following in Australia.
---
POLICY: Why you need to download this free privacy policy
We explains why NFPs need to address the data and privacy threats, how to meet the rules and regulations and your weakest links. This free policy will help!
---
HELP: How to take your AGM online
AGMs are essential business. Here's a step-by-step guide to help you make yours happen smoothly with guidance, tech help and case studies.
---
STUDY: NFPs face tech struggle during pandemic
A study of nearly 500 not-for-profits in Australia and New Zealand reveals 70% of groups have not had sufficient technology to allow staff to work from home during the pandemic. Here's a few tips to make life easier.
---
BUDGET: Where's the money for NFPs?
Where's the cash for your organisation? The Funding Centre has pored over the federal budget to find out what's in it for the NFP sector.
---
FREE GUIDE: Fundraising in the era of COVID-19
That's why Wendy Brooks & Partners (with Our Community and KCI Philanthropy) have just released a free 32-page guide to those changes. The Big Rethink: Fundraising in the era of COVID-19 reveals how you can plan, learn, adjust, and keep the momentum going with your fundraising.
---
FIX FUNDRAISING: Time for govt to "get off its @r$e"
Our Community has described recommendations designed to slash Australia's fundraising red tape burden as "a national disgrace" and "a tawdry exercise in public policy at its worst".
---
HELP SHEET: Build great relationships with funders
Organisations that invest in building strong relationships with donors - including foundations and grantmakers - are the most successful fundraisers. Here's how careful research, great communication, thoughtful strategy and collaboration will pay dividends.
---
ACNC: Fundraisers must tell their stories better
Organisations that invest in building strong relationships with donors - including foundations and grantmakers - are the most successful fundraisers. Here's how careful research, great communication, thoughtful strategy and collaboration will pay dividends.
---
EVENTS: LGBITQ+ groups flick fundraising switch to disco
Here's how the GiveOUT event aims to "grow the pot of gold under the rainbow and changing the way Australians experience gender and sexuality - for the better".
---
FUNDRAISING: World-first 'Donation Dollar' a huge charity boost
The world's first $1 coin designed to spark greater generosity is set to transform donations in Australia. Here's how to get involved and how to watch a free webinar.
---
COMMENT: Who is helping the groups supporting communities?
Our Community's Denis Moriarty suggests that what Australian not-for-profit organisations need most "is not to be taken for granted". As he says: "Think seriously about what the country would lose if they weren't there, and what it's worth doing to keep them afloat".
---
ADVICE: Top NFP thinkers lay out your pandemic priorities
The search is on for Australia's best community treasurers, with this year's competition seeking financial thinkers who've helped their organisation adapt in a time of crisis. Here's what one of last year's winners learnt.
---
AWARDS: Clever treasurer kicks goals with $5000 prize
The search is on for Australia's best community treasurers, with this year's competition seeking financial thinkers who've helped their organisation adapt in a time of crisis. Here's what one of last year's winners learnt.
---
NEWS: Community connectors could help COVID-19 battle
Want to get in touch with hard-to-reach groups? Help could be at hand with a special group of people known as "community connectors".
---
NEWS: Our data scientist a shining star for women
Our Community Innovation Lab data scientist and former astrophysicist Paola Oliva-Altamirano has been selected for a prestigious leadership program.
---
RESOURCES: Damn Good Advice for a COVID-19-safe workplace
We've released some "damn good advice on creating a #COVID19 safe workplace" ... so that's what we called our 44-page NFP guide! Download the FREE resource with the checklists you'll need.
---
COMMENT: How to build hope in a post-COVID world
Building hope couldn't be more important during COVID-19 and one of the best ways to do that is to join a community organisation writes group managing director Denis Moriarty in his latest commentary
---
COVID LATEST: Read our sector news blog
Stay in touch with news and information on government assistance and advocacy for the community sector during the COVID-19 crisis, frequently updated.
---
GUIDANCE: Sector experts give you the top priorities
In this essential reading, the members of the Community Directors Council reveal the actions your group must take to survive COVID-19.
---
STUDY: Our research reveals pandemic threat to 230,000 groups
Seventy percent of Australia's sporting clubs, arts and cultural organisations, community groups, welfare services and youth services have described themselves as "threatened" by COVID our national survey reveals.
---
UPSKILL: NFP Governance Diploma goes fully online
Australia's best qualification for not-for-profit leaders just got better. As workers amp up their internet connections and improve their home offices in response to the pandemic, the Institute of Community Directors Australia (ICDA) has rebuilt its training to suit the times, and now delivers its premier course to people's homes.
---
DIPLOMA: Remote learning a bonus for students in the bush
For the very first time, students from far-flung corners of Australia are now able to study with ICDA without travelling to a big centre. Read about Eloise Page, one of the first regional students set to start the Diploma of Governance in its new online format.
---
FREE: Pandemic policy to help you manage the virus crisis
We have worked with NFP legal experts Moores to draft an epidemic/pandemic policy that's fit-for-purpose for organisations to address COVID-19, but also to deploy in any future threats. We hope you find it useful.
---
AGONY UNCLE: How do we make the most of this lockdown?
With so many organisations forced to suspend normal operations, Our Community's Agony Uncle Chris Borthwick explains how you can use the time to get on top of your "housekeeping".
---
COMMENT: Virus shows us social change can happen, now
We go through life, all of us, thinking that the world around us is stable, fixed and reliable. And then something picks the world up and shakes it, and we realise how many of the things we've treated as iron laws of destiny are actually no more than guidelines, or convenient mass delusions, writes Our Community's group managing director, Denis Moriarty.
---
GIVING: How to give during the COVID-19 crisis
This crisis may drag on for many months; the ramifications may be felt for years. It may help you feel less guilty about your good fortune, more in control and more comfortable about giving if you have a strategy for it.
---
AGONY UNCLE: Should we still be planning?
Our Community's agony uncle Chris Borthwick ponders whether community organisations should continue planning for events throughout the COVID-19 crisis, or if they should cancel them all together.
---
FUNDING: Assistance for organisations affected by COVID-19
Information about financial assistance available to not-for-profit organisations and community groups affected by the COVID-19 outbreak. Check frequently for updates.
---
SUPPORT: Help organisations affected by COVID-19
As the world responds to the rapidly evolving challenges presented by the COVID-19 crisis, many not-for-profits need your support. Click here to find a list of organisations calling for help.
---
ISOLATION: Twelve ways to stay playful
Making time for play is more important now than ever. Hear from Daniel Teitelbaum about 12 ways you might stay happy, healthy and connected in isolation.
---
SOS: Our Community's campaign to combat COVID-19
One of Australia's leading support organisations for the country's 600,000 not-for-profits has promised to do whatever it takes to ensure the sector survives the COVID-19 crisis.
---
RESEARCH: Not-for-profit 'roadmap' tackles sector's big issues
A landmark study of Australian not-for-profit governance has created the clearest picture yet of an often-misunderstood sector, revealing that organisations are most worried about government relations, funding, demographic changes, workforces, and the difficulties faced by clients. Download the 82-page report
---
HELP: Leading community org calls on govt to do more for sector
In letters to the Prime Minister and Treasurer, the Community Council for Australia has outlined seven critical actions the government must take to protect the sector and enable it to continue to respond to the pandemic. Find out more here.
---
INDUSTRY STUDY: Facebook fundraising spikes after bushfires
A national study of fundraising trends during Australia's bushfire crisis has highlighted the new power of social media, high profile partnerships, and the desire for a single national organisation to collect money for all charities.
---
COMMENT: Why we need to appoint a no-bullshit council
Our Community's group managing director dreams of the creation of a council that helps us to just get on with it.
---
COMMENT: Aussie citizenship test - it's just not cricket
Our Community's group managing director Denis Moriarty proposes a revamping of the Australian citizenship test to better reflect what it means to be an Australian.
---
TRAINING: Scholarship opportunities are fast-tracked
Hundreds of not-for-profit leaders will be given the chance to win a part-scholarship to complete ICDA's acclaimed Diploma of Governance.
TIM COSTELLO: Why not-for-profits are Australia's sleeping giant
Not-for-profits are yet to truly embrace the power they wield, former World Vision chief Tim Costello believes. Reverend Costello has seen time and again the failure of community organisation to stand up for themselves, and he plans to do something about it.
---
Archived News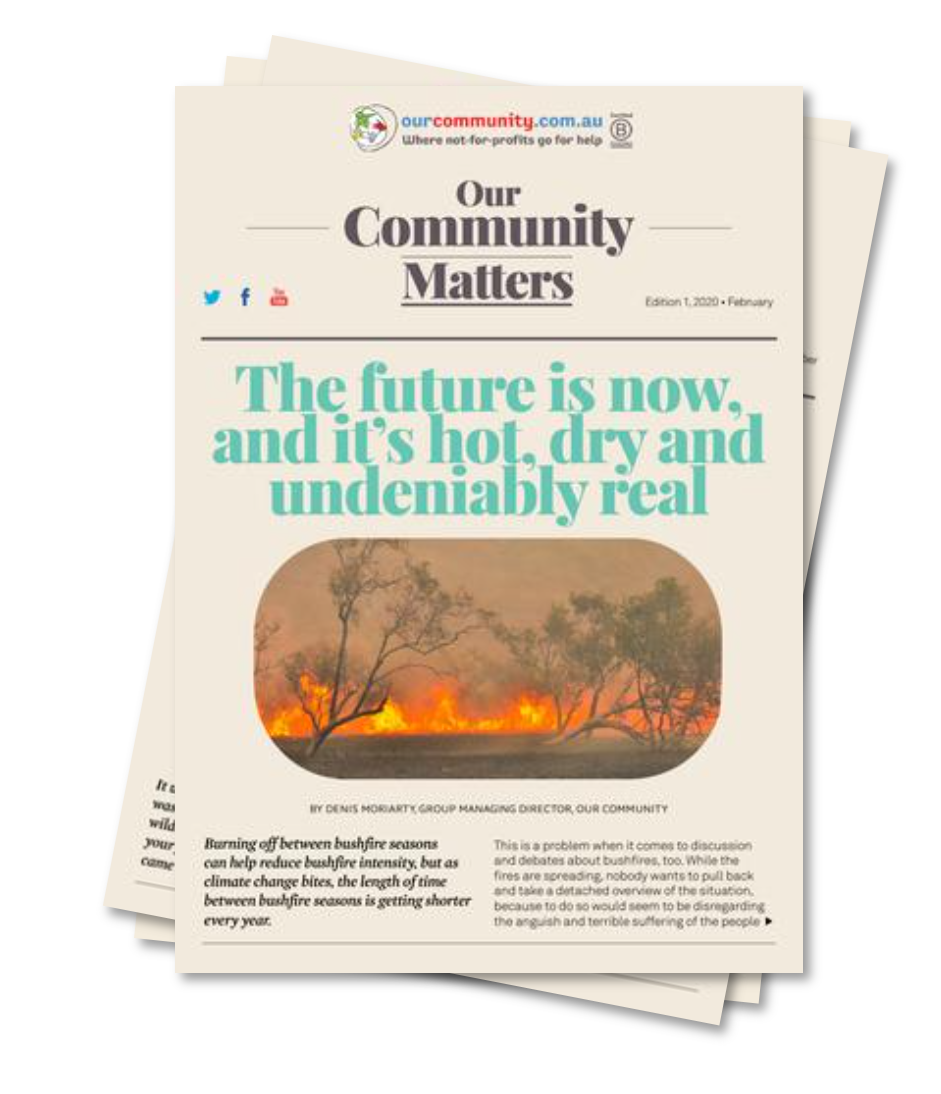 Our Community Matters
Back editions of the monthly newsletter that's essential reading for NFPs
|
Subscribe now!
Our COVID-19 response
Visit:
ourcommunity.com.au/saveoursector
---
More useful links
Media releases Official comment
Our Community publications schedule
---
Media inquiries
Kathy Richardson
(03) 9320 6800
0439 397 781
kathyr@ourcommunity.com.au
Denis Moriarty
(03) 9320 6800
0417 184 744
denism@ourcommunity.com.au
Tweets by OurCommunityAU