Latest Our Community News
OUR COMMUNITY MATTERS: Read the latest edition here
Click here for the latest sector news, comment, help sheets, practical advice, events and much more. Subscription info inside. More editions: June | May | Apr | Feb | Dec | Nov | Oct 28 | Oct 1 | Aug | Jul | Earlier
---
RESOURCES: Should you pay your board members?
Historically, charity and not-for-profit boards have worked for the good of the cause, with no expectation of payment. The world has changed - people work longer hours and have less time to contribute, the retirement age has increased, and everyone seems to be busy. In this climate, your organisation might be considering paying its board directors. Try our Board Payment Wizard, take our "ten questions" and read our spotlight report.
---
EVENT: With Communities in Control, change is in your hands
Australia's most important conference for community leaders has laid down the challenge to "eliminate inequality". Here's why it's our favourite time of year.
---
CAMPAIGN TIPS: Media lessons from the federal election
Marketing maestro Brett de Hoedt, aka the Mayor of Hootville, says NFPs can learn a lot from how politicians play the media.
---
GENDER PUSH: Vic program encourages women to step up
A new program aims to boost the number of women standing for local government elections in October 2024 by investing in women leaders across the state.
---
OUR AGENDA: What we'd do if we were in charge
Amid the federal election campaign, Our Community's group managing director, Denis Moriarty, spells out an alternative agenda, where billions more dollars would go to community-led organisations.
---
CLIMATE ACTION: 'Be seen to go green'
A Queensland theatre group with a flair for the dramatic and responding to its critics has been rewarded for its snappy suggestion about community climate action. Plus get your free climate action guide here.
---
SPECIAL REPORT: 2022 trends NFPs must know
Australian not-for-profits have the chance to reshape their sector in the wake of covid-19 restrictions and in the lead-up to a federal election, experts and not-for-profit leaders say.
---
RESEARCH: Are funders meeting UN social development goals?
Australian grantmakers are on a mission to make the world a better place, but how successful are they really?
---
ADVOCACY: Latest political twist for the sector
Stay in touch with news and information on the politics affecting the community sector, with our frequently updated news blog.
---
CULTURE: Outdated practices that NFPs should bin
How often do you hear the phrase "It's the way we've always done things here" at your organisation? Here are some outdated practices to reconsider and five ways to take action.
---
COMMENT: Turning a blind eye ends up costing us all
In his latest commentary, Our Community's group managing director, Denis Moriarty, explains why good governance requires better listening.
---
CASE WATCH: Cases and trends set to affect the sector
Not-for-profits should brace for court decisions that could shake up the sector if a summary of key legal decisions is anything to go by.
---
FUNDRAISING: Are you ready for election-time fundraising?
Executive director of GiveNow, Cathy Truong provides tips on how your organisation might prepare for an election year fundraising campaign.
---
RESEARCH: 40% of NFP workers tempted by 'Great Resignation'
Not-for-profit employers should brace for a huge movement of workers in the next year, according to an Institute of Community Directors survey of more than a thousand Our Community members.
---
ANALYSIS: $60 billion audit reveals who is winning fed grants
We recently crunched the numbers on Commonwealth grants, and noted that federal money flowing to not-for-profits grew by $399 million in the 2019-2020 year. We also examined a recent audit to see which departments dished out the most grants under $10,000.
---
AGONY UNCLE: Where do we start with vaccines?
Our organisation is going around in circles trying to understand the rules that apply to vaccinations in the workplace. Where do we start?
---
FUNDING: Experts reveal path to fundraising success
In a tough fundraising environment, we asked the experts what not-for-profit and community leaders can do to keep funds flowing during the pandemic in this two-part special report.
---
GUIDANCE: Top NFP thinkers help you cope with covid-19
As organisations begin to adapt to a world with covid-19, here's some advice from the Community Directors Council brains trust about what community leaders need to do next.
---
POLICIES: The policy essentials you need
It's no surprise that the Institute of Community Directors' Policy Bank is one of its most visited web pages. But have you got all the policies your organisation needs? Fortunately, our legal partner Maddocks has many of the answers.
---
TECH: Four easy ways to protect your data
Data breaches are among the biggest risks facing not-for-profits, but according to one cyber security expert, there's plenty of "low-hanging fruit" you can pick to help you keep that data safe.
---
COMMENT: Red tape is choking the community sector
Our Community group managing director Denis Moriarty takes aim at unnecessary red tape that will divert funds from smaller NFPs.
---
HEALTH: Ten ways to help NFP staff stay sane during covid
There has never been a more important time to focus attention on people's mental health and wellbeing, writes Dr Stephen Carbone, the CEO of Prevention United.
---
TRANSFORMATION: It's time to rethink the business of charity
Leading not-for-profit thinker Paul Ronalds, CEO of Save the Children Australia, says many organisations are fooling themselves with unrealistic strategies that don't meet their mission in a time of crisis, and he says significant transformation, including mergers, should be on the agenda.
---
INNOVATION: Top treasurers win for hard work and wizardry
Australia's best community treasurers are committed to good budgeting, time-saving tech, and the adaptability needed to ride out the uncertainty caused by the global pandemic. Click here for their great tips.
---
VACCINES: Workplace jabs a prickly business
The urgency to get Australians vaccinated continues to grow and begs the question for not-for-profits: can employers force their workers (or volunteers) to get the jab?
---
BOOK EXTRACT: Is this our path out of the pandemic?
Policymaker, public servant and author Andrew Wear is sick of problems and hell-bent on finding solutions to Australia's trickiest issues. Here are some of them.
---
COMMS HELP: Marketing maestro has the answers
Brett de Hoedt is a man of 1000 opinions. Here's a taste of his answers to the curliest questions faced by NFPs when it comes to campaigns, comms, media and marketing.
---
HELP SHEET: How to cope with the pandemic demand spike
Not-for-profits in Australia face growing demands in the wake of the pandemic, so we've come up with some pointers to help you cope.
---
HELP SHEET: Tactics for retaining your volunteers
If you're one of the 64% of Australian not-for-profits experiencing a decline in volunteers, it's time for an urgent audit of your operations to assess your level of risk and, if necessary, start to mount a response. Start with these discussion points.
---
COMMUNICATE: Study reveals how to stay in touch
Marketing, brand and comms strategy advisor Caroline Healy from We Are Savvy has drawn on recent research by her organisation to reveal how not-for-profit leaders can respond to covid-19 uncertainty.
---
FREE WEBINAR: How data can boost your fundraising
Data scientist Nathan Mifsud has offered a quick snapshot of how to use data and analytics to evaluate and adapt your fundraising.
---
COMMENT: Fundraising proposal a red tape disaster
Our Community group managing director Denis Moriarty expresses his frustration at unnecessary red tape being created by the Federal Government in a knee-jerk reaction to the Celeste Barber Facebook fundraiser that delivered more than $50 million to NSW's Rural Fire Service. | Plus read our submission to Treasury.
---
STRATEGY: Why comms must continue during covid-19
Marketing, brand and comms strategy advisor Caroline Healy from We Are Savvy says the spike in demand for many not-for-profit services during the pandemic shouldn't mean organisations pull the plug on their marketing communications. Here are four tips from Ms Healy about how to consider comms in this difficult environment.
---
MAJOR STUDY: COVID-19 impact on NFPs
Not-for-profits in Australia are coming under intense pressure a year on from the start of the COVID-19 pandemic with 52 per cent reporting more demand for services, and the majority suffering a slump in volunteers and donations. (Read more, including the full 40-page report here.)
---
HELP SHEET: Time to act to save our volunteers
Our Community's newest study of the impact of COVID-19 on not-for-profits shows that volunteering has been hard hit by the pandemic. Here's how you can respond.
---
KEYNOTE: Sector must transform, not reform
Not-for-profit sector doyen Robert Fitzgerald has issued a rallying cry to Australian board members and other sector leaders to encourage them to think bigger and embrace transformation.
---
2021 CONFERENCE WRAP: How to 'Think Bigger: Fix Everything'
Australia's most progressive leaders, thinkers and community agitators have gathered in their hundreds - in person and online - to spur on practical solutions to society's toughest problems.
---
COMMENT: Who says we can't change the world'
Our Community group managing director Denis Moriarty reflects on what Communities in Control is all about in a comment piece appearing in rural and regional newspapers nationally.
---
TOP TREASURERS: Your chance to win $5000
The 2021 search for Australia's best community treasurers is underway, with the four best NFP number crunchers to win $5,000 for their community organisations. Enter the Not-for-profit Treasurers' Awards for a chance to win $5,000 for your organisation! | 2020 winners reveal COVID survival tips
---
FUNDING: Three ways to win the funding you deserve
Catherine Brooks, Community Directors Council member and senior advisor at Wendy Brooks & Partners, helped produce the landmark report, The Big Rethink: Fundraising in the era of COVID-19. In this piece, Catherine examines how organisations might adapt some of the lessons of the past year to the new "COVID-normal" world.
---
FREE RESOURCES: Making the most of your balance sheet
Maximising your financial resources means having "clear visibility of the financial health of the organisation, and that starts with understanding the balance sheet.Get your copy of the NFP Balance Sheet and watch the webinars that show you how to use it!
---
OPINION: Proposed charity power grab isn't very charitable
In his latest commentary, Our Community's Denis Moriarty takes aim at the Federal Government's move to give the Australian and Not-for-profits Commission (ACNC) a much wider range of powers, enabling it to deregister organisation if it believes its members might commit an offence.
---
ADVOCACY: Sector anger at 'pre-crime' push by govt
The peak body for not-for-profits has called on the Federal Government to back down from a controversial plan that would penalise charities where authorities feared those groups might commit minor offences.
---
RESOURCES: Back your donations campaign with Giving Facts
Aussies donated more than $3.5 billion at tax time in 2016-17, a 25% increase on the year before, according to GiveNow's interactive Giving Facts infographic. We've scoured the most up-to-date data to bring you the most comprehensive snapshot of giving in Australia in this super-charged infographic.
---
HELP SHEET: Help solve problems for your group in five minutes!
Not-for-profits face many challenges, from small hurdles to seemingly insurmountable issues, whether they are financial, political, human, or organisational. But "breakthrough thinking" could be part of the answer.
---
OPINION: COVID-19 shows us that big fixes need big ideas
If we can spend countless billions to tackle the COVID-19 pandemic, what's to say that we can't be ambitious and address some of the other big challenges facing our country and the globe, argues Our Community Group managing director Denis Moriarty.
---
HELP SHEET: Five reasons your group should share data for good
Not-for-profit data experts Seer Data & Analytics have nominated five good reasons that for-purpose organisations should look beyond their own data projects and consider joining a "data collaborative" to share data: Check out this list and register for a free webinar.
---
NEW DATA: What we learnt from this generosity blitz
More than 400 Australian not-for-profits leapt on board the global giving campaign Giving Tuesday last December, with the backing of Our Community. With the help of data science experts and impact measurement specialists, we've distilled lessons that will inform your next giving campaign. This year, Giving Tuesday will be hosted on November 30. Start planning now!
---
HELP SHEET: Sorry, not sorry: The trouble with apologies
We all make mistakes, including not-for-profits. Apologies really matter and are easy to get wrong - just ask Collingwood Football Club president Eddie McGuire. Communications expert Brett de Hoedt reveals some nubs of wisdom you can use to ensure your apology is real..
---
BUDGET BID: Sector peak pitches key Federal Budget measures
The Community Council for Australia - the sector's peak advocacy group - has released its pre-Budget submission, featuring a nine-point plan to save the sector. "Never has there been a stronger case for investment in the charities and NFP sector to build more resilient communities through greater engagement in our society and our economy," it states.
---
SURVEY: Have your say in our diversity study
Our Community is developing resources to help not-for-profits reflect the diversity of modern Australia, and we need your help. We're looking into the cultural and social barriers that make it difficult for some people to find a place in community groups. If you're from an under-represented group and share our concern that work is needed to ensure that Australia's diversity is reflected in its community groups, we'd like to hear your opinions - and your stories.
---
FUNDRAISING: 'Survival Day' donations show how you can benefit
Amid calls to change the date of Australia Day, some Indigenous organisations are seeing a spike in financial support spurred on by campaigns, social media and influencers. Read about the Australia Day experience of Indigenous women's support agency Djirra, which saw more than a thousand extra donations on the day compared to last year, following calls by feminist campaigner Clem Ford and others.
---
COMMENT: It's time to pull the plug on the pokies
"Most not-for-profits are stressed out not by the occasional embezzlement triggered by gambling addiction, but by the continual pressure on their services from people who have been driven by gambling into poverty, family breakdown, despair or homelessness." As the odds of gambling giant Crown continuing to operate in Australia lengthen, Our Community Group managing director Denis Moriarty argues it's time governments ended their unhealthy addiction to pokies.
---
STUDY OPTIONS: Distance student blitzes governance course
Broome student Eloise Page has completed ICDA's new online governance diploma course in less than six months, despite living 2000km from the nearest capital, Darwin, being the mum of four, and working full-time as a manager at an Indigenous corporation.
---
TRAINING: Get back on track with directors' fest
The Institute of Community Directors Australia's third Festival of Community Directors features an all-new training calendar to help your organisation's board to flourish.
---
GREAT TIPS: Top treasurers reveal their COVID survival plans
Australia's best community treasurers say riding out the tough times requires the kind of creative accounting that won't get you into trouble. Here's their top tips for thriving in a difficult environment.
---
COMMENT: How's this for a Christmas giving idea?
In his latest commentary in regional and rural newspapers across the country, Our Community's Denis Moriarty suggests that this festive season we might all think differently about Father Christmas as a role model.
---
CAMPAIGNS: June's story why we should support Giving Tuesday
Most people are quite ready to give to those in need. It's not just that they're unselfish: the evidence is that giving makes you happier and improves your mental health, so even selfish people might want to indulge in a little philanthropy from time to time. And the people who already donate would probably be even happier if they gave a little more, writes Denis Moriarty.
---
CONFERENCE: Communities in Control kickstarts a better 2021
Australia's most important community conference went digital - of course, but how did it all go? Watch the video highlights and read our in-depth report of a lively affair featuring 17 of the brightest minds, talents and activists with great lessons for the NFP sector. We suggest pencilling in 17-18 May 2021 as a must-see event!
---
COMMENT: With Communities in Control, Australia is better off
Our Community's Denis Moriarty reveals his passion for the event that's at the heart of his social enterprise in his latest comment, which also appears in regional and rural newspapers.
---
Archived News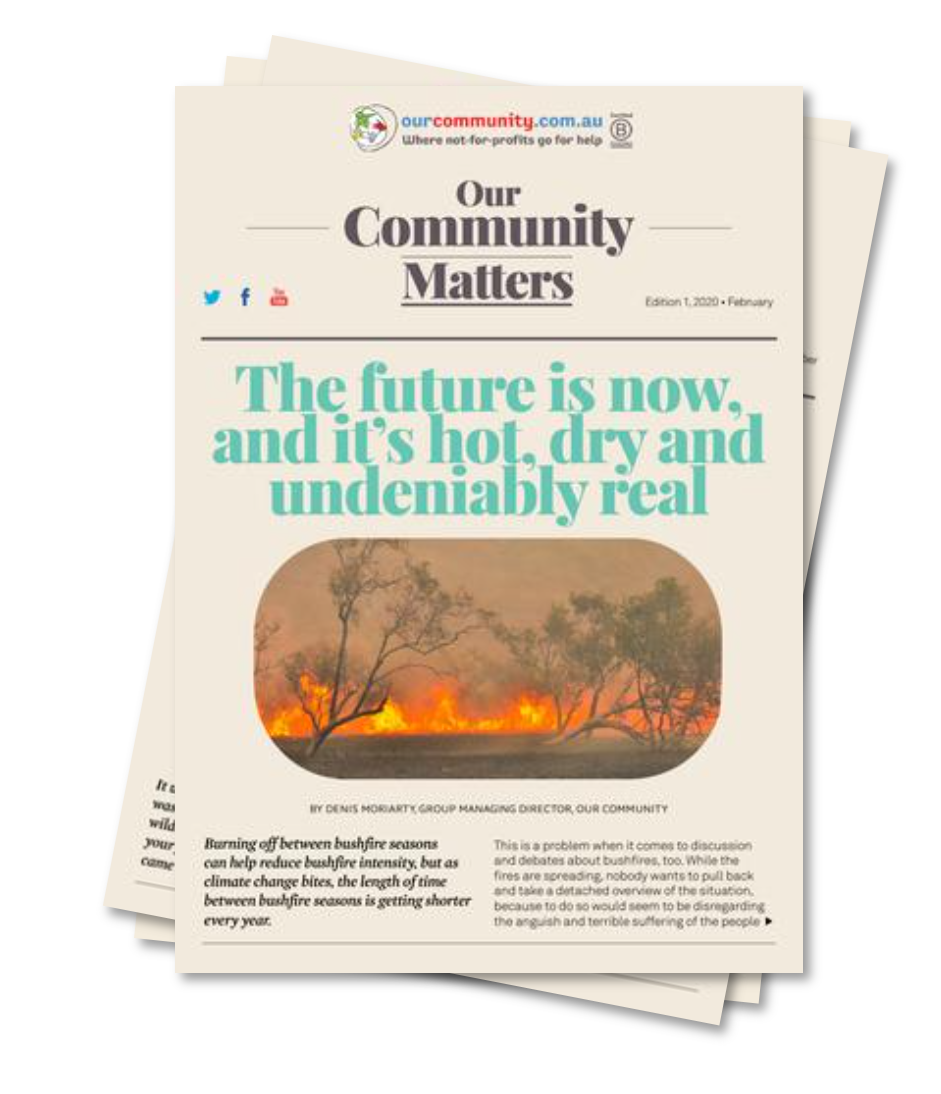 Our Community Matters
More editions of the newsletter that's essential reading for NFP leaders
|
Subscribe now!
---
More useful links
Media releases Official comment
Our Community publications info
---
Media inquiries
Kathy Richardson
(03) 9320 6800
0439 397 781
kathyr@ourcommunity.com.au
Denis Moriarty
(03) 9320 6800
0417 184 744
denism@ourcommunity.com.au
Tweets by OurCommunityAU